CapEx vrs. OpEx - On Premise versus the Cloud, Which Saves More Money?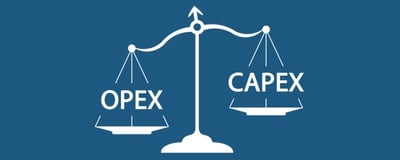 The question of whether moving to the cloud has cost advantages over that of staying on premise continues to be discussed in industry publications. Some industry analysts suggest that all things being equal, OpEx strategies should cost more than CapEx… but does it? Lets first briefly explore the definitions of the two strategies and then dig deeper into the numbers that layout the true cost of ownership (TCO) of moving to the cloud.
CapEx (Capital Expenditures): Purchasing an asset (factory, computer system, company car) is considered a capital expenditure. It requires payment for the entire asset, and the cost becomes an entry on the company's balance sheet, depreciated over some period of time. This asset strategy also includes other costs such as upkeep, insurance, and personnel tied to the assets use.
OpEx (Operational Expenditures): These expenditures are associated with purchasing services for a planned period of time, for example, 1-3 years. All OpEx payments during this period count against the income statement and do not directly affect the balance sheet. Some examples of operating expenditures include consulting services, building rental/lease, sales, utilities, cloud computing services, and rental car fees. Costs for these services usually cover all expenses associated with the services.
How does CapEx/OpEx relate to enterprise data infrastructure and services?
By maintaining on premise computing and storage infrastructure, you're investing capital in an estimation of the computing assets you will need in the future. Companies choosing to stay on premise face the possibility that if they don't invest enough, their computing capabilities will be limited, i.e. search, storage, computing, which in turn can cause business issues. If they invest too much and don't use the capabilities fully, they then have spent money on unused capabilities that could have been invested somewhere else. With cloud- based Platform as a Service (PaaS), organizations use and pay for exactly what they need. This reality by itself provides an obvious cost savings.
On Premise versus the Cloud
A well-known cloud analyst, characterizes calculating the total cost of ownership as "down and off," arguing that one should always seek to reduce an application's resources as much as possible so long as its functional and performance requirements are met. If an application, or other IT asset, is not used or used only sparingly, the application/asset should be shut down temporarily until its needed again, i.e., when additional demand later surfaces. However, this strategy is not cost-effective in larger organizations due to the complexities of modern enterprises and their ongoing cost of maintaining infrastructure and licenses for the applications.
The organizational complexity involved with ongoing enterprise infrastructure management (resource loading, SLAs, etc.) is so high that performing an OpEx vs. CapEx analysis must assume a fully-loaded operation of resources required at application peak load. The company can then use that peak load basis to evaluate the CapEx versus OpEx models. For most companies, it's simply too complex to evaluate in any other way.
The bottom line is that companies want to pay only for what they use – period. Cloud service providers allow organizations to adopt a "pay as they go" model (OpEx model) which enables companies to engage the resources and expertise of cloud hosting experts, take advantage of new capabilities faster without the needed investments, i.e. machine learning/AI, pay for what they use, and realize cost benefits throughout the year.
Calculating Total Cost of Ownership (TCO)
Calculating the TCO for Cloud services versus that of remaining on premise is straightforward - determine what capabilities your organization needs; storage, HSM, search, information management, higher security, and disaster recovery (among others) and negotiate a contract with the cloud vendor.
On premise TCO is a bit more complex. There are several key takeaways when looking at calculating on premise versus cloud. Key takeaways include:
Storage requirements are the most significant variable impacting overall total costs of ownership. However, there are many more most companies do not consider
Maintaining an on premise infrastructure is usually more expensive and harder to budget for over time
On premise assets must be periodically replaced/upgraded
Floorspace and related utilities are not free
The TCO for on premise software applications is higher than for many cloud alternatives
However, to simplify the calculations, we can include additional costs in the cost of hardware/software by fully loading the asset costs. For example, the fully loaded cost of storage would be much more than the basic cost of the actual disk drive. The fully loaded cost includes daily backups, additional personnel needed for operation, floorspace, and disaster recovery/failover capabilities.
The following on premise example is calculated over three years and includes 50 TB of storage. Without going deeper into each individual calculation, you can see the charts below show an 89% cost savings. To perform your own "what if" analysis, visit the Azure TCO calculator.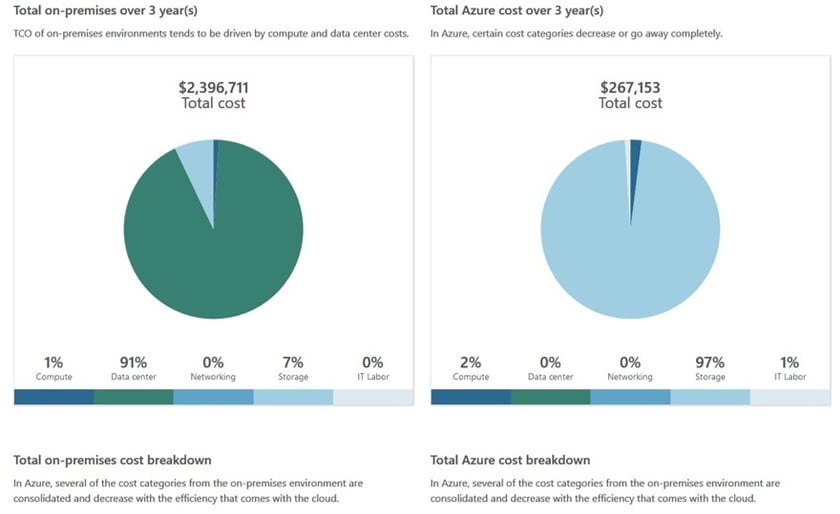 CapEx versus OpEx
Circling back around to the original question of the blog around CapEx versus OpEx strategies, its obvious that moving from an on premise infrastructure to the cloud - from a CapEx strategy to an OpEx strategy - will save your organization a great deal of money. But be aware, your mileage may vary so its always a best practice to run the calculations yourself for your specific circumstance.
Archive2Azure and the Azure Cloud
Archive360's Archive2Azure is a native Azure information management and archiving platform that works hand in hand with the Azure Cloud providing organizations a viable alternative to a costly on premise computing infrastructure. If you're pursuing a digital transformation strategy which includes moving your data centers to the cloud, Archive2Azure and the Azure Cloud is the way to go.
About Bill Tolson
Bill is the Vice President of Global Compliance for Archive360. Bill brings more than 29 years of experience with multinational corporations and technology start-ups, including 19-plus years in the archiving, information governance, and eDiscovery markets. Bill is a frequent speaker at legal and information governance industry events and has authored numerous eBooks, articles and blogs.