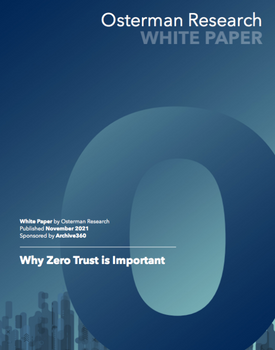 Whitepaper: Why Zero Trust is Important
Osterman Research Whitepaper Why Zero Trust is Important offers direction to decision-makers and influencers on best practices and solutions to support the move to zero trust. Enter your email to receive your copy.
Archive360 is the leader in secure cloud-based information management and archiving. Because Archive360 is the only cloud archiving solution provider to employ a native platform as a service (PaaS) solution, our solution can offer customizable data security capabilities (unlike SaaS-based providers limited to a one size fits all approach).
One of the Archive360 security advances is the Security Gateway. This on-premises solution works directly with the Archive360 Cloud Archive to create and store your encryption keys locally and encrypt sensitive data before moving into your cloud tenancy while maintaining full search and management capability. This means that your sensitive data is encrypted while in transit, while at rest (stored), AND while in use. Archive360 is the only vendor to provide this market-leading security capability. For more information on the industry's most secure cloud archive, please get in touch with us at: info@archive360.com or +1 (212) 731-2438
It's Your Data, In Your Cloud, Protected with Your Security, Under Your Control.