What is the Benefit of Cold Cloud Storage?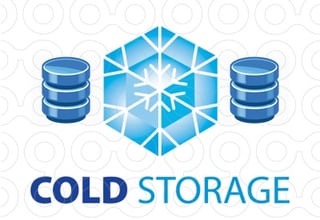 Certainly, you have read about the emerging cloud cold storage options. All of the three leading cloud service providers – Amazon/AWS, Google, and Microsoft offer a cold storage service. Low-cost cloud storage is very appealing, but can you make it work in your data center?
To learn how cloud cold storage could work in your organization's data center, I sat down with Bill Tolson, VP of Marketing, Archive360, to ask.
Bill, in your opinion what are the major benefits of cold cloud storage?
The single most important benefit is cost. Cold cloud storage offers incredibly low cost – just $0.01 – $0.02 per GB per month for blob storage. This includes the cost of support, maintenance, power and cooling for the storage hardware, so the total cost saving versus traditional on premises storage, which can run in the $0.35 to $0.50 per GB per month range, is 10-20X ... or more.
Additionally, organizations benefit when they can retire legacy on premises applications (i.e. email archival, ECM, CRM), eliminating application support costs as well as server and storage costs.
What use cases do you see for cold cloud storage?
I speak on a regular basis with customers who are storing large amounts of unstructured data (email, files, documents, audio, video) that must be preserved for business reasons, audits, industry regulations and legal discovery. Customers who work in legal, HR and finance tell me the amounts of data they must preserve is growing 20-30% per year. Another challenge companies face is the huge amounts of unmanaged/unindexed data employees control on file shares and their local computers.
What challenges do your customers face when moving to cold cloud storage?
The first challenge customer's face is actually migrating data into the cloud. For example, data moved from on premise file shares requires a "cloud tiering" application to bridge the data center to the cloud.
Also, if data is being managed in an on premise application such as an email archive, ECM, CRM, etc., then specialized migration tools are required to extract the data in a legally defensible manner.
And lastly, if a large amount of data (TBs) needs to be moved, it is useful to have access to an "import/export" service whereby data is loaded on disc drives and shipped to the cloud data center for migration.
What additional challenges do customers face?
An important consideration is how to manage the data once it is migrated into the cloud. To securely preserve documents for compliance and records management, three important features are required. First, the data should be encrypted with the encryption key being held by the customer. Second the data must be indexed so that later, it can be searched quickly. Finally, automated retention/disposition capability is necessary to preserve (and dispose) of data according to regulatory compliance or corporate regulations.
For long term retention, why not store data on backup tapes?
Anyone who has ever tried this method knows how painful it is to retrieve data from old backups. The older the data, the higher the risk that it will be corrupt and unusable. Also, It can take days or weeks to retrieve data from backup tapes, especially if the backed up data is being managed inside an application like an email archive, ECM or CRM. The fact is backup systems are not made to be used as a long-term archive and ideally backup tapes should be recycled regularly.
Did your company recently announce a new cold cloud storage solution?
On June 28, 2016 Archive360 announced a new cloud storage solution, Archive2Azure. We recognized the great opportunity afforded by cold cloud storage. We designed an application layer that runs 100% in Microsoft Azure. Archive2Azure secures the data with encryption, indexes it so it can be searched, and provides automated retention (and disposition) management, at a cold storage price.
What type of data is Archive2Azure designed to store?
Really, we designed Archive2Azure as a low cost repository for low-touch or grey data - that data organizations have that is mostly unmanaged and/or sits on file shares and end-user computers. This data can accumulate over long periods of time and drive up the cost of eDiscovery due to the fact that it is unmanaged and untracked.
Data from ex-employees also make up a large percentage of this grey data. In many cases, corporate legal will want this data held for longer periods of time (i.e. the local statute of limitation) just in case litigation arises. Archive2Azure is a perfect repository for this data due to its extremely low cost and centralized management.
What is a cool feature of your product you wish to share?
We took great care to keep the total cost of the solution very low. The area we identified in cloud storage as being the costliest was the indexing process. So rather than index the entirety of the data as it moves into the cloud, we allow the customer to index only the minimum required (the owner and data) to keep the cost low. Then, when needed, a customer index can be created especially for a given search. We call this feature "Index-on-demand" and it helps keep the total cost of the solution to a minimum.
How do customers get their data into Azure?
Archive360 specializes in data migration for email archives, journal data, PST data, and files. We offer Archive2Anywhere, the industry's leading solution for migration of legacy email archive content and file content to the cloud. We offer Archive2Anywhere and Archive2Azure together as a complete integrated solution.
Thanks Bill.