What is Grey Data and What Should Be Done with It?
How much unstructured data does your organization actually have? Do you have any idea? Could you find and search through all of your organization's data in response to an eDiscovery request or regulatory information request - quickly? What's the downside if you can't?
Much of your organization's information consists of unstructured data (80+%) made up of live and archived email and attachments, email compliance journals, employee work files, PSTs, system generated files, and to a lesser extent, corporate legal department eDiscovery results sets. And depending on the company, a large portion of this data could be attributed to ex-employees. In most cases this unstructured data is unmanaged by the organization, left almost entirely to end users to manage… or not.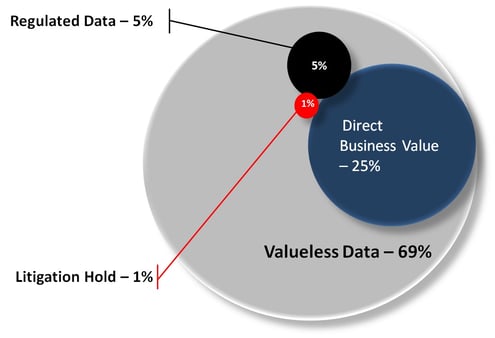 Unmanaged data is risky data
Many consider this "valueless" unstructured data to be unnecessary and a prime target for disposal. In fact, the Compliance, Governance and Oversight Council (CGOC) conducted a member survey in 2012 and found that, on the average, enterprise data was made up of content subject to legal hold (1%), data subject to regulatory retention (5%), data with direct value to the organization (25%), and valueless data that should be the target of defensible disposition (69%).
The challenge with this huge amount (69%) of unmanaged data is that organizations rarely have the time or personnel to actually do anything about it. Much (but not all) of this so called valueless data, is in reality, data that many companies want or need to keep for various reasons. For example, mailbox content, PST files, and work files from ex-employees - usually kept for specific periods of time based on the local statute of limitations in case of future litigation arises. Also, the corporate legal department can amass huge eDiscovery related data sets that must be kept while litigation proceeds (at a snail's pace) through the courts.
The move to the cloud has speed bumps
A major trend over the last several years has been for companies to move to the cloud to reduce costs, improve productivity, and ensure higher levels of compliance and litigation preparedness. Much of that movement has been to Microsoft Office 365, a natural target for live mailboxes and active employee PSTs. But what about all of the other data that doesn't fit into the live Office 365 mailboxes mentioned above? Take for example, email archive journal content, a major issue for organizations wanting to migrate to Office 365. Some email migration vendors will suggest that the archived journal can be split and moved into Office 365, however, Microsoft suggests this journal splitting is not a best practice (see our previously published blog). Instead of being split and forced into Office 365, the archived journal should be kept fully intact to avoid the possibility of metadata destruction – a major compliance issue for the financial industry.
So, to move to the cloud completely, you also need a secure cloud repository to store non-Office 365 data in a compliant, legally defensible manner.
Microsoft Azure is an open, flexible, enterprise-grade cloud service platform that, with the right application running on it, can provide the perfect companion solution to Office 365 to store and manage grey data in a cost effective, compliant, and legally defensible manner.
The managed cloud repository made for regulatory compliance and grey data
Archive2Azure is Archive360's Compliance Storage Solution targeting unstructured data migration and long term storage management of low-touch or grey data into the Microsoft Azure platform. Archive2Azure enables companies to completely eliminate their costly, aging, on premise email archives and other unstructured data repositories by providing migration and managed storage services for email archive data not suited for Office 365 storage. This includes archived journal folders needed for regulatory compliance, inactive (departed) employee work files, inactive employee PSTs, low-touch file system content, and legal department eDiscovery results sets.
About Bill Tolson
Bill is the Vice President of Global Compliance for Archive360. Bill brings more than 29 years of experience with multinational corporations and technology start-ups, including 19-plus years in the archiving, information governance, and eDiscovery markets. Bill is a frequent speaker at legal and information governance industry events and has authored numerous eBooks, articles and blogs.