"We're Moving on Up" to the Cloud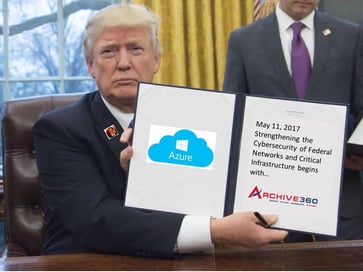 President Trump signed an Executive Order (EO) on 5/11 designed to strengthen the cybersecurity of federal networks by continuing a massive shift in how the US Government handles its data aiming to create a single federal IT enterprise. This effort will be quarterbacked by the Department of Homeland Security (DHS) and the Office of Management & Budget (OMB). DHS Security Advisor Tim Bossert explained that there will be a preference in federal procurement for shared IT services among the 190 federal agencies and the goal of this move to the cloud is to avoid defending antiquated and fractional systems.
Of course, the federal shift to cloud storage is not a new development as there has been a "cloud first" policy mandate issued by the OMB since August 2016 and this EO contains no new policy changes. What is new is the immediate levels of review of the nation's information systems for vulnerabilities causing a spike in already high forecasts for cloud and hybrid cloud migration/storage solutions. This EO also empowers federal agencies to assist US businesses supporting critical infrastructure of utilities, financial, healthcare and telecommunications networks.
The numbers are staggering- Gartner's survey of federal IT managers reveals that 75% indicate plans to move to a hybrid cloud solution in 2017 and International Data Corporation estimates cloud market within the US federal sector to increase to $9B in 2017. This is the tip of the iceberg as Gartner projected spending in public cloud services to reach nearly $247 Billion in 2017 and $383 Billion by 2020. As high as these figures and projections are, these studies were conducted before the election and before the President's rededication of federal funds to accomplish this plan.
This cloud first policy is now in overdrive and these spending forecasts may need to be adjusted up. Government sector IT service providers are well positioned and will benefit by a marked increase in demand for cloud services. In particular, demand for data migration services as well as low cost, secure, managed cloud service providers.
Archive360 and Microsoft are well positioned for this growing government market. Archive2Azure is the industry's first compliance and unstructured data storage and management SaaS solution taking full advantage of the Microsoft Azure platform. With infinite scalability, Archive2Azure delivers long-term, secure information retention and management at a great price.
About James McCarthy, Esq.
James M. McCarthy graduated from Christian Brothers Academy in 1982; Rutgers College, Rutgers University in 1986; and Western New England College School of Law in 1989. Mr. McCarthy was admitted to the New Jersey State Bar in 1989; the United States District Court for the District of New Jersey in 1989 and the United States Court of Appeals for the Third Circuit in 1991.