The Federal Reserve of eDiscovery
Can your defense team save additional litigation cost and lower risk by using the cloud to dramatically reduce the number of data transfers?
The cloud has become a ubiquitous tool for most companies (and industries) over the last several years. However, when dealing with legal situations and eDiscovery, companies are still in the habit of shipping hard disks, optical disks, or if they're lucky, electronically transferring terabytes of data to their external law firms in response to eDiscovery demands. Those same law firms turn around and follow the same data shipping/transfer processes when turning over client eDiscovery data to opposing counsel.
By now you would have expected the legal industry to have progressed to a point of keeping these huge data sets relatively stationary while accessing and working with them remotely, shortening response time, reducing costs, maintaining chain of custody, and raising data security. However, law firms especially, have never been known as early adopters of new technology or processes.
Reduce your risk - Stop moving data sets around
The problem is the legal industry has not recognized any compelling reason to change how large data sets are transferred and handled. The rising levels of eDiscovery data being generated, replicated, and transferred from place to place increases the risk of data loss and corruption. This new fact of life means new data handling techniques must be developed and adopted.
One new strategy for defense counsel is to move toward common cloud-based eDiscovery repositories that all sides can work with; client, defense counsel, and even plaintiff's counsel. For example, a trusted third party such as an eDiscovery services vendor or even large defense law firms with litigation heavy clients could provide a common cloud repository with the proper access controls and management software so that all sides could work with it without needing to move large amounts of data back and forth. The legal repository requirements would include:
The ability to produce audit/access logs
Data set storage should be immutable so that data, once placed into the repository, would be considered original and unchangeable
Repository data sets should be disposable by the third party repository owner - only when the case and all appeals are concluded
A case management application to control creation, access, security, etc. of individual cases
The case management program would provide secure encrypted work areas for all attorneys
The data sets and all work product would be encrypted where the encryption key is only available to the originating attorney and designated team members
eDiscovery data set indexing capability would be controlled programmatically by the third party case manager as agreed at the meet and confer conference
Plaintiff and defense counsel would be able to create and place tags and legal holds
All data and work product would be exportable in various formats
Bill-back capability: Plaintiffs' attorneys could be billed for "out of the ordinary" search and computing charges within the repository
Is it time for common eDiscovery repositories?

With the appropriate management controls and security, instead of shipping terabytes of data around affecting response times or even data fidelity, law firms could connect to a common legal repository and (at least) perform a first pass search and culling of the eDiscovery data sets, and when ready, download the data in a legally defensible manner to their system for further processing.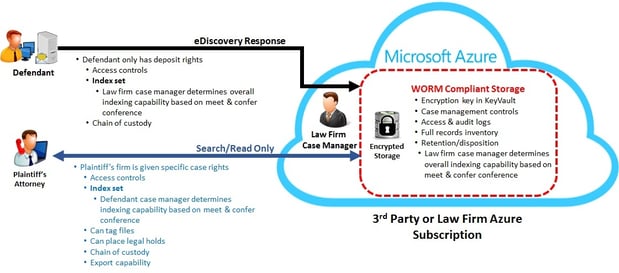 Trust but verify
Obviously, for this kind of centralized legal data repository to be successful, trust of the system, measurable cost savings, and verifiable security are all necessities. The key is to include a management software layer that insures all data is stored and managed at the highest security levels, all workspaces and work product is encrypted and protected, basic eDiscovery functions such as on-demand indexing and search are available, and disaster recovery procedures such as geographic replication are standard.
It would seem that trusted service providers and law firms with the correct cloud infrastructure and eDiscovery management layer software could act as trusted eDiscovery clearinghouses that could speed data transfers, ensure chain of custody, and reduce eDiscovery costs – much like the Federal Reserve does for checks etc.
For more information on cloud-based eDiscovery repositories and case management software, contact Archive360 at: http://www.archive360.com/contact-us/
About Bill Tolson
Bill is the Vice President of Global Compliance for Archive360. Bill brings more than 29 years of experience with multinational corporations and technology start-ups, including 19-plus years in the archiving, information governance, and eDiscovery markets. Bill is a frequent speaker at legal and information governance industry events and has authored numerous eBooks, articles and blogs.