Should You Retire your Legacy Email Archive and Move it to Office 365?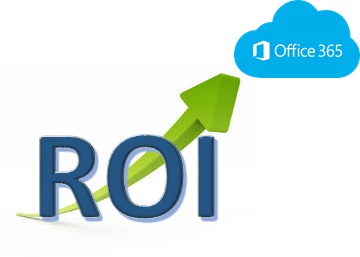 Many organizations are moving their Exchange email systems from on premise to the cloud via Office 365 to save cost, simplify operations, and increase ease of use and productivity for their employees. Migrating the contents of an on premise Exchange email system to Office 365 is straight forward and can be accomplished in a relatively short amount of time. But what if your organization also has an on premise legacy email archiving system as well?
The fact is, migrating a legacy email archive to Office 365 is not as straight forward as migrating the "live" mailboxes from an Exchange system. This is due to several factors including:
The sheer size of an email archive can dwarf that of the live Exchange system by a factor of 10, 20, or 30X, so a great deal more data will need to be migrated.
Regulatory compliance requirements should be taken into consideration to ensure regulated data is not lost or misplaced.
Legal responsibilities, such as litigation hold, ensuring data remains in its original format, and guaranteeing metadata is not altered in any way are an absolute must.
Once comfortable that the email archive migration can be accomplished successfully without increasing risk factors, the main question remains; does it make financial sense to actually migrate your email archive to Office 365 or leave it where it is? Considerations include:
Annual archive software support costs – usually 20% per year of the original purchase price
Annual hardware support costs - servers and enterprise class storage
Additional enterprise storage purchases every year
The cost of additional personnel to support the archive
Archive Software Upgrade Fees
The above are just a few of the numerous variables that could be taken into consideration when building an ROI model. However, in many cases we can look at just a few email archive cost variables to see if migrating your legacy email archive to Office 365 makes financial sense. One last point to keep in mind in analyzing a financial justification; the Office 365 personal email archive folder for each mailbox is free…
Example Scenario
The existing on premise email archive is 25 TB in size.
Let's look at the costs over a 3-year period
The average cost of an email archive migration is $4,000/TB
The annual cost of the annual email archive software support contract is $85,000
The average fully loaded cost of enterprise-class storage is $0.33/GB per month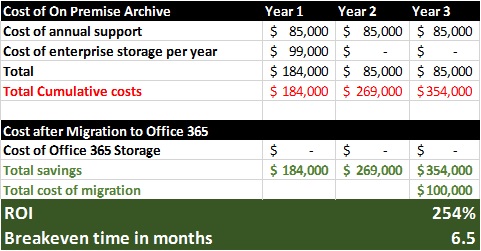 Based on the basic fact that the only real cost of moving your existing email archive to Office 365 is the migration itself and the fact that once in Office 365, there is no ongoing costs for the archived data, the actual ROI is calculated from the cost of the actual migration versus the ongoing projected cost of keeping the on premise email archive.
Looking at the table above, we see that the 3 year cost of keeping the on premise email archive is $354,000 and the cost of migrating it to Office 365 is $100,000 (keeping in mind the ongoing cost of the archived data, once in Office 365, is zero). With these numbers we can calculate the return on investment (ROI): ($354,000-$0.00)-$100,000)/$100,000 = 254%. We can also see that the breakeven time of the investment is 6.5 months.
Considering the above results, migrating your legacy email archive to Office 365 is a great investment!
Archive360TM is the market leader in email archive migration software, successfully migrating more than 12 petabytes of data for more than 500 organizations worldwide since 2012. The company's flagship product, Archive2AnywhereTM, is the only solution in the market purpose-built to deliver consistently fast, trouble-free, predictable archive migrations, with verifiable data fidelity and defensible chain of custody reporting. A global organization, Archive360 delivers its solutions through a network of specialist partners. Archive360 is a Microsoft Cloud Solution Provider and the Archive2Azure solution is Microsoft Azure Certified.
About Bill Tolson
Bill is the Vice President of Global Compliance for Archive360. Bill brings more than 29 years of experience with multinational corporations and technology start-ups, including 19-plus years in the archiving, information governance, and eDiscovery markets. Bill is a frequent speaker at legal and information governance industry events and has authored numerous eBooks, articles and blogs.