Salesforce Data, Archive or Delete?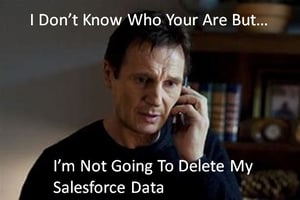 The Salesforce platform is a leading customer relationship management (CRM) application and cloud computing platform with functionality targeted at sales and marketing professionals. Salesforce offers a wide variety of CRM categories and systems to meet various customer needs including Sales Cloud, Marketing Cloud, Service Cloud, Analytics Cloud, Data Cloud, Community Cloud, App Cloud, and IoT.
Many companies eventually run into Salesforce data storage limitations. Purchasing additional storage can cost as much as $1500 for 500 MB per year so is not economical especially if email and other group collaboration applications are used. And Salesforce doesn't include a comprehensive archiving mechanism so recommends incorporating a third party archiving application or alternatively, delete data as needed. Because every organization has some form of regulatory retention requirements as well as eDiscovery responsibilities, it's obvious that a comprehensive archiving capability needs to be incorporated into every company's Salesforce platform.
Comprehensive data archiving for Salesforce is essential for the following reasons:
Optimize data storage usage - utilize your allocated data storage for optimal price/performance while retaining valuable aging data in a much lower cost storage tier
Reduce cost - reusing allocated data storage for your more relevant data while archiving under-used or non-relevant data in a separate archive will ensure you don't go over your data limit
Consistent application performance - with growing amounts of data, Salesforce can also become slow and nonresponsive. Event standard functions like reports can exhibit degraded performance. With the appropriate archival processes, only relevant, active data will be persevered within Salesforce, hence enabling better performance of listviews, search, queries, and reports
Regulatory Compliance - many industries are governed by governmental and professional association rules, including the need to adhere to all defined data retention guidelines and policies. These industries include:
banking
government
financial services
legal
healthcare
insurance
life sciences
energy
eDiscovery – correctly and quickly responding to an eDiscovery request is a responsibility which every company has. Not being able to fully respond in the time allotted, or ruining the eDiscovery process can be extremely costly. Ensuring specific Salesforce data can be found and placed on a litigation hold quickly is a must. If data was deleted after the litigation hold should have been put in place, you risk huge fines and loss of the case.
Salesforce Archiving?
Salesforce does have narrow, built-in archiving capability. However, it only addresses activities, tasks, and events older than a year. It does not address the huge amount of other data objects held in the organization's Salesforce account. Additionally, the limited archiving capability in salesforce does count against your company's storage allocation.
On the other hand, several proprietary cloud archiving vendors currently offer archiving of Salesforce data –only email and Chatter, Salesforce's enterprise collaboration application. The problem is these third party Salesforce archiving vendors do not offer archiving for the many additional data objects within Salesforce. This absence of full data archiving puts companies at compliance and legal risk.
Archive2Azure for Salesforce
Archive2Azure for Salesforce is a comprehensive Azure Cloud-based information management and archiving platform designed specifically for the Salesforce platform. With it, companies can rest assured their organization can meet all data retention regulatory requirements, including but not limited to, SEC Rule 17, FINRA, MiFID II, FDA 21, CFTC, IIROC, FERC, FAR 4.7.
As was previously mentioned, the Salesforce application includes a large number data objects. Depending on the regulated industry, many or all of these data objects must be captured, archived, and made easily searchable and accessible. Because Salesforce does not have comprehensive data archiving, Archive2Azure for Salesforce is the perfect complement to the Salesforce platform.
Time Machine: Reviewing data as it was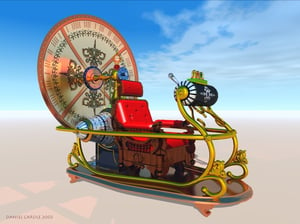 The Time Machine function of Archive2Azure for Salesforce enables users to view records as they were on a specific date. For example, a customer record can be reviewed as it was on Jan 27, 2015, July 8, 2016, and today showing how the record was changed/updated at each point in time. Over that time, contact names and titles, potential deal size, or salespeople notes can be reviewed. Studying past customer records can be especially helpful when conducting sales or customer reviews.
More importantly, when regulatory compliance questions or eDiscovery processes are called into question, being able to show how records changed over time as well as who the author of the changes was can be helpful.
Peace of Mind, Not Piecemeal
Benefits of Archive2Azure for Salesforce archiving include:
Meeting regulatory data retention and access requirements for your Salesforce application
Ensuring your Salesforce instance can quickly react to a litigation hold and eDiscovery request and is legally defensible
Keep aging and little-used data available for ongoing analytics and regulatory compliance instead of deleting
Review past Salesforce activities and individual account changes via a detailed timeline with the Archive2Azure Time Machine
Infinitely scalable, so you don't need to keep buying additional Salesforce storage
Non-proprietary - No third-party vendor lock-in - It's your data in your Azure cloud
Archive360 is the world's leader in intelligent information management. Its proven platform enables organizations of all sizes to drive down the cost, risk, and uncertainty of digital transformation to and in the cloud.
Archive360 is a trusted partner for onboarding, validating, and managing all enterprise digital assets while delivering predictability, defensibility and data insights. Archive360 provides non-proprietary information management that ensures security-focused infrastructure independence. Archive360 is a global organization with a worldwide network of partners. The Archive2Azure Platform is Microsoft Azure Certified.
Archive360 is a leading expert with migrating Veritas / Symantic Enterprise Vault for companies such as Netflix, Samsung, 3M, and McKesson.
About Bill Tolson
Bill is the Vice President of Global Compliance for Archive360. Bill brings more than 29 years of experience with multinational corporations and technology start-ups, including 19-plus years in the archiving, information governance, and eDiscovery markets. Bill is a frequent speaker at legal and information governance industry events and has authored numerous eBooks, articles and blogs.