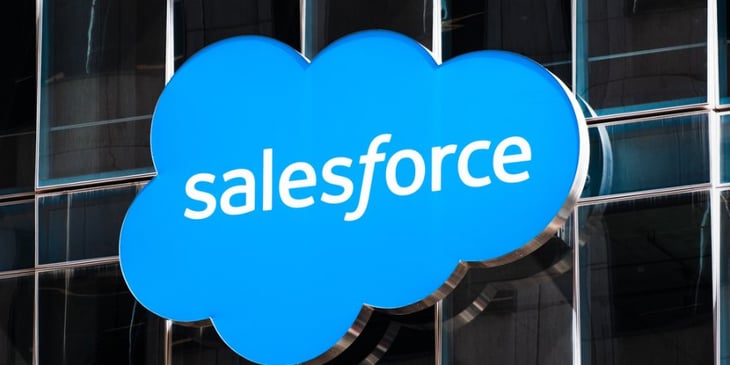 Your Salesforce data retention policy: the need to archive ALL Salesforce Data for Compliance & eDiscovery
The Salesforce platform is a leading customer relationship management (CRM) application and cloud computing platform with functionality targeted at sales, marketing, and customer services professionals. Salesforce offers a wide variety of CRM categories and systems to meet various customer needs, including CRM clouds for Sales, Marketing, Services, Commerce, Analytics, Integration, and Community.
Salesforce archiving – more than just storage savings
The most obvious requirement to archive Salesforce data is to reduce storage overheads. Salesforce doesn't include a comprehensive archiving mechanism, instead industry experts recommend incorporating a third-party archiving application or delete aging data as needed. Many companies eventually run into Salesforce data storage limitations and face the need to either delete or archive data to free up space. Purchasing additional storage can cost $125 per month for 500 MB per year. For most organizations, this option isn't economical, especially if email and other Salesforce group collaboration applications are used. However, the need for Salesforce data retention goes way beyond addressing inherent storage limitations.
Every organization has some form of regulatory data retention requirement and eDiscovery responsibilities. With this in mind, it's apparent that a comprehensive archiving capability needs to be incorporated into every company's Salesforce platform.
READ MORE: Best long term data storage? A cloud archive.
Top 5 reasons to archive Salesforce data
Comprehensive data retention for Salesforce is essential for the following reasons:
Optimize data storage usage - utilize your allocated data storage for optimal price/performance while retaining valuable aging data in a much lower cost storage tier.
Reduce costs - reusing allocated data storage for your more relevant data while archiving under-used or non-relevant data in a separate archive will ensure you don't go over your data limit.
Consistent application performance - with growing amounts of data, Salesforce can also become slow and unresponsive. Even standard functions like reports can exhibit degraded performance. With the appropriate archival processes, only relevant, active data is kept in Salesforce, enabling better performance of listviews, search, queries, and reports.
Regulatory compliance - many industries are governed by governmental and professional association rules, including the need to adhere to all defined data retention guidelines and policies. These industries include:
financial services
banking
government

legal
healthcare
insurance
The data retention or archiving regulatory requirement does not just target unstructured data (like email), but all data that fits the industry's compliance criteria. Because of this, CRM system data, like that found in Salesforce must be captured and managed for long periods.
eDiscovery – correctly and quickly responding to an eDiscovery request is a responsibility that every company has. Not being able to fully react in the time allotted, missing responsive data during the collection phase, or inadvertently destroying relevant data can be extremely costly and cause loss of case before it ever gets into the courtroom. Ensuring specific Salesforce data can be found and placed on a litigation hold quickly is a must. If data was deleted after the litigation hold should have been put in place, you risk huge fines and loss of the case. Salesforce does not have the ability to place legal holds within the system because CRM systems are transactional and need to be continuously updated/changed. In fact, the Salesforce Trailblazer Community suggests that for data that needs to be protected for litigation/eDiscovery, it be exported immediately. A legal industry best practice would be to export the data from Salesforce to a secure repository, such as a centrally managed archiving solution with access controls to ensure a documented and auditable legal hold. This practice would go a long way in shooting down any opposing counsel questions about chain of custody. Without the ability to systematically place legal holds within Salesforce on specific data objects, an ongoing archiving capability is absolutely required.
Does Salesforce have a built-in archiving capability?
Salesforce does have a narrow, built-in archiving capability; however, it only addresses activities, tasks, and events older than a year. It does not address the huge amount of other data objects held in the organization's Salesforce account. Additionally, the limited archiving capability in Salesforce does count against your company's storage allocation.
On the other hand, several proprietary cloud archiving vendors offer the ability to retain and archive a minimal subset of Salesforce data – only email and Chatter, not the actual CRM data held within the Salesforce platform. This absence of complete data archiving puts many companies at regulatory and legal risk.
Archive2Azure for Salesforce
The Archive360 Salesforce Archiving solution is a comprehensive Azure Cloud-based information management and archiving solution designed specifically for the Salesforce platform. With it, companies can rest assured their organization can meet all regulatory data retention regulatory requirements, including but not limited to SEC Rule 17, FINRA, MiFID II, FDA 21, CFTC, IIROC, FERC, FAR 4.7.
As was previously mentioned, the Salesforce application includes many data objects. Depending on the regulated industry, many or all these data objects must be captured, protected, archived, and made easily searchable and accessible. Because Salesforce does not have comprehensive data archiving, Archive360 for Salesforce is the perfect complement to the Salesforce platform.
Archive360 Time Machine: Reviewing data as it was
The Time Machine function of the Archive360 archive for Salesforce enables users to view records as they were on a specific date. For example, a customer record can be reviewed as it was on Jan 27, 2015, July 8, 2016, and today representing how the record was changed/updated at each point in time. Over that time, contact names and titles, potential deal size, or sales notes can be reviewed. Studying past (immutable) customer records can be especially helpful when conducting sales or customer reviews.
More importantly, when regulatory compliance questions or eDiscovery processes are called into question, showing how records changed over time and who the author of the changes was can be very helpful.
Peace of Mind, Not Piecemeal
Benefits of Salesforce archiving include:
Fully comply with regulatory data retention and access requirements for your Salesforce application
Ability to meet all global data sovereignty regulations
Best in the industry archive data security via on-premises encryption before movement to the cloud with role-based decryption of selected data fields within objects
Ensuring your Salesforce instance can quickly react to a litigation hold and eDiscovery request and is legally defensible
Individual Salesforce users can access their archived emails/attachments and chats at any time
Journal Salesforce email email/attachments for compliance with SEC Rule 17
Keep aging and little-used data available for ongoing analytics and regulatory Compliance instead of deleting
Review past Salesforce activities and individual account changes via a detailed timeline with the Archive2Azure Time Machine
Infinitely scalable, so you don't need to keep buying additional Salesforce storage
Capture and store Salesforce data in its native format, so you can search it, and leverage AI and ML once it's archived in the cloud
No third-party vendor lock-in or data ransoming - It's your data in your cloud tenancy
Archive360 is the world's leader in intelligent information archiving and management. The Archive2Azure solution is a complete cloud-based information management and archiving solution for both structured and unstructured data, which is installed in your company's own Azure Cloud tenancy for increased security and functionality, ongoing customization, and complete control. Unlike SaaS archiving products where you are forced into a one-size-fits-all application and security configuration, the Archive2Azure PaaS solution is architected so that you store your company's data in your own Azure tenancy with complete control over the security, including the ability to encrypt data on-premises before movement to your Azure tenancy – while keeping your encryption keys locally.
Contact Us to learn more.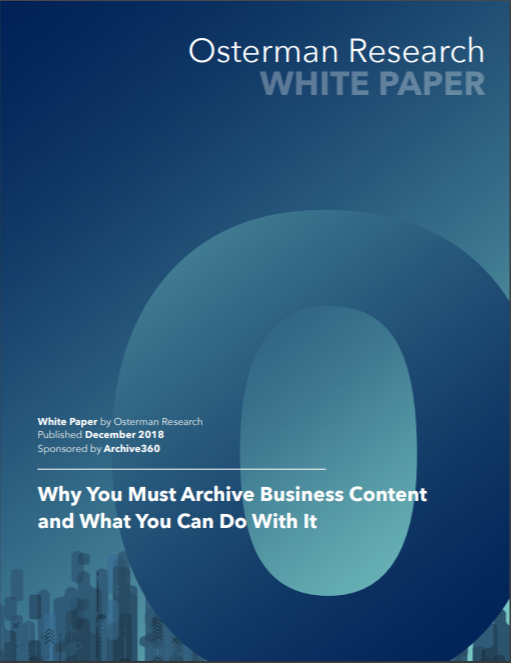 Why You Must Archive Business Content and What You Can Do With It
What data do companies archive and why should archives contain more than just email?
This whitepaper provides actionable tips to empower organizations to extract more value from their corporate data.
Bill is the Vice President of Global Compliance for Archive360. Bill brings more than 29 years of experience with multinational corporations and technology start-ups, including 19-plus years in the archiving, information governance, and eDiscovery markets. Bill is a frequent speaker at legal and information governance industry events and has authored numerous eBooks, articles and blogs.