Quarantine Your Stale Data
This week I spoke with Alan Dayley, Gartner Research Director, and the topic of conversation was the management of "stale" data. "Every customer I speak with has a potential problem with managing stale data," said Alan Dayley. Stale data usually consists of end user files that for various reasons become less valuable to the end user, for example at the end of a project or simply due to age. However, many of these files can remain or become more valuable to the organization because of the intellectual property or other sensitive data they can contain (figure one). Stale data is usually found on user desktops, file shares, and just about anywhere else files are stored.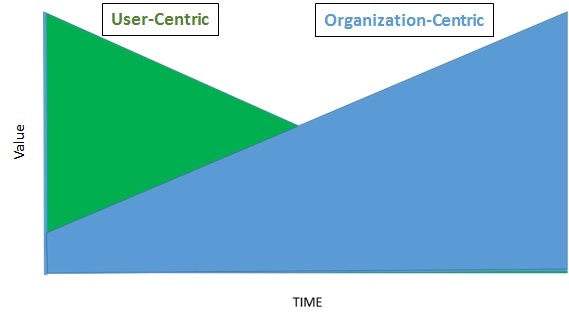 Figure 1: Value of Stale Data over Time
Successful management of stale data depends on how the organization adapts to the changing value of data over time. At time of creation, files are user-centric and are best located as close to the user as possible. File "sync-n-share" products such as Microsoft's OneDrive have enabled anytime/anywhere access to files. As tasks/projects reach completion, files become less valuable to the end user. At the same time, files can become increasingly valuable to the organization as a historical record of business, and possibly for legal discovery and regulatory audits.
Alan Dayley described this situation with a simple example. "Consider an organization that is replacing its aging file share with a new file share platform. The total amount of data contained in the old file share is two terabytes. By a simple review of the modify date, it is determined that 50% or 1 TB of the data is old stale data. The challenge is what to do with this old stale data…is it still needed by the end user? Does it have regulatory retention requirements? Is it potentially relevant in a legal case? Is it a historical business record?
One suggestion is to "quarantine" this stale data until its status can be safely determined. In this example, quarantine refers to low cost, secure storage of data in a "protected" location. When the organization can determine the data's status, it can be disposed of appropriately.
The notion of quarantining stale data fits well with Archive2Azure. The Microsoft Cloud is the perfect solution to store and manage unlimited amounts of data securely and economically. Archive2Azure provides a managed "quarantine" repository to protect data and manage access, search and disposition automatically. Using Archive2Azure, stale data rests securely in the Microsoft cloud, secure and easily accessible for search, legal discovery, and compliance.
Are you wrestling with stale data in your organization? If so, contact Archive360 to learn more about Archive2Azure.