64% of Office 365 Migrations Require an Email Archive Migration
Freshly published this week is a new research white paper published by Osterman Research and Archive360, titled "Migration to Exchange Online and Office 365: A Step-by-Step Guide". For Exchange Administrators, Managed Service Providers and anyone involved with email migration, this is a "must read". The white paper contains tons of useful tips regarding migration planning and best practices. It also includes some startling facts regarding email archive migration. (See figure below).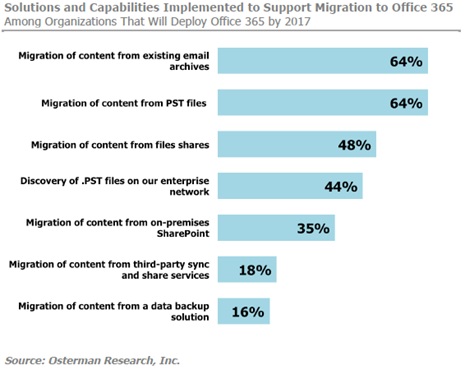 These results point out that the majority of legacy on premise Exchange Servers have a legacy email archive attached. Some important recommendations taken from the report in regards to legacy email archive migration include:
"Migrating email archives is the most challenging, difficult, and risky part of moving to Exchange Online. If you decide to move your email archives from where they are currently located, you need to ensure they are moved without breaking chain of custody—in other words, without compromising data integrity that could see your organization subject to negative legal repercussions."
"Email archives can represent a much larger amount of data than the email in current day-to-day Exchange mailboxes, and managing the transference of this data has to be incorporated into the overall migration plan so as not to avoid migration delays. During migration, be aware of mailbox size limits in Exchange Online, and ensure the archived data is migrated to the user's archive not their mailbox."
"Every organization operating under regulatory compliance requirements or who hold current email archives that need to be migrated without breaching archive integrity should definitely get expert assistance from third-party migration vendors. The risk of being out of compliance, or breaking chain of custody in email archives is too high to do otherwise."
Download the Complete White Paper
To learn more about Office 365 migration, I recommend you download your copy of the complate white paper.