By: Admin on November 13th, 2015
Migrating Email Archives to the Cloud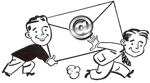 Now that you've decided to migrate from your old, soon-to-be-obsolete email archive, where should you put the email, attachments, message reminders, message categories, sent items and folders that you've decided to keep for litigation and regulatory reasons?
What do I do with all this Email Now?
There are several potential repositories that could fit the bill. You could move the data onto backup tapes (not really recommended), into your current Microsoft Exchange system, into your Exchange 365 account, onto share drives, or onto a cloud storage platform. The downside to all of these options is the probability that once moved, the migrated email will quickly become dark data… yet again, not managed to retention/disposition policies, not easily searchable, basically a liability. You could move it into a records management system if you currently have one but these systems can be overly complex and time consuming to accurately move and categorize large amounts of information into.
Many companies are now embracing cloud storage for their corporate data, mainly because it can be cheaper than providing enterprise storage. There are numerous cloud storage providers that are now offering business accounts that provide a more secure cloud storage capability. Cloud providers like Google Drive, Box.Net, Microsoft OneDrive, Amazon Cloud Drive, and Dropbox are all offering tailored business storage. These are all great for providing a relatively inexpensive storage capability, but keep in mind that these solutions are almost always multi-tenancy public cloud platforms, meaning resources are provided to multiple customers on the same storage infrastructure.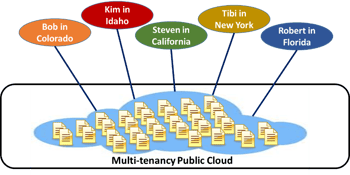 The idea of multi-tenancy makes some CIOs nervous about security of sensitive corporate data. As a result, many companies in the past kept this sensitive data within their enterprise, allowing only non-sensitive data to be stored in the cloud. Over the last couple of years, encryption and additional security capabilities in public clouds have greatly reduced security concerns.
The Cloud as Information Management Platform
Another cloud storage capability that adds additional services and security above and beyond simple storage are those organizations offering "Managed Cloud Services" or MCS. Managed cloud services combine the platform as a service (PaaS) and software as a service (SaaS) models with "Private" cloud storage and deep industry expertise around content management, retention management, regulatory compliance, archiving, text analytics and eDiscovery technology. This ensures that all client information is properly evaluated, managed, retained and defensibly disposed of, based on the client's regulatory, legal, and business requirements. The MCS model adds the additional layer of active management from industry experts to ensure complete, defensible information management.
Migrating from an obsolete email archive correctly
The four key points to remember are: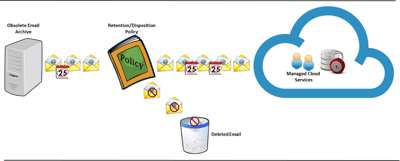 If you have a de-commissioned or soon-to-be-obsolete email archive, you need to proactively migrate all of the content out of it.
Not all email archives are the same. Pick a migration vendor that has the technical knowledge and experience with your particular email archive. Talk to Archive360 about our Archive 2-Anywhere migration product suite that enables rapid and secure movement of legacy email records between different archive services. It securely transports your legacy email archive data into a new target environment, ensuring it remains seamlessly accessible - both for end-users and for compliance and eDiscovery purposes.
Don't just migrate everything out of the email archive and dump it in another repository. Cull the migrated content and delete what you don't need for regulatory or legal requirements so you don't end up paying to store and manage valueless data.

Actively manage what you decide to keep. An easy, low cost solution is to move your data into a managed cloud service that provides information management and eDiscovery services.