Law Firm Cloud Storage; Rising Security, Lower Costs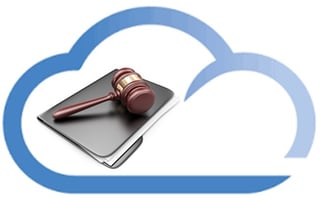 Law firms (and corporate legal departments) regularly hold huge amounts of client eDiscovery data long after the specific case has been decided. These large client data sets are stored with very little activity for long periods of time. Depending on the number of clients, these eDiscovery data sets can reach into the terabytes in total size. This data usually resides on expensive, enterprise class, spinning disk so can be very expensive to keep. For example, the average cost of enterprise class disk is in the $0.35 per GB per month range (fully loaded cost) or $4.20 per GB per year. Assuming 10 TB, the annual cost to store that data within the law firm would be approximately $42,000.
Client data security is paramount
As you can imagine, keeping this amount of data secure and available to be searched when needed is both costly and risky. Looking at law firm data security, the FBI has reported that law firms have become a prime target for cyber criminals. In February of 2013, Mary Galligan, the former special agent in charge of cyber and special operations with the FBI's New York office, pointed out the growing problem when she stated "We have hundreds of law firms that we see increasingly being targeted by hackers".
"The vulnerability of American law firms to online attacks is a particular concern to law enforcement agencies because the firms are a rich repository of corporate secrets, business strategies and intellectual property."
Law firms have been relatively slow to acknowledge the cyber risk. They continue to store huge amounts of client data with potentially inadequate security processes and technology. Alan Paller, Director of Research for the SANS Institute shared an interesting conversation he had with the Managing Partner and IT Partner of a large New York law firm:
Alan Paller: What exactly did the FBI agents tell you?
Attorneys: They said that our files had been found on a server in another country. The server was used as a way station for sending data to a large Asian country. Off the record they said it was China.
Alan Paller: Did they tell you which files?
Attorneys: They showed us a listing of what they had… It was all our client files.
There's no denying the need for law firms to store large amounts of client data for long periods of time but is there a more secure way to do it while not raising the overall cost?
Cloud storage, especially "cool storage" has become a viable low cost solution for law firms to store the huge amounts of client data that they need to hold. This ultra-low cost cool storage is possible due to the requirement that the data will not be accessed (searched) often, keeping the total compute cycles very low. Most people are familiar with the Dropbox or Google cloud storage capabilities. These cloud storage models treat data like your enterprise file system, with immediate drag and drop functionality. However, client data sets don't need to be treated with the same immediacy as file system data so cool cloud storage is architected for lower overall costs. As an example, cool cloud storage can be found in the $0.55 per GB per year range versus the $4.20 per GB per year that enterprise class storage is priced at… an 86% decrease in cost.
With reduced costs and much higher levels of security, law firms can afford to keep low touch client eDiscovery data sets for longer periods of time reducing costs and raising client satisfaction.
The managed cloud repository made for long term legal data storage
Archive2Azure is Archive360's legal industry solution targeting unstructured data migration and long term storage management of low-touch client data into the secure Microsoft Azure platform. Archive2Azure supports encryption processes where the law firm retains the encryption keys to ensure client data security. Archive2Azure enables law firms to completely eliminate their costly long term unstructured data repositories by providing migration and managed storage services for large client data sets.
About Bill Tolson
Bill is the Vice President of Global Compliance for Archive360. Bill brings more than 29 years of experience with multinational corporations and technology start-ups, including 19-plus years in the archiving, information governance, and eDiscovery markets. Bill is a frequent speaker at legal and information governance industry events and has authored numerous eBooks, articles and blogs.