Is Microsoft Inadvertently Blocking Your Road to Office 365?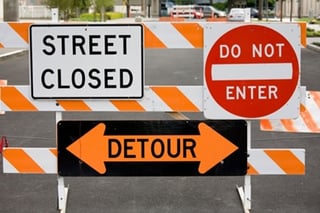 Microsoft FastTrack was designed to help you move your on premise Exchange email system to Office 365 "smoothly and with confidence". But, when you read the "fine print" you discover that FastTrack will NOT migrate email archive data, including compliance-related journal data. The problem with this oversight is that most organizations planning to migrate to Office 365 similarly have a legacy email archive that should also be migrated. In fact, in a recent survey by Osterman Research, 64% of Office 365 migrations include a legacy email archive, so this lack of support is a major "road block" (or at least speed bump) to fully migrating to Office 365.
Archive360's Archive2Anywhere™ is the perfect solution to address this oversight. The Archive2Anywhere email archive migration solution is designed to quickly and securely migrate legacy email archive content to Office 365 with 100% message fidelity and full chain of custody reporting. Archive2Anywhere migrates the email archive contents to the corresponding Office 365 Personal Archive mailbox. End users enjoy access to both "live" and "archived" email in their new Office 365 account. Depending on the Office 365 plan you choose, end-users can enjoy unlimited mailbox capacity, enabling them to keep years of email online and accessible.
One question…Does your legacy email archive also contain journal data? If the answer is yes, this presents another challenge to completely moving to Office 365. Microsoft's stated policy is that it does not want journal data stored in Office 365. So, if you are planning to migrate your on premise Exchange system and email archive to Office 365, what do you do with your journal data? Some have suggested keeping your expensive legacy email archiving running to take care of the journal data… an expensive and risky solution. Instead, why not migrate that journal data (as well as other unstructured data) into Microsoft Azure for safe-keeping?
Archive360 introduced Archive2Azure™ today – a managed compliance storage solution based on Microsoft Azure. It's delivered as part of the Archive2Anywhere™ platform and is the industry's first solution allowing for complete elimination of legacy email archives and other low touch or 'grey' data, including inactive employee work files and PSTs, file system content, system generated data, and data sets generated form eDiscovery response.
To fully decommission your legacy email archive, you need a solution for both archive data and journal data. Only Archive360 has the solution for both. To learn more, contact Archive360 sales.