IG for Law Firms- It's Not Only Time, It Doesn't Have To Be Expensive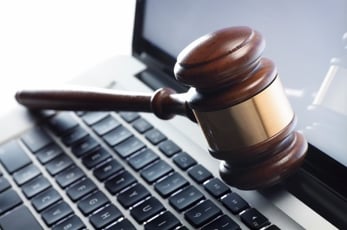 A couple of years ago the Akron Legal News published an editorial on information governance in law firms. The article by Richard Weiner, explored how law firms are dealing with the transition from rooms filled with hard copy records to terabytes of electronically stored information (ESI) - which includes both firm business records as well as the huge amounts of client eDiscovery content. The article pointed out that these days, ESI flows into law firms so quickly and in such large quantities, no one can actually track the volume much less know what it contains. Law firms have reached an inflection point; change the way information is managed or suffer client dissatisfaction and client loss.
Attorneys squirrel away tons of data
Attorneys are notorious for hoarding huge amounts of their client's data, while law firms have been remiss in standardizing and enforcing client data ingestion and management processes. With massive amounts of ESI that law firms now accumulate on a daily basis, ignoring the problem can end up costing firms a lot more in the future. In order to function as both a profitable business and a trusted adviser to your clients, firm-wide information governance (IG) is a must.
Law Firm IG
Myriad definitions of information governance are floating around but the Akron Legal News article offered one specifically targeted at law firms; IG is "the rules and framework for managing all of a law firm's electronic data and documents, including material produced in discovery, as well as legal files and correspondence." The author identified four main processes for law firms to accomplish through the IG process. They are:
Map where the data is stored;
Determine how the data is being managed;
Determine data preservation methodology;
Create forensically sound data collection methods.
As law firms transition to ESI for both firm business and client data, it is critical to adopt IG practices and processes to account for and manage an ever changing business environment. As a side note. some believe this transition will eventually lead to the incorporation of basic machine learning technologies into law firm IG, such as predictive indexing and categorization, to enable law firm IG processes to have a better chance of actually governing the huge amounts of unrelated data.
In the short term…
Law firms need to take some basic steps. These include (in addition to the 4 listed above):
Create a process to account for and classify inbound client data such as eDiscovery and regulatory collections;
Determine those areas where client information governance practices (usually highlighted in the Outside Counsel Guidelines) differ from firm information governance practices;
Reconcile those differences with client as soon as possible(s);
Audit the firm on a regular basis to ensure compliance.
Ensure client data is stored into a centralized, secure repository, such as a cloud repository designed for legal clients;
Ensure client data is isolated (electronically) from other clients' data;
Encrypt client data – use different encryption keys for different clients so that only those authorized by case manager can gain access to the data;
Ideally, the storage repository would have basic legal processes built into it so you can minimize the migration of data outside the system. These process should include custom indexing so that specific search queries can be created for each specific case, first pass culling to weed out obviously non-responsive data early, effective case management to add another level of security and reporting capability, and finally bates numbering so you can provide direct production quickly.
And lastly, seek out very low storage costs. Depending on the client's and law firm's policies, this data can be held for extended periods of time. Law firm enterprise disk can cost as much as $0.50 per GB per month for ongoing overhead not to mention the need to buy additional storage every year. Standard "DropBox" like cloud repositories don't provide the additional functionality and security and can still cost $0.20 to $0.30 per GB per month. Low cost "cool" storage is the answer. For between $0.04 and $0.15 per GB, this low touch or grey data can be held economically for long periods of time and still be available at a moment's notice.
The right cloud has the long term answer…
Archive360 has introduced Archive2Azuretm for Legal, a managed compliance storage solution based on Microsoft Azure. It is delivered as part of the Archive2Anywhere™ platform and is the industry's first solution allowing for complete elimination of legacy email archives and other low touch or 'grey' data including inactive employee work files and PSTs, file system content, system generated data, and data sets generated from eDiscovery. Archive2Azure for Legal enables legal departments and law firms to migrate large legal data sets to Azure with 100% data fidelity and security.
Full preservation of all meta data and content is authenticated with legally defensible audit reports;
Store large volumes of client eDiscovery data in the low cost Azure cloud and manage long term retention with native retention management, including defensible deletion processes;
Index a specific legal data set when needed to saving cloud storage and compute costs;
Perform eDiscovery discovery search, review, and export with native case management and legal production tools to quickly compile and export search results to 3rd -party eDiscovery platforms;
Reduce the burden on expensive primary storage of large legal data sets and avoid possible loss or deletion of data. Keep data secure for long term access and legal discovery.
For more information, please contact us
About Bill Tolson
Bill is the Vice President of Global Compliance for Archive360. Bill brings more than 29 years of experience with multinational corporations and technology start-ups, including 19-plus years in the archiving, information governance, and eDiscovery markets. Bill is a frequent speaker at legal and information governance industry events and has authored numerous eBooks, articles and blogs.