How to Make This Year's Resolutions a Reality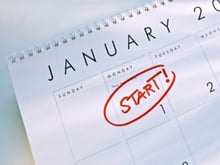 Happy New Year!
We're already one week into 2016 and I'm wondering how those New Year's resolutions are working out for you.
Apparently the tradition of making New Year's resolutions stretches back more than 4000 years to the ancient Babylonians. I'm not sure how their resolve to pay off their debts and return borrowed objects to their owners worked out for them. If they were anything like we are today, the majority would already have given up on their well-intentioned resolutions by now.
If an email archive migration is in your plans for 2016, I'd like to suggest a different type of resolution, namely planning for success. Now that may sound obvious, but our experience shows that too many organizations apparently don't. Archive migrations are notoriously tricky, so planning for success does require you to do your homework.
This week our team can be found at the Office 365 Conference in Cologne, Germany. The conference is a community event, organized by Microsoft MVPs for anyone interested in the broad topic of Office 365. It's free to end users and provides two days packed with educational sessions covering everything from successful Office 365 adoption, to using PowerShell, to migrating your email archive to Office 365. Events like these provide you with the opportunity not only to attend some really good informative sessions, but also to network with other end users.
The Microsoft community does a great job of organizing events like this one throughout the year. If you're interested in locating one in your region, let us know and we'll get you connected. To make the most of your time at these events, we've prepared a cheat sheet of questions you might want to address with your fellow end users (as well as any vendors) in attendance.
Speed
How long did it take to get the migration project up and running?
How quickly were you able to pull the data out of the archive and move it to your new environment?
How much hardware was required to support this level of processing?
Accuracy
How did you validate that messages (including stubs) were fully and correctly migrated?
How did you manage any processing errors?
Were you able to generate chain of custody reporting, down to the individual message level?
Predictability
How well were you able to plan? For instance, did you know when you would be migrating specific domains and/or mailboxes?
How long did it take to complete the project?
Doing your homework and speaking with other users about their experience of migrating archival data will help you better prepare for a successful migration. This will ensure that you keep at least one your resolutions this year!
Click to edit your new post...