Have Departmental File Shares Stopped your Move to the Cloud?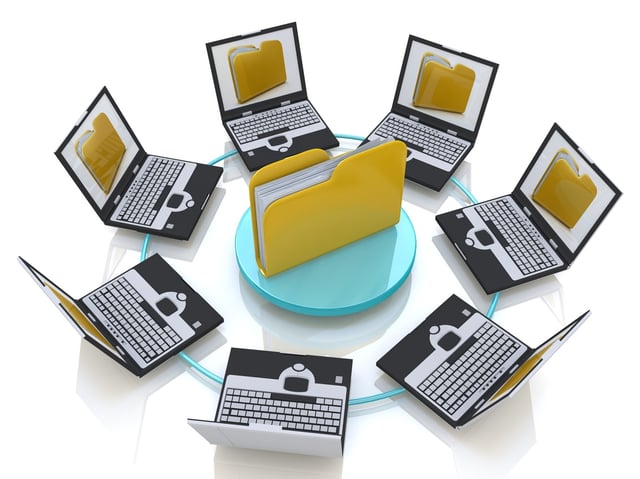 Most of us have been exposed to enterprise file shares during our professional life. These enterprise file shares are what some also referred to as "home drives"; personal folders setup on network drives that employees would have access to store work files etc. Over the last several years, cloud-based individual file shares have become very popular. Dropbox, Google Drive, Box, Apple iCloud, SugarSync, and Microsoft OneDrive are but a few of the more popular ones.
Individual cloud file shares are not new
As businesses began moving their data centers to the cloud, these cloud-based file shares became an important piece of the puzzle. By moving individual file shares to the cloud, the on premise versions could be shut down and decommissioned. A drawback to these individual home drives is they are relatively cumbersome to share content with large groups of others such as a department. So most companies also offer departmental share drives or folders as well.
But departmental cloud file shares are
Departmental file shares are made available to whole groups or departments, usually managed via access controls through Active Directory. For example, the corporate legal department usually has a secure file share location that only they have access to where they can store eDiscovery data sets during case preparation. Or the sales department keeps a central repository of RFQ responses so each sales person can easily find the answer to each question quickly and with the best answer. An important advantage is access to the departmental share drive is automatically granted or removed based on an individual's AD status.
Your move to the cloud need not be stalled
The problem is that without a cloud solution for departmental file shares, the data center move to the cloud is stopped in its tracks. Some have suggested that Microsoft SharePoint can be utilized in the same way as a departmental share drive but in reality, due to its real stated purpose, a content/document management system, its adds too many additional steps and processes to simply storing content in a specific location.
Wouldn't it be great if, instead of being forced to keep departmental file shares on premise, you could move them to the Microsoft Cloud (in Azure) and realize the cost savings from decommissioning all of your file shares?
Archive2Azure Cloud-Based File Share Extension
Archive360 now provides the capability to create and manage departmental file shares in Microsoft Azure providing additional capability such as access control, retention disposition, search, encryption, and audit/reporting. You can check it out here.
About Bill Tolson
Bill is the Vice President of Global Compliance for Archive360. Bill brings more than 29 years of experience with multinational corporations and technology start-ups, including 19-plus years in the archiving, information governance, and eDiscovery markets. Bill is a frequent speaker at legal and information governance industry events and has authored numerous eBooks, articles and blogs.