Delete Email Stubs at Your Own Risk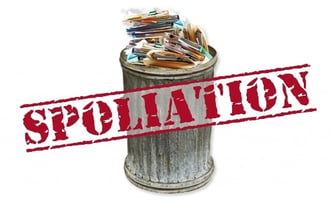 You've decided to migrate the on premise Exchange email system to Office 365 but your email migration service provider has rightfully asked if your company also employs a separate email archiving solution. For most companies, the answer is yes and in most cases that email archive is 10x to 20x larger in size than your live email system. The great thing is Office 365 includes the personal archive so you will be able to migrate the entirety of your aging and costly email archive up to Office 365 and jettison the high annual cost of maintaining the on premise email archive. The only cost involved is the actual migration of the archive data and in most cases that cost will be a small percentage of the annual archive support cost.
Lastly, your email migration provider asks you if you employ email stubbing - the ability to manage Exchange email mailbox size by automatically moving an email message and/or attachment from the user's Exchange mailbox to the archive and replacing it with a stub or pointer (the vast majority of companies employed this feature).
Email stubs and Office 365 DO NOT MIX
Now, this is where it gets interesting… Email stubs, if blindly migrated to Office 365, will cause ongoing headaches for users and IT support personnel alike. That's because the email stubs are pointing to email in the on premise archive that Office 365 does not have access to. So when a stub is clicked on, the end-user will receive an error message and call their IT help desk. If these stubs are not properly reconciled with migrated archived email, then the same problems occur.
To head off the issue, some email archive migration service providers delete the stubs from the live Exchange email boxes before the migration of the email archive starts because the original archived email stubs point to archived email that will be migrated to Office 365 anyway. The stubs are just pointers with no value anyway, right?
In some instances, email stubs are just that - of no real use after migrating the email archive to Office 365. However, you need to be aware of another fact that some service providers will not tell you; email stubs can acquire additional metadata over time. For example, an end user can assign a flag to an email stub, categorize it, mark it as read or unread, assign a retention policy to it, move it to another folder, or delete it.
Real world example
You may be asking yourself; so what, all I want is the original archived email, why should I care about email stubs? You should care because that additional stub metadata could contain discoverable content in litigation. The fact is the American Judicial system is slow and the time it takes for a lawsuit to reach the discovery phase (from filing or even anticipation of a law suit) can take years. How you handle data years before a lawsuit materializes, can in some instances, adversely affect your litigation.
In June 2016, your company migrates your Exchange system as well as the data from your aging email archive system to Office 365. The service provider follows the "standard" practice and deletes all of the email stubs before the migration begins. However, in the year prior, the company began the process of planning and executing a large layoff. Two years later, one of the laid off employees sues the company for wrongful termination and during discovery it comes out that millions of stubs were deleted during the migration. The case the opposing counsel will try to make is one of anticipation and spoliation. The argument to the Judge will be that the litigation should have been anticipated and therefore all email and metadata (including stub metadata) should have been placed on litigation hold prior to the archive migration and stub destruction. In fact, many Judges have ruled that layoffs by default should trigger "reasonable anticipation" of a future lawsuit and destroying potentially responsive content can be ruled by the Judge as spoliation.
Best practices
Now, does this situation happen every day…no, but it does happen. Also remember, stub metadata can also provide the proof your company needs to win the case. The main point is simply deleting stubs and their metadata should never be done without fully understanding the consequences. A great best practice is to get a written opinion from your legal department before the migration begins. The bottom line is email stubs do matter and that email archive migrations should be done correctly including the rehydration of email stubs with the original archived email so that later, you are not put in a risky legal position.
Archive2Anywhere uses a proprietary stub management process that recombines the stub with the body and any attachments of the archived email. Archive360's Stub Rehydration™ process matches up each message stub/shortcut in the live Exchange mailbox with the original archived message in the legacy archive. Next, it performs the in-place restoration (or rehydrating) of the live Exchange message stub/shortcut with the archived message; thus preserving metadata and producing forensically complete messages. This stub/shortcut management process is uniquely able to find and fully reconcile Exchange stubs with the original archived messages, and remove leftover stubs from the Exchange server in a forensically defensible process.
Archive360 is the only technology provider that offers this important, legally defensible, patent pending stub rehydration capability.
About Bill Tolson
Bill is the Vice President of Global Compliance for Archive360. Bill brings more than 29 years of experience with multinational corporations and technology start-ups, including 19-plus years in the archiving, information governance, and eDiscovery markets. Bill is a frequent speaker at legal and information governance industry events and has authored numerous eBooks, articles and blogs.