Cool vs Cold Public Cloud Storage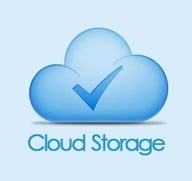 Undoubtedly you have heard about the new low cost public cloud storage from Amazon, Microsoft and Google. New terms such as cool, cold, Nearline, coldline, and glacier are just a sample of the new brands being marketed. To better understand these new brands, I thought it would be helpful to review and compare each brand and make note of its preferred use case.
Cool Storage
Cool storage was first introduced by Google Cloud Storage Nearline in 2015. Google Nearline storage enables access to infrequently accessed data within a few seconds. Download speed is limited to 4 MBps per 1Tb stored. For example, 5TB of data can be downloaded at 20MBps.
Microsoft sells a cool storage class which it calls Azure Cool Blob Storage. Azure Cool Blob Storage is also aimed at infrequently accessed data, but with the same availability and durability as standard class storage.
And lastly, AWS offers cool storage it calls S3 Standard I/A tier. S3 Standard I/A Tier is an inexpensive version of standard storage for infrequently accessed data with the same availability and durability as in Standard.
Cold Storage
For archival data that is accessed once a year or even less frequently, Amazon introduced an even lower cost storage tier it calls Amazon Glacier. Glacier is priced at $0.007 per GB and is suitable for archival data that must be preserved, but is accessed very infrequently. With Glacier, the time to recall data is a relatively long… 3-5 hours.
Four years after Amazon Glacier was released Google introduced Google Cloud Storage (GCS) Coldline. With GCS Coldline there is no latency penalty – the access is granted immediately after request. GCS Coldline is priced at $0.007 per GB per month and the access fee is $0.05 per GB retrieved.
In the table below you can see per/GB prices for Amazon S3, Azure and Google Cloud storage for the first GB stored in Standard, Cool and Cold tiers.
| | | | |
| --- | --- | --- | --- |
| | Amazon Web Services | Microsoft Azure | Google Cloud Storage |
| Standard | $0.03 | $0.03 | $0.026 |
| Cool | $0.0125 | $0.01 | $0.01 |
| Cold | $0.007 | NA | $0.007 |
Summary
New Cool and Cold storage services are a great storage solution for infrequently accessed archival data. For organizations that are overwhelmed with unstructured data growth, storage services using Cool and Cold public cloud storage, are the perfect fit. They offer reasonable access performance - good enough considering how little the data is accessed. And importantly, they offer extremely low cost.
Amazon, Google and Microsoft are competing on the main cloud storage market with their Standard and Cool offerings and Amazon and Google compete with their Cold class storage.
Archive2Azure
Archive2Azure is Archive360's compliance and low touch data storage and management solution targeting long tern storage and management of unstructured grey data into the Microsoft Azure platform. The Archive2Azure solution leverages Microsoft Azure's low-cost cool storage as an alternative to expensive on premise enterprise storage.
Microsoft Azure cool storage fits perfectly with Archive2Azure for archival of infrequently accessed, grey data that must be kept for longer periods of time. Easy access to data enables fast searches for legal discovery and low storage costs keep costs at a minimum for archive data that must keep for years.