By: Admin on November 13th, 2015
Content Filtering Considerations during Migration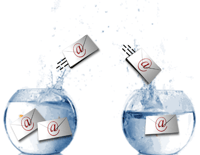 In the most recent blog post, we discussed how to migrate emails, attachments, contacts, notes, tasks, and appointments from obsolete or abandoned email archives. We also suggested that the proper migration process included moving all content from the archive to a staging platform to conduct further analysis to determine what content should be retained for litigation, regulatory compliance or business use/continuity, and what could be disposed of. In performing data migrations of any type, a best practice is to characterize the data you have in the email archive before you recklessly move it to another repository or dispose of it.
Questions to address when creating data culling policies:
How far does the email archive go back, i.e. what's the earliest date an email was archived and what's the last date something was archived?
What exactly was archived; email, attachments, contacts/notes/tasks/appointments/public folders?
Whose mailboxes were archived; all employees including those who have departed over the years, specific employees like C-level management, or only specific employees at a higher risk to be included in a lawsuit? A complete list of employees included in the archive is needed.
Does the company have regulatory retention requirements, i.e. SEC 17, FINRA, DoD, etc.
What are the regulatory retention periods?
Do the required retention periods overlap the date ranges in the email archive? (To determine if content in the archive needs to be retained.)
Does the company have any current or anticipated litigation?
What is the target date range for relevant content based on an eDiscovery request?
Could the email archive contain information from the eDiscovery target date range?
Could the email archive contain information from employees included in the eDiscovery request?
And an important question most companies don't think about: what's the statute of limitations for various civil lawsuit topics? This question needs to be considered because many corporate actions, especially employment related actions can trigger an anticipated legal action such as a termination or layoff situation meaning that the act of terminating an employee could be seen as triggering a litigation hold requirement. If the email archive

could

hold data subject to an anticipated eDiscovery request, then it should be retained until the statute of limitations has been exceeded.
Know what you have, then filter it
Before you can cull email archive content, you have to know what the email archive held and what content needs to be kept and why. Once you create culling (filtering) policies to flag the content to be retained, the migration process can continue.
The key to a successful (and less risky) email archive migration is to move all data out of the email archive and then cull it based on policies that fit your specific industry/legal situation.
There are only a couple of companies that can migrate the complete data set from the Mimosa NearPoint and EAS email archives in a defensible, forensically sound manner. Archive360 has a proven track record of successfully, inexpensively, and quickly migrating huge amounts of NearPoint archived email, contacts, calendar entries and public folder content to many other storage repositories including Microsoft's Office365 with the Archive 2-Anywhere solution. Get ahead of this risk and call us today.