By: Admin on December 19th, 2016
Breaking the Archive Dead End: A Briefing Note by George Crump, Storage Switzerland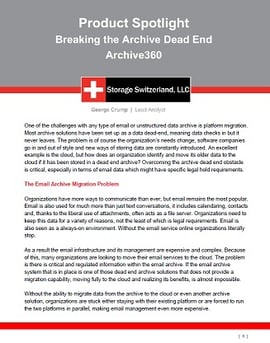 We recently caught up with George Crump, Founder of the well-known analyst firm, Storage Switzerland to provide an update on Archive360 and its technology solutions, as well as provide a sneak peek at what's to come. And, I guess he liked what he heard, because the result was a Briefing Note entitled, "Breaking the Archive Dead End".
Here's a quick synopsis; One of the challenges with any type of email or unstructured data archive is platform migration. Most archive solutions have been set up as a data dead-end, meaning data checks in but it never leaves. The problem is of course the organization's needs change, software companies go in and out of style and new ways of storing data are constantly introduced. An excellent example is the cloud, but how does an organization identify and move its older data to the cloud if it has been stored in a dead end archive? Overcoming the archive dead end obstacle is critical, especially in terms of email data which might have specific legal hold requirements.
To read/download the full paper, click here.