Audio and video files are a pain - NOT!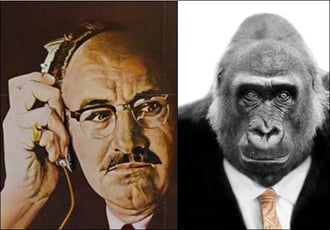 Corporations continue to adopt new information technologies that make their jobs both easier and more complex. Companies have adopted new communications platforms like Skype for instant messaging, enterprise social networks like Yammer and Slack, collaborative groupware applications such as WebEx, GoToMeeting, and video conferencing, not to mention audio and video recording for security. And of course most companies still rely on the old tried-and-true tools like email and telephone/voice messages for day to day communications. Many of these tools now allow you to record both audio and video for regulatory and eDiscovery needs.
The problem with these new technologies is finding specific audio or video content quickly. Below are three examples of audio/video content and the issues they can create.
Police departments generates terabytes of video per week
Let's look at an example from the government sector – Police Departments. Many Police Departments are now outfitting their officers with body cams that record both audio and video for evidence collection. The problem is what do you do with all of this audio and video evidence and how to search it when you need to find a particular event? In reality, officers and video techs are supposed to tag video files with keywords and other metadata to make searching it easier. But what happens when the metadata is not meaningful or the files have not been tagged, and how does a police department keep up with it? One small police department in California reports that they capture and store an average of 7 TB of video data per month. Some websites that cater to police video evidence retention offer some search capability but fall short and are expensive.
In reality, most jurisdictions rely on individuals to watch much of this audio/video data to find and report on specific events for court cases mainly because the technology to index and search these files are either not available to them or too expensive.
eDiscovery and audio/video – The 800 pound gorilla
For audio and video files, the 800 pound gorilla in the room is eDiscovery. Parties to a lawsuit must deal with discovery requests – an order from the opposing counsel to turn over relevant content. And these days, they are running across much more audio and video files as part of the collection process.
Defendants are forced to search for potentially responsive content no matter where it's stored and no matter its format. Because of this, defendants (those being discovered) are faced with manually reviewing potentially thousands of hours of files because they don't have the software to speed up collection and review. Their attorneys must do the same thing because they don't trust their clients to have caught everything and don't want to be accused of hiding evidence. Plaintiffs' attorneys also must deal with these files to determine relevance to their case. This additional manual handling of audio and video files drive the cost of discovery up, dramatically – usually to the detriment of the defendant.
Another legal use of audio and video content is that of recorded depositions. Deposition testimony is taken orally, with an attorney asking questions and the individual answering while a court reporter or tape recorder (or sometimes both) records the testimony. The attorney's will refer back to these recordings often.
And finally recorded witness statements are common and generate large amounts of audio and video content. Attorneys and their paralegals must spend time listening/watching hours of this content to index and absorb for relevance.
Regulatory retention is not just for email
Many regulatory retention requirements are now beginning to call out or at least imply the retention of audio and video files. For example MiFID II will generate new requirements concerning the recording, storing and monitoring of telephone conversations and electronic communications.
MiFID II Article 16(7) of the Directive states that "Records shall include the recording of telephone conversations or electronic communications relating to, at least, transactions concluded when dealing on own account and the provision of client order services that relate to the reception, transmission and execution of client orders."
As I've already mentioned, part of the problem with audio and video files is finding specific content quickly. In fact the MiFID II regulations state "Records must be stored in a medium that allows them to be accessible for future reference and readily available if NCAs request them." This strongly implies that audio and video content must be indexed and easily searchable, complicating compliance.
End-user productivity
As business communications expand, end-users are also retaining larger numbers of audio and video files and are referring back to them regularly. Recorded Skype calls, WebEx recordings, and video conference material can absorb huge amounts of end-user productivity searching for specific content because they rarely index it themselves or have access to software to index the content automatically.
The cloud enables real-time audio and video indexing and search
Microsoft's Azure cloud platform just announced the availability of Cognitive and Media Services as part of the services stack available to application developers to include in their native Azure applications. Cognitive and Media Services enables the real-time indexing and transcription of audio and video files to enable search and location of specific content so that searches across GBs or TBs of previously unindexed content can now be accomplished quickly.
Archive2Azure plus Azure Cognitive & Media Services
Archive360's Archive2Azure now includes Azure Cognitive Services. Archive2Azure is the industry's first managed cloud archive specifically designed for long-term archiving of compliance and low-touch data on the Microsoft Azure platform. A major differentiator from other cloud archive vendors is that archived data is stored in your company's Azure instance with complete access and control, not some proprietary cloud archive controlled by others.
Archive2Azure enables organizations to consolidate unstructured data while lowering the cost for archival cloud storage. This includes legacy email archives, journal folders, inactive or departed employee work files, PSTs, file share content, backups, system generated data, and eDiscovery/compliance data. With infinite scalability, Archive2Azure delivers long-term, secure compliance retention and management at a great price. And now with the ability to store, manage, and search audio and video files, Archive2Azure offers a full-function, intelligent archiving platform that blows the competition away.
And most importantly, Archive2Azure always stores your archived content in its original (native) format, and NEVER charges to export data.
About Bill Tolson
Bill is the Vice President of Global Compliance for Archive360. Bill brings more than 29 years of experience with multinational corporations and technology start-ups, including 19-plus years in the archiving, information governance, and eDiscovery markets. Bill is a frequent speaker at legal and information governance industry events and has authored numerous eBooks, articles and blogs.