The Lifecycle of Data versus the Value of Data
Back in January of this year, we published a blog titled Quarantine your Stale Data about the need to quarantine your stale (or grey) data. In it, we talked about a conversation we had with Alan Daley, Research Director of Gartner Research, about the problems his clients were having with managing stale data – or those files that for whatever reason, become less valuable to the end-user over time.
Stale but not Disposable Data

Alan also said that many of these same files could become more valuable to the organization over time for several reasons including because they contain intellectual property or corporate expertise or have corporate historical value. The point of the blog was that as end-users stop using this data, it should not be simply deleted just because the data owner (the employee) has not accessed it for over a year.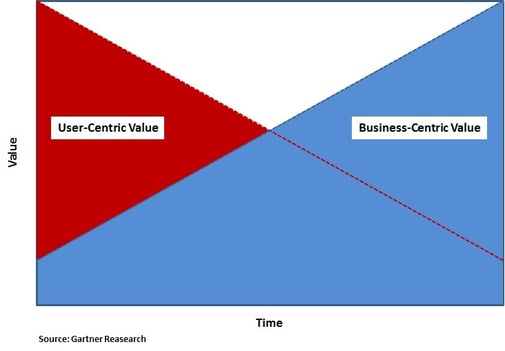 Figure 1
In another blog from mid last year titled The Lifecycle of Grey Data, I introduced the idea of grey data or how data transitions from active status to stale or grey status. In this blog, I introduced the Revised Lifecycle of Data chart (see figure 2 below).
The Lifecycle of Information
Fred Moore, Founder of Horison Information Strategies, wrote about the concept of the lifecycle of information years ago. His theory was as information ages, it probability of re-use and therefore its value, shrinks rapidly. Once data has aged, its probability of ever being looked at again approaches 1%, and as it continues to age, approaches but never quite reaches zero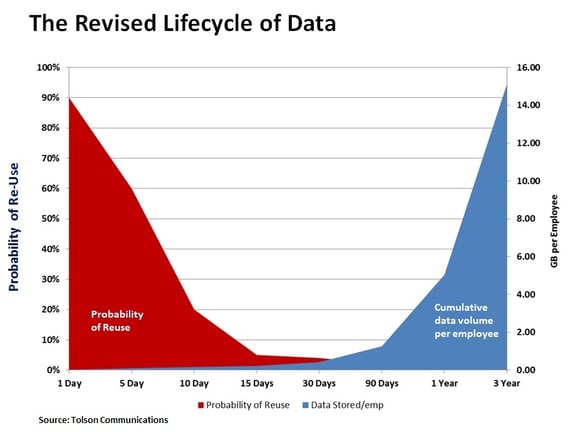 Figure 2
Taking Fred's Moore's original theory and updating it for today's business cycle and employee data usage, I created the Revised Lifecycle of Data shown above. It occurred to me that Alan Dayley's stale data concept and Fred Moore's Lifecycle of Information theory showed similar tendencies in reference to the value of data declining and the probably of reuse. I thought it would be interesting to overlay the two theories to see what we would see…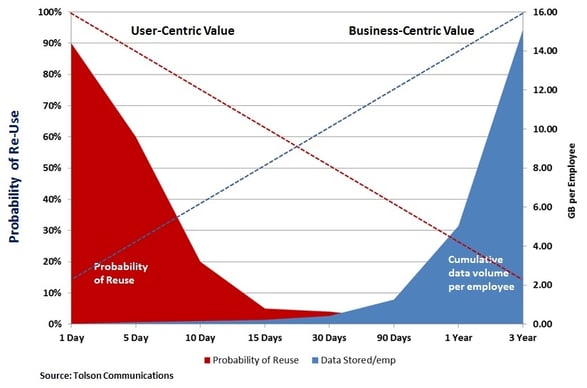 Figure 3
In reality, nothing really earth shattering emerged except that yes, in fact, declining user value and declining probably of reuse do coincide. However, an interesting question does arise in reference to defining stale or grey data beyond just simple "date last accessed" metadata. Referring back to the original Lifecycle of Grey data blog, we can determine what data is actually needed (on the average) for litigation, regulatory, and business needs) providing us at least estimates of what quantities of data could be considered as stale or grey data. From the blog, we learned that 39% of enterprise data is actually needed for legal, regulatory, and business reasons, leaving us with 69% that is potentially or actually stale or grey data. I overlaid the expected average data amount required for legal, regulatory and business needs as shown in figure 4 below.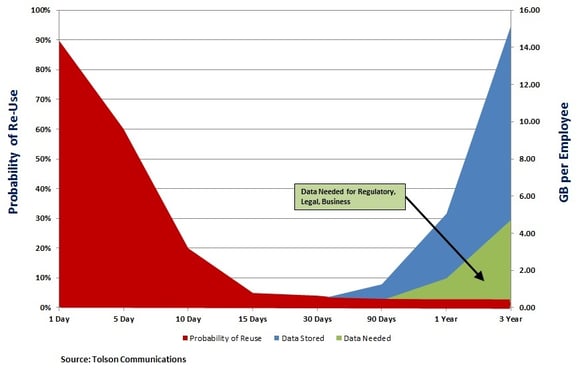 Figure 4
Ok, so what? The question is what are companies doing with all of the stale data employees are storing on company file shares, cloud accounts, local hard drives etc. and what is it costing them? If those files are on file shares, are they being backed up every night or every week? How much is your company spending discovering individual workstations, individual cloud accounts, etc. for eDiscovery reasons? You would be surprised…
Quarantine and manage your Stale/Grey Data in the Azure Cloud
A recommendation is to "quarantine" this stale data in the Microsoft Cloud with Archive360's Archive2Azure until its status can be safely determined. In this example, quarantine refers to low cost, secure storage of data in a secure and managed location. Once the organization can determine the data's status, or it has aged the appropriate amount of time, it can be disposed of.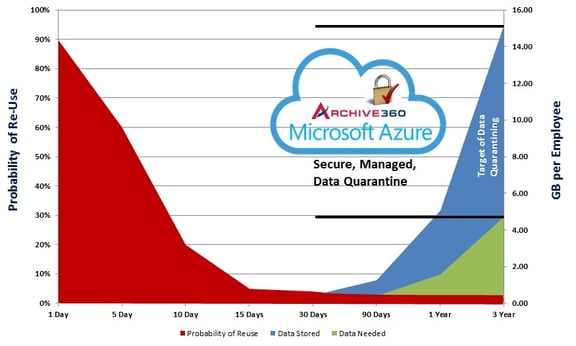 Figure 5
The notion of quarantining stale/grey data fits one of the Archive2Azure use cases perfectly. The low cost Microsoft Cloud is the perfect solution to store and manage unlimited amounts of data securely and economically. Archive2Azure provides a managed "quarantine" repository to protect data, manage access, search, and disposition automatically. Using Archive2Azure, stale data rests securely in the Microsoft cloud, secure and easily accessible for search, legal discovery, and compliance.
About Bill Tolson
Bill is the Vice President of Global Compliance for Archive360. Bill brings more than 29 years of experience with multinational corporations and technology start-ups, including 19-plus years in the archiving, information governance, and eDiscovery markets. Bill is a frequent speaker at legal and information governance industry events and has authored numerous eBooks, articles and blogs.