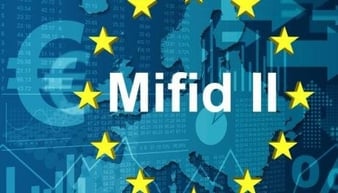 MiFID II is right around the corner, January 2018, and there are new data handling, storage, and indexing requirements that some (or many) financial services organizations may not be aware of. In fact, MiFID II, focuses on the EU financial services sector and aims to improve the quality of advice presented to clients as well as offer additional investor protections. To accomplish these requirements, the new regulations add additional data recording, retention, and search requirements.
In fact, MiFID II requires financial services companies capture all data and communications related to securities trading. One interesting data retention addition is that financial firms are now required to record and save telephone calls as well as voicemails related to trading. Firms are required to record telephone conversations and electronic communications that relate to the reception, transmission and execution of client orders, or when dealing with their own account. This addition is an FCA requirement extended under the financial legislation of the Markets in Financial Instruments Directive (MiFID II).
Regardless of the original data source, mobile phone, office phone, voicemail system, or computer based telecommunication (such as Skype for Business), recordings must be made and stored in an immutable format for at least 5 years, sometimes longer, in such a way that allows for the information to be easily accessible should the agency authority request it. This means companies retaining audio files must be able to index, transcribe, and search the audio files quickly.
MiFID II (Article 72) further states that these telephone-based audio records must be stored in their original format and retained in a way that allows for the information to be completely retrievable, i.e. including specific metadata to enable search based on custodian, date, etc.
Archive2Azure and MiFID II
Archive360's Archive2Azure is an intelligent archiving platform designed to work in conjunction with the customer's cloud-based Microsoft Azure subscription. Archive2Azure provides an intelligent Azure archiving platform which includes retention/disposition policies, full audit reporting, Azure Search, and native format retention.
One of the most important requirements of cloud platforms is security. Because Azure (and Archive2Azure) is part of the Microsoft Trusted Cloud, Azure provides industry-leading security, reliability, compliance, and privacy.
MiFID II retained data also will include sensitive data (PII) that must be protected from hackers or internal theft requiring stringent data protection capabilities. The encryption of "data-at-rest" is essential to protect sensitive or personal data and to meet compliance and data privacy requirements. Encryption of data at rest is designed to prevent the hacker from downloading and using data easily by ensuring the data is encrypted when in storage within Azure and Archive2Azure.
Is Archive2Azure the right solution for financial services organizations with MiFID II requirements?
Absolutely. Archive2Azure is an intelligent cloud archiving solution developed by Archive360 leveraging Azure's feature rich infrastructure to offer an open, scalable, and immutable data archive. Archive2Azure incorporates an object storage architecture based on Azure Blob Storage.
MiFID II requirements covered by Archive2Azure include immutable storage retention, full audio and video file indexing, automatic transcription, Microsoft Cloud security, storage in native format, and powerful Azure search. Recorded telephone calls and voicemails (as well as any other data) can be stored, indexed, and quickly searched enabling you to find and go to the exact spots in the recording where keywords are present. Not only does this capability meet Article 72 requirements, but is a huge productivity saver as well when responding to agency information requests.
Designed from the ground up to manage petabytes of information and billions of objects across multiple geographic locations, Archive2Azure now makes it affordable to leverage the Microsoft Cloud while minimizing risk and delivering greater value to the financial services industry.
About Bill Tolson
Bill is the Vice President of Global Compliance for Archive360. Bill brings more than 29 years of experience with multinational corporations and technology start-ups, including 19-plus years in the archiving, information governance, and eDiscovery markets. Bill is a frequent speaker at legal and information governance industry events and has authored numerous eBooks, articles and blogs.