Office 365 Migrations: When Email Archive Size Matters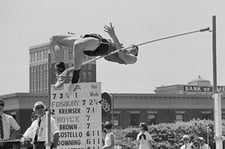 On October 20, 1968, 21-year old Dick Fosbury high-jumped 7 feet 4 ½ inches (2.23 meters) to win gold for the USA at the Mexico City Olympics. In the process Fosbury broke a world record and gave his name to the term "the Fosbury Flop", so called because of Fosbury's unconventional yet effective jumping style.
Efficiency is key in Office 365 Email Archive Migrations
I thought of Fosbury as I looked at the latest migration throughput reports at one of our customers. While I can't share their name, I can tell you that they're one of the top ten banks in North America and one of the 20 largest banks in the world. They're also one of the two largest archive migrations to Office 365 that Microsoft has ever undertaken – some 440 TB of data.

Like most organizations looking to migrate (large volumes of) data to the Cloud, this company has three key concerns:
Speed

How quickly can I get my migration project up and running?
How fast can I pull the data out of the archive and move it to my new environment?
How much hardware is required to support this level of processing?

Verifiable Accuracy

How am I validating that messages (including stubs) have fully and correctly migrated?
How am I managing any processing errors?
Can I generate chain of custody reporting, down to the individual message level?

Predictability

Can I plan my migration with certainty (when will I migrate which domains and/or mailboxes)?
How soon can I complete my project?
A snapshot of a daily report from the customer shows their migration topping five terabytes of archived data per day – and that's for in place stub rehydration (migrating stubbed messages to current users' live mailboxes) as well as for Office 365 migration to the users' archives in parallel . And I'm glad to report that this organization isn't sacrificing performance for cost – the entire project is running on only four migration servers, for all processing.




The second graph shows velocity testing that the customer ran for their PST migration: two servers achieved an aggregate throughput of 7.2 TB per 24 hour period.





The industry for migration extraction from a legacy email archive is approximately 300 GB per day – based on the performance of the legacy email archive vendor's API. At 5TB or more per day, our customer's migration is running at orders of magnitude faster.

So while these performance statistics might be a new record and earn Archive360 some accolades, the real winner here is the customer. After all, when it comes to archive migration: predictable, accurate faster migration = shorter project times = reduced customer costs.
Ask Us Your Questions About Office 365 Email Migrations