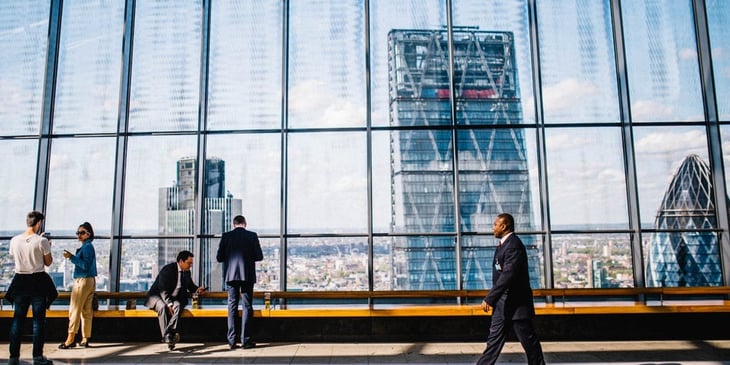 Office 365 Online Email Archiving & Compliance for Large Organizations
Why you should turn on Office 365 email archiving for your business (and how to make the most of it if you already have).
Do you remember a time when your mailbox was always complaining it was full? It was the bane of all digital communicators, whether at home or in the office, with bloated inboxes often leading to missing messages and undelivered attachments due to a scarcity of available storage. If you've never received such a stress-inducing alert from your email system, you're either one of the last champions of the handwritten letter, or you grew up in the era of Instagram and iCloud. The chances are it's the latter.
Today, thanks to the affordability of storage media and the explosion of cloud-based infrastructure those aforementioned platforms rely on, the "Inbox full" phenomenon is quickly becoming a thing of the past. Especially for those using Microsoft's cloud-based Office 365 suite. But the threat of overflowing email still lingers.
Whether it's your Gmail account or your work-based Outlook email, allowing thousands of messages to grow old in your inbox (not to mention the attachments that go with them) means mounting pressure on the servers that store them. And in a world where email usage is increasing and the size of the files we use and share are growing, the risk of a return to the dark days of communication congestion is a possibility.
That's why Microsoft introduced Email Archiving (or In-Place Archiving) to help end-users and IT teams better manage messages through an archive folder within a mailbox. This enabled old emails to be archived but still searched for, while freeing up available storage and reducing the load on primary business servers.
Now, with cloud-based services and storage available, that idea has been improved upon with even greater scale. The in-built archiving features in Office 365 are incredibly useful for both individuals and IT professionals, helping to ensure no mailbox reaches its capacity outside of exceptional circumstances.
What is email archiving in Office 365?
Office 365 is geared up to provide each user with additional mailbox storage for archiving. For end users, this means the ability to select emails in the primary mailbox and archive them on any of their connected devices, be it desktop, laptop, mobile or even in their web browser. They can also reinstate messages that have been deleted or archived and return them to their inbox if they wish. Even better, simply turning on archiving for a user provides an additional 100GB of mailbox storage, and there's more space available if needed, which we'll cover later on. When used regularly and correctly by each user, this can take a lot of pressure off IT teams seeking to reduce overall storage.
Depending on the license deployed, archiving in Office 365 also enables businesses to carry out legal and litigation holds, determine user permissions and control retention company-wide. A serious set of features offering basic levels of business compliance.
Some
great features included with online Office 365 in-place archiving:
Archiving adds up to 100GB of additional storage for a mailbox.

Office 365 email archives can be searched along with the live mailbox from within Security & Compliance Center

Office 365 archiving offers unlimited storage options
Your business may already use or be planning to use archiving in Office 365, or you might not even realize that you have it. In most cases, if you have an Office 365 E3 license or higher, you will have access to archiving and, based on the benefits above, it's definitely an option to think about. So how do you get it up and running?
Digging into the details of Office 365 online archiving
As we alluded to before, for a feature that comes included with your existing license, Office 365 mailbox archiving is effective and pretty comprehensive. Where once you might have needed a third-party service to help you manage your mailbox archiving, Office 365 can handle much of the work for you, but first needs to be configured and switched on.
Users can't turn on archiving by themselves, this needs to be done by an administrator or someone with the necessary permissions. If that's you, you can enable and disable Office 365 online archiving for specific mailboxes within your organization by accessing the Security & Compliance Center at protection.office.com. Under the Data Governance/Archive section you are able to select the users you want to enable or disable archiving for.
However, before you go ahead and switch on archiving, it's important to ensure you are aware of the default Exchange retention policy or Messaging Records Management (MRM) policy. This will come into effect as soon as Office 365 archiving is switched on for a user and will automatically move messages of a certain age to the archive from the user's primary mailbox. It will also archive older items from the Recoverable Items folder. Worth knowing before your own inbox is flooded by users wondering where their old emails have gone.
If you don't want to use the default retention policy, you can set your own by creating custom retention tags to define the way email is handled for mailboxes with archiving enabled. This can be done before you enable archive mailboxes.
Okay,
you're archiving your Office 365 mailbox. What happens next?
With Office 365 email archiving enabled, users can not only better manage their inboxes, but it can help your organization to meet its compliance requirements. Mailboxes will respond to the retention policy you set, and content can be searched using the Security & Compliance Center's Content Search tool across live mailboxes and archives. This can be useful if, for example, internal teams need to carry out searches for legal or compliance reasons. Additionally, you can place a Litigation Hold on an individual mailbox or a group which will also retain content from the archive. We'll be talking more about search and compliance a little later on, so if these features pique your interest, keep reading.
Top tips for Office 365 administrators:
Exchange Online PowerShell can also be used to enable and disable archive mailboxes.

You don't have to go mailbox by mailbox to enable Office 365 archiving. You can select multiple users and bulk-enable archive mailboxes for them.

Litigation Hold for mailboxes in Office 365 also retains content held in mailbox archives.
The ever-growing end user mailbox
We mentioned before that we live in a world where file sizes as well as the number of emails sent and received are on the increase. Think about how many times you've sent a batch of photos via email, maybe even video or audio files. Then there are business documents like spreadsheets, Word files and presentations which aren't always huge, but all add up over time and rival the size of their multimedia counterparts through their sheer volume. While far superior solutions for sharing and storing files exist outside of email – Dropbox, WeTransfer and Microsoft's own OneDrive to name a few – many businesses and their employees aren't in the habit of only sharing links to files via email and so the storage stuffing continues. The fact is, these emails have to go somewhere. Those received and also those that are sent. They may hover in a draft folder for a while before they sit in an outbox, and an inbox, maybe a mailbox subfolder and then, if you're lucky, they end up in an archive or the trash. But, more often than not, they just sit there as part of a user's ever-expanding inbox-based to do list that will likely never be completed. And even if all of these emails are eventually archived, the size and weight of emails can still start pushing acceptable mailbox quotas.
But not in Microsoft's world.
With Office 365 there's an additional archiving feature called "unlimited archiving" and it's as cool and as useful as it sounds.
Office 365 unlimited archiving
The cloud promises us infinite scale and flexibility and Microsoft has captured the essence of that promise in Office 365 email archiving. We've already mentioned that archiving, when switched on, adds an additional 100GB of storage to a user's mailbox, but what happens if they fall into the category of the example above and exceed that limit? Previously, the responsibility would fall on an IT administrator to either help reduce the size of the mailbox or contact Microsoft to request additional storage. However, with Office 365 unlimited archiving (or auto-expanding archiving), the storage size simply increases based on the needs of the user. No worrying about what to keep and what to delete and no fear of the dreaded "full mailbox" message. IT staff can rest easy and users can keep on emailing.
This clever little feature is, like archiving itself, only available when switched on by an administrator and, from that point on, works automatically to ensure there's no disruption in communication for end users or time-consuming phone calls to be made to the Redmond mothership.
So, how does it work? Put simply, when archiving is turned on for a mailbox, the additional 100GB of storage is allocated with a warning quota of 90GB. With unlimited Office 365 archiving turned on, the archive mailbox is automatically converted into an auto-expanding archive when the 90GB warning is triggered and additional storage is provided. The mailbox is then monitored, and additional storage is applied as and when needed. However, one slight wrinkle in this otherwise impressive feature is that it can take 30 days for this extra storage to be added.
Step by Step: Office 365 unlimited archiving.
Office 365 online archiving is enabled for a single or shared mailbox by an administrator.

An Office 365 archive mailbox is created.
The administrator then turns on unlimited archiving.
When

the Office 365 archive reaches 90GB in size, it is automatically converted to an auto-expanding archive.

Office 365 adds additional storage space.

Office 356 archive automatically allocates more storage space as needed, as the archive size increases.
But, wait. What about eDiscovery?
If everything explained above seems perfect for your business, archiving in Office 365 might be your ideal solution. However, if your business has strict compliance policies or regulations it must follow, there may be a few areas you need to consider. While Office 365 online archiving does a great job of managing the emails in your users' mailboxes, the tools it offers for searching and the freedom it offers to employees can restrict the level of flexibility and compliance your business has access to. Whether it's the ability for end users to delete or modify emails before they're archived or the limited discovery functionality provided by Office 365, some features don't do an adequate job to ensure true compliance. And if your business is required to adhere to such regulations, additional solutions will be required.
A
few issues to consider when using an Office 365 email archiving mailbox
| | | | |
| --- | --- | --- | --- |
| Setting rules is not enough | Archiving isn't always accurate | Searching can be a struggle | You can't do more with data |
| Even with retention policies set, end-users can still make the final call on the way in which an email is handled. They decide whether to delete it or archive it which, for many regulations, could mean a lack of compliance. | Because archiving works more like a backup than a record, messages can slip through the cracks between automated archiving windows. Users can also modify messages which means emails that are eventually archived might not be the originals. | eDiscovery is a cornerstone of any litigation process and Office 365 is somewhat limited in terms of speed and search capability. This level of eDiscovery might not be enough in the case of a legal investigation or audit. | There's a wealth of information stored in your archives which you can't get at if you use Office 365 archiving. From understanding employee sentiment to unlocking insights, Office 365 archives provide limited functionality beyond simple retention. |
So, what's the alternative? Simple. Consider Office 365 journaling.
Of course, moving away from Office 365 entirely is an option but, given its power and ubiquity for business, not one we would recommend. The answer lies in a different approach to storing and managing emails. Journaling is a similar but far more effective process to ensure your business remains compliant and one that's ready for the cloud without requiring a move away from Office 365, even though the suite doesn't offer it natively.
Office 365 Journaling Vs Office 365 Archiving
You would be forgiven for thinking that journaling is an old, out of date technology. It has been around for a long time, long before the cloud and not long after the birth of email.
You may have used it previously or perhaps still use it as part of Exchange Server on-premises or Exchange Online in the cloud. However, while it was launched back in the on-premises days, it plays a crucial role today in ensuring compliance. Originally a feature added for businesses in the finance sector looking to meet SEC requirements, Microsoft introduced Exchange journaling to allow customers to store a master copy of all emails as a record in the case of an investigation. In the modern world, this requirement is no less important. In fact, it's likely even more crucial than ever.
The following regulations can be met through journaling:
Financial Institution Privacy Protection Act of 2001
Financial Institution Privacy Protection Act of 2003
Gramm-Leach-Bliley Act (Financial Modernization Act)
National Association of Securities Dealers 3010 & 3110 (NASD 3010 & 3110)
Japan's Personal Information Protection Act
European Union Data Protection Directive (EUDPD)
Uniting and Strengthening America by Providing Appropriate Tools Required to Intercept and Obstruct Terrorism Act of 2001 (Patriot Act)
Health Insurance Portability and Accountability Act of 1996 (HIPAA)
Security Exchange Commission Rule 17a-4 (SEC Rule 17 A-4)
Sarbanes-Oxley Act of 2002 (SOX)
Archiving and journaling in Office 365 are the same thing, right?
Wrong. Journaling and archiving are somewhat similar in their approach to information. They both effectively store data by moving it to another location, but it's the way in which that process is performed and the availability of the information afterward where the true differences lie.
Journaling captures an exact record
To start with, the process of capturing emails is different. While archiving in Office 365 stores those emails in the archive mailbox, whether put there by the user or moved automatically by policies you have set, journaling catches all emails. For every mailbox you journal, a golden, tamper-proof record of each email that comes in and goes out is stored. This means that users have no way to edit or delete a message before it is stored by journaling. That's a huge tick in the compliance box.
Journaling data is great for eDiscovery
You can, of course, search Office 365 email archives but not as well as you can when you have full access to your journal data, especially in the cloud. Stored in its native format and accessible by those with the required permissions, journal data is ideal for use with eDiscovery tools and other solutions that harness the power of your user data. Plus, being an immutable record of all emails, you know the information stored through journaling is as accurate when working with litigators or auditors.
Could journaling in the cloud provide a boost your business?
So, journaling has benefits beyond compliance and legal matters that could truly benefit your business. Does it seem like a more exciting and modern prospect now? If you're considering a move to Office 365 or are already using it, journaling is a key consideration for your business, especially if it's growing and expanding into new territories. While many who have always used journaling want to bring those features with them when they move to cloud-based infrastructure, others who need more than Office 365's archiving toolset should also take note and consider journaling as an effective tool not only for compliance but to extract great value from your data.
Why archive in Office 365?
Employees can find what they need. Office

365 online archives are simple to use and provide flexibility for end-users.

It's part of your existing platform. Assuming you have the right license, Office 365 provides archiving out of the box that you can turn on and off as you wish.
You can set retention rules and search. Albeit limited, Office 365 provides access to basic retention and compliance-related features suitable for some businesses.
Why journal?
It's "set and forget". Once properly deployed, journaling can just happen in the background with minimal maintenance.
It provides a huge boost to compliance. The records produced by journaling are required by many regulatory bodies in order for a business to meet their compliance standards.
It unlocks opportunities to do more with data. Journal data stored appropriately in the cloud provides you with a wide range of eDiscovery and analysis options.
Embracing journaling in the public cloud with Archive360
If you're using Office 365 or are currently using Exchange Journaling and are considering a move to the cloud, including journaling in your future plans is a wise decision. Rather than be locked into a contract with a third-party or attempt to achieve compliance using the basic archiving features in Office 365, making use of your own hyperscale cloud provides you with the greatest amount of flexibility and control. This includes how you retain, store and access your data. With Office 365 unable to offer journaling services, the hyperscale cloud, such as those provided by Microsoft or Amazon, is the ideal location for both your business systems and data storage, opening up a range of possibilities for extracting value from your data while adhering to strict regulations.
Archive360 is one of the only companies to offer both migration and archiving services without relying on third parties at any stage. This means we can help your business to successfully move to the cloud and benefit from the scalability and flexibility it affords or enhance the way you use the cloud platform you are already on. Our many decades of experience have provided us with the knowledge and expertise to enable you to perform journaling in the cloud or merge both legacy and live journaling data in your Azure cloud tenancy with minimal disruption and faster than others.
In addition to helping you ensure compliance in the cloud, Archive360 can also help your business to harness long dormant data stored in your archives, enabling you to use cutting-edge tools for analysis, legal and HR activities. This includes the ability to search all of your data in its native format, even the content of audio and video files.
The benefits of journaling with Archive 360
| | | | |
| --- | --- | --- | --- |
| Migration | Data | Control | Security |
| We can move your data to the cloud faster than others using our own migration IP that operates at the data layer, not through an API. | We keep your data in its native format, making it easier to search and analyze (including video and audio files) and avoiding conversion costs. | You have complete control of your data in your own Azure tenancy, including the geographic location in which it is stored and how it is accessed. | You can use your existing security policies and processes and control your own encryption keys rather than handing responsibility to a third party. |
Of course, if Microsoft's Office 365 online email archiving does everything you need, you don't need us yet. But if the solutions we've suggested above sound appealing, especially in relation to compliance, eDiscovery and data analysis, learn more about Office 365 journaling or reach out and discuss your options with one of our representatives?
Archive360 offers Symantic / Veritas Enterprise Vault migration, among other major archiving platforms. Trusted by thousands of companies such as Netflix, 3M, Samsung, and McKesson.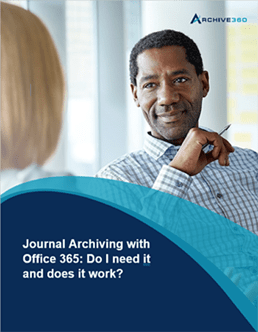 If you're journaling today, the stakes are high.
Your legal, compliance and security teams rely on having an immutable copy of all of your emails. Office 365 archiving does not support journaling. So what should we do?
This eBook provides actionable tips to empower IT to solve the problem.
Bill is the Vice President of Global Compliance for Archive360. Bill brings more than 29 years of experience with multinational corporations and technology start-ups, including 19-plus years in the archiving, information governance, and eDiscovery markets. Bill is a frequent speaker at legal and information governance industry events and has authored numerous eBooks, articles and blogs.