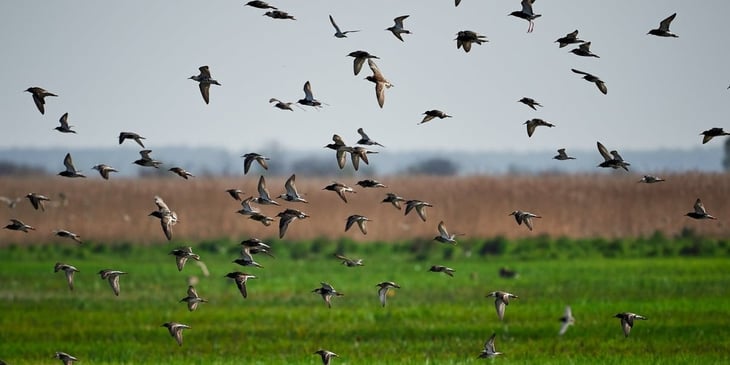 Smarsh Email Archiving Alternatives & Migration Software
Planning to move to Smarsh email archiving or away from it? Discover the steps to unlock the value of your archived data.
If you currently use Smarsh for archiving or are thinking about switching to it from your on-premises archiving solution, the time has come to think very seriously about both decisions. At some point in the history of many organizations, Smarsh was likely looked on as a useful tool for archiving. The simple ongoing costs, the lack of on-premises infrastructure (and its related maintenance) and a set-and-forget approach would all have been benefits. But now, as times have changed and technologies have moved on, the cloud in its truest sense should be your goal, not a third-party solution.
The SaaS deception
As a Software-as-a-Service (SaaS) solution, Smarsh email archiving promises many of the traditional benefits of the cloud but, as you will or already have discovered, when you scratch the surface, issues come into focus. Most SaaS offerings like Smarsh, Mimecast and SourceOne were developed before the cloud became the dominant force for business platforms and, as a result, suffer from the same legacy issues that organizations are looking to move away from.
The problems stem from the difference between the established, true form of cloud computing offered by Amazon, Google and Microsoft, and those of SaaS vendors like Smarsh. Whereas hyperscale clouds are effectively the same as running your traditional datacenter in an off-premises cloud environment, SaaS solutions are based on dated co-located datacenter technology. As a result, a number of limitations exist that prevent your organization from taking full control of its data.
The infrastructure used by SaaS vendors is:
Not customizable to suit the needs of your business
Not compatible with the latest advances in cloud technology
Not capable of scaling as your business grows
Not able to store data in specific or multiple geographic locations
That's a lot of negatives for a supposedly comprehensive solution that costs so much.
SaaS solutions like Smarsh archiving vs hyperscale clouds
As you can see, while SaaS promises the features and flexibility of the cloud, the only real benefit is that you no longer have to maintain on-premises servers. If you currently have a legacy on-premises archive like Enterprise Vault or Nearpoint, moving to a SaaS solution will offer little benefit when contrasted with the hyperscale cloud. There is a range of reasons for this, including the fact that most SaaS providers don't own their own datacenters, with many opting to rent space from the aforementioned major players. This in itself is a problem that we'll address later on. However, let's first talk about the cloud we think is best for you and make one point very clear – Archive360 is not a SaaS offering.
Archive360 creates software that's designed specifically to run in the true hyperscale cloud, not provide outdated solutions that only somewhat work with it, as is the case with SaaS. Working with Archive360 is not unlike installing new software on your on-premises infrastructure, only this time, that infrastructure is based in the cloud and offers you all of the incredible features the cloud affords without sacrificing control and ownership of your data.
We store your data in its native format in cloud storage or cloud data lake to ensure you have complete flexibility about where it resides and what you do with it. To highlight how important that is, let's take a look at a few more SaaS limitations to make sure you're crystal clear as to why the hyperscale cloud is your best choice.
Smarsh Archiving, SaaS and Security
There's never been a more important time for businesses to focus on the security of their data and systems, which is why most organizations dedicate significant resources to it. With a SaaS solution, a lot of that hard work goes out the window. If you've invested in security policies and protocols, a SaaS solution like Smarsh and its one-size-fits-all model mean they become largely redundant. Just like SaaS doesn't provide the control and flexibility of the hyperscale cloud, so it doesn't enable you to apply security rules and policies unique to your business.
With solutions like Smarsh, you don't control the type of firewall used, the datacenter your information resides in or even the level of background checks carried out on third parties with access to your data. Your IT and security teams will also not hold the encryption keys, the provider controls them too, as they likely apply to many of the organizations they work with. All of this adds up to a loss of security accountability on your part and far less control over your policies, even those based on regulations you adhere to, by comparison to the hyperscale cloud.
Sub-standard security: SaaS vendors like Smarsh mean you don't control…
Threat detection
Identity management
Application security analysis
Firewall and firewall rules
Cloud-native directories
Background checks
Compliance reports
Encryption keys
Physical data center security
You could make the argument that a move to the cloud requires a shift in security policy too. However, for such a positive shift to an environment where your entire technology footprint will exist, it makes sense. Adapting language and exceptions for a single part of that footprint, as you would need to do with a SaaS solution, doesn't make sense. This route means wasting time and resources, creating unnecessary conflicts between IT, security, privacy and compliance teams, not to mention the time stakeholders spend on policy sign-off. And, even then, should the worst happen, you're still unable to say you did everything possible to protect your data if such a large part of it was outside your control.
The major cloud providers, including Microsoft and Amazon, spend vast amounts of money on security every year in order to protect their customers and, in doing this, protect themselves. They also enable you to determine your own approach to security in your own cloud. Using a SaaS solution, you relinquish that control to a company with a smaller security budget and far less of a focus on or capability to respond to new and emerging threats.
The security of data, regulatory compliance and privacy are key reasons customers choose Archive360 over SaaS vendors. We enable you to work inside your chosen cloud without getting in the way of the policies and processes you have set for your organization. This complete control and accountability, coupled with best-in-class security technology, mean you don't have to compromise on data safety when it comes to the cloud.
Data sovereignty isn't assured with SaaS archive providers such as Smarsh
Do you know where your data currently resides? Back when it was stored on-premises, you always knew. The advent of the cloud has blurred the lines somewhat and it's now more important than ever to understand where all of your data is located from a geographical perspective. With regulations like the GDPR requiring data to remain in its country of origin, policies relating to access to data by foreign entities and many other regulations linked to data location, understanding at all times how and where your data is stored is crucial. But with SaaS archiving like Smarsh, you don't get those assurances. In recent years, SaaS providers have added new datacenters in different locations in order to alleviate the issue but, when compared to major hyperscale clouds, they can't provide the flexibility and global scale. And even if they have a location that's acceptable to all of your policies and regulations, you might not be able to use it. SaaS vendors often require a business to pick a single region and stick with it, allowing no room to adapt as your business needs change or the organization grows into new areas and markets.
Moving to the hyperscale cloud with Archive360 means you're free of these types of concerns. You are in complete control as to where your data is stored and how many locations you use and you can alter those choices as and when you need to. Whether it's a change in regulation, a new office in a new territory, or a route to more effective disaster recovery, you determine where your data resides.
In the hyperscale cloud you can:
Store data in one or multiple locations around the world
Handle data using your own specific policies
Benefit from powerful disaster recovery options by replicating data
Comply with a range of global regulations, including SEC and CCPA, GDPR and FRCP
The SaaS black box that limits innovation and data access
You created the data, you archived the data, and you own the data. Therefore, you can do anything you want with it, right? That's not necessarily true when it comes to SaaS. Because most SaaS archiving solutions like Smarsh were designed with email in mind, they treat all files like an email in order to ensure compatibility with their software. This is done by 'wrapping' individual files in a proprietary format that, among other things, limits file size and helps with indexing. However, this old school approach means your data is effectively inaccessible while it's within a SaaS-based archive. Much like a black box for your data, you can only access and manipulate it by going through the SaaS provider's own interface, limiting your visibility and the opportunity to do more with your data.
The thinking behind this approach was born during a time when analysis of archives wasn't a major requirement and archiving was done purely to adhere to the law. Today, while the compliance element remains true, archives also provide an incredibly valuable source of information for analytics, audits and internal investigations, they help weed out security risks and can help produce actionable insights for business leaders. But not with the SaaS black box. Using the vendor's GUI, you can search archives but not truly benefit from the wealth of information within them. You are limited when it comes to the tools you use for eDiscovery, whether it's Office 365 eDiscoveryor another solution.
SaaS vendors using proprietary formats limit you from making the most of your archived data and, should you wish to convert it back to its original format, normally charge you for the privilege. Archive360 helps you to avoid the pain of proprietary formats by ensuring your data is never altered from its original state, enabling you to search, model and analyze it in any way you wish.
Total data control: with Archive360 you can…
Facilitate audits as well as security and compliance investigations using archived data
Analyze data and unlock intelligence using powerful cloud-based tools
Access files in their native format without the need for conversion
With corporate files and emails quickly becoming one of the largest sources of untapped intelligence in your business, SaaS doesn't provide you with the tools to make the most of it, especially when it comes to the growing popularity of AI and machine learning. That's why we ensure your data is accessible via robust APIs that enable your teams or external parties you hire to harness the hidden power of your data. This could be as simple as onboarding an auditor for compliance purposes, helping HR teams determine the best performers or finding fresh ideas from unlocked insights that would have otherwise been buried.
Take a look at what your teams could do with archived data in the hyperscale cloud…
Chief Human Resources Officer
HR teams can analyze user-generated data in archives to reveal patterns in the way people interact, collaborate and meet. This can help support better organizational design and change management, like the way in which AI has helped predict when employees will quit with 95% accuracy. This type of analysis can also shed light on high performing staff, opening up new ways to reward employees and develop best practices.
Chief Marketing Officer
A CMO can learn a lot from email and file archives, especially when studying interactions with customers. By analyzing customer sentiment, teams will be able to accurately predict customer decisions and be able to adapt their marketing approach accordingly.
Chief Revenue Officer
Sales interactions are a valuable source of information in your archives that can be analyzed to provide detailed reports and insights into the customer journey. Drilling down into your company's unique sales cycle can provide crucial information as to the performance of your business and the campaigns you run.
Chief Innovation Officer
Great ideas can be lost without accessible data. By taking advantage of historical information, documents can be reused, best practices can be discovered, and collaborative efforts can be revisited to create new opportunities.
Chief Compliance Officer
As the volume of archived data increases, it becomes harder and harder to handle and makes manual search and classification almost impossible. In the cloud, algorithms can enable records, legal, and compliance teams to identify what matters and protect sensitive information.
Chief Information Security Officer
With complete access to user-generated data, patterns can quickly be spotted to reveal security threats from those within your business, whether they're malicious or inadvertent, and enable you to take steps to mitigate the impact.
Did you know you can search the content of archived audio and video files?
Archiving isn't only about email. Today we archive all sorts of files and attachments that, when it comes to SaaS, are all treated the same. While text is relatively easy to index and search, SaaS vendors come unstuck when social media, video and audio files come into play. This means these frequently used forms of media are lost in a sea of information when archived when you could be searching for content within them. As more and more money is spent on R&D by hyperscale cloud providers like Microsoft and Amazon, the more amazing new technologies are made available, such as the ability to search for a phrase, find it in an archived video recording and open the file at the exact point the words are uttered. You can do this and more in the hyperscale cloud with Archive360, but it's unlikely Smarsh archiving can do the same.
Social media is another area you should be thinking about as it grows ever more popular in personal and business circles. Once upon a time, it didn't need to be archived, but regulations are gradually catching up and it's likely that your social media output will also need to be retained. It's changes to regulations like this that raise the valid question as to whether your provider will be able to adapt in the same way you will be forced to. With Archive 360, you'll be safe in the knowledge that your organization is prepared for any change, be it technology or government-mandated regulation, as well as new file types and platforms.
When you're choosing a provider or speaking to your existing vendor, ask them if their solution can…
Allow you to make us of cutting-edge, cloud-based tech as it's released
Adapt your policies and options to meet changing regulations
Archive, search and access files in their native format
Search for content within archived audio and video files
Making the most of your migration
Whether you're moving from an on-premises solution or a SaaS-based product, are carrying out Exchange journaling and plan to move to archiving or journaling in Office 365, or simply want to reap the benefits of the cloud as soon as possible, migration is not a task many people enjoy. The process is fraught with pitfalls and can become time-consuming and expensive without appropriate planning and the best possible migration processes. And, because most SaaS providers work with third parties rather than use an in-house team of their own, things can get complicated fast with multiple points of contact in the mix. The process of migration can also throw up issues, especially where older archives are concerned.
Could you leave data behind?
Having carried out thousands of archive migrations, using our own IP to transfer over 30 petabytes of data to the cloud, Archive360's expertise is unrivalled. We avoid many of the processes used by SaaS and migration vendors in order to provide you with the fastest and most accurate migration possible. This includes extracting data directly from the storage layer rather than use the API layer, which not only speeds up the process but ensures no data is left behind. Because many vendors choose to use the archive's API and therefore rely on potentially corrupt databases, information not listed in these indexes will not be migrated. Our approach, however, extracts your archive in its entirety, not relying on what the index claims is in the archive, but taking what is actually there. This helps avoid any potential compliance issues, maintains chain of custody over your data and prevents the file duplication and other errors that come from reliance on damaged indexes and databases.
How long will your migration take?
Another benefit of accessing the data layer rather than migrating via the archive's API is the performance. Because Archive360 bypasses the bottlenecks of the API for the superior read and write performance of the storage layer, it can extract data faster and with minimal impact on your network bandwidth. This enables us to transfer data at a rate of between 3-10 terabytes of data every 24 hours rather than the few hundred gigabytes per day of a standard API migration. This speed also means we don't have to sit behind your firewall and slow down your network while the migration takes place. By quickly extracting all of your data and moving it to the cloud, it's processed in the environment that it will reside in, not where it used to.
Finding freedom in the cloud
Archive360 ensures you have complete clarity over the size of your archive and what it contains. This is another benefit of avoiding reliance on potentially corrupt indexes, as the size of your archive doesn't change before it's moved to the cloud. By analyzing it before migration, we can also tell you how many active and inactive users exist in your archive, with the number of inactive users normally in the 25-75% range. This is important because, although there's still a legal requirement to archive all users, regardless of their status, it can skew your costs. For example, if you have 5,000 current employees, your price for archiving would be based on that. Then, when your migration begins, the user accounts of former employees are discovered, and that number could rise by as many former staff members as you've ever employed. To a SaaS archiving vendor like Smarsh, a user is a user and you will be charged accordingly. However, the hyperscale cloud allows you to store inactive users on storage that comes at a lower cost without impacting your ability to access or search the data.
Retain control of your data and unlock value with Archive360
At Archive360 our goal is to make the migration and ongoing management of your data as secure, pain-free and valuable as possible, helping you make the most of your archives, both today and in the future. We can improve the classification, recognition and eDiscovery of all data types in your archive using multiple retention and disposition policy workflows. We can help your legal, compliance and privacy teams better work with and harness data, and we can make sure you're ready to take advantage of new technologies as they are launched.
Find out why businesses the world over choose Archive360 to migrate and manage their most sensitive data. Get in touch to request a demo today.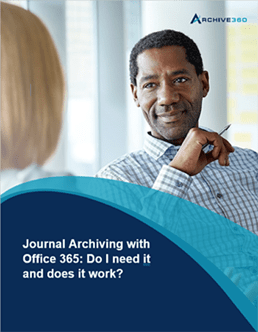 If you're journaling today, the stakes are high.
Your legal, compliance and security teams rely on having an immutable copy of all of your emails. Office 365 archiving does not support journaling. So what should we do?
This eBook provides actionable tips to empower IT to solve the problem.
Bill is the Vice President of Global Compliance for Archive360. Bill brings more than 29 years of experience with multinational corporations and technology start-ups, including 19-plus years in the archiving, information governance, and eDiscovery markets. Bill is a frequent speaker at legal and information governance industry events and has authored numerous eBooks, articles and blogs.