The halfway house – Why migrating from Enterprise Vault to Enterprise Vault.cloud isn't the ideal solution
SaaS archiving platforms have been around for a while now, with legacy vendors like Veritas (as well as others like Smarsh, Mimecast and GlobalRelay) making use of the SaaS model to deliver one-size-fits-all archiving solutions. In the early days of SaaS, cloud solutions such as these had some major selling points and they were the only cloud solutions available. They helped businesses to do away with ongoing on-premises infrastructure costs in favor of a convenient subscription service that required little input on their part. The problem is, they weren't designed to be flexible or compatible with the true, hyperscale cloud requirements of today.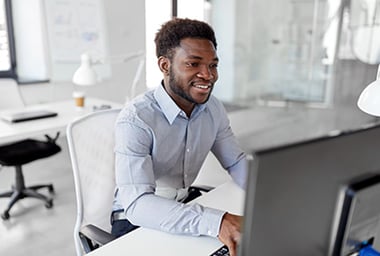 With "agility" and "flexibility" key buzzwords in technology over the last few years, this obvious limitation quickly highlighted the apparent problem. As the world rapidly changes, especially in relation to technology and data security, SaaS-based archives aren't designed or equipped to cope with shifting regulations and constantly emerging security threats, or the need for businesses to scale up and down based on business requirements, as the hyperscale cloud is.
While SaaS solutions might once have been the easiest or only way to go, their static feature sets and one-size-fits-all design restrictions now limit security, access, accountability, and direct control over your data.
Most SaaS-based archiving vendors will tell you they offer the best turn-key cloud archiving platform but, in reality, they only introduce the same issues you experience with legacy on-premises infrastructure, such as the lack of an easy way to harness analytics, Machine Learning, and AI. In other words, the SaaS "lowest-common-denominator" design and architecture cannot meet today's needs.
Sharing your cloud with others
Many SaaS issues stem from a basic drawback of the model – the fact that most SaaS-based archiving vendors don't own their own datacenters. Instead, they rent space in what's called a multi-tenant cloud. In reality, the SaaS vendor is subletting their cloud tenancy to you and offer a single application hundreds of other companies.
Not only does this situation block the addition of new much-needed capabilities, but it also raises major security concerns. For instance, that fact that as a customer, you don't have control of the encryption keys used to secure your data. This, coupled with a lack of control over the security processes and measures in place, means your company's data could be inadvertently shared with all of the SaaS vendor's other clients in the same multi-tenant cloud. That significantly increases the chances of unauthorized access i.e. viruses and ransomware, data corruption, or deletion. It also means the SaaS vendor can access your company's sensitive data at any time or provide access to government agencies via secret subpoenas – without you ever knowing.
Vendor Data Ransom
While security is a major issue for all organizations, subscription costs and total cost of ownership is always a close second in importance. Most SaaS vendors will convert and store your company's files in their own proprietary format that only their tools can access, essentially creating what amounts to a data prison. When you want to eventually move your data somewhere else, the vendor can charge you huge "reconversion fees" to move your data away from their service. On top of this data ransoming, the proprietary format also means you can't use your data with AI or Machine Learning technology to provide content-based auto-classification and supervision for more accurate information management.
Before you consider a migration to Enterprise Vault.cloud, we suggest you check with the vendor:
Do you have to pay a reconversion fee to extract your data out of your Enterprise Vault.cloud archive?
What is the cost per GB for the extraction?
Are there limitations on the amount of data I can search and extract per day?
Possible SaaS archiving issues:
Limited or no control over your data's geographic location – data sovereignty
Little to no control over security capabilities
Proprietary file formats that limit your ability to move your data without paying exorbitant fees - data ransoming
Limited search and review options for audio, video and other non-email files
Data analysis and eDiscovery functionality is limited to "lowest common denominator" vendor-provided tools
No access to encryption keys used to encrypt your data