Why You Should Move your Corporate eDiscovery Repository to the Cloud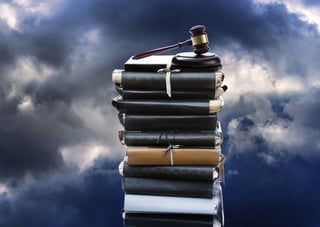 Updated: Corporate eDiscovery data storage practices have progressed (a bit) over the last 10 years. More than a few times over the years, I've received emails from my employer's corporate legal department informing me that they would need me to search my email—including local and online file repositories—for any potentially relevant content and set it aside until it was asked for. Come to think about it, I never received any follow-up emails releasing me from those instructions …
Years later, other companies I was worked for had me email potentially relevant files to a general legal email account, and still others had me drag and drop files to the legal department file share—where I was surprised to see huge data sets going back many years still sitting there without proper access controls.
And still later, when I became involved in the corporate legal eDiscovery industry, I learned that many companies simply didn't have processes to dispose of old eDiscovery data sets, and because of that, these legal department file shares simply kept growing.
Corporate legal data security
The problem facing many organizations is that these legal department file shares only have basic levels of security—and usually no access controls—even though they are storing very sensitive company data. Because of this, corporate legal file shares have become a prime target for cyber-criminals and hackers.
To combat this growing problem, corporate legal departments need to change the way they store, manage, and protect their eDiscovery data.
The first point you'll need to consider is where to physically store legal department data sets; on premise with all of the associated costs and liabilities, or in the cloud? Years ago, many C-level executives considered the cloud to be insecure, and in turn, prevented company sensitive data from being stored there. However, major cloud platforms are now considered much more secure than maintaining it on premise, so that fear is largely gone. Now the question is—does utilizing the cloud for sensitive legal data make financial sense?
The cost of cloud storage continues to come down
A new study released from the Thomson Reuters Legal Tracker LDO Index found that many corporate legal departments are now looking to reduce, or at least better control their legal spend by adopting a variety of cost cutting approaches including a greater focus on legal operations, effective cost controls on outside counsel, and more use of technology to reduce legal costs.
With the actual fully-loaded costs of on premise storage reaching between $0.20 and $0.30 per GB per month, and the cost of secure cloud storage between $0.01 and $0.10 per GB per month (depending on the performance level chosen), there are few cases where the cloud doesn't make financial sense for legal storage. In fact, eDiscovery results sets do not require a high performance disk, so cloud-based archival "cool" storage priced between $0.01 and $0.05 per GB per month is all that's needed to potentially save you 83% to 95% over what your on premise file share storage costs.
Additional functionality in the (right) cloud
A cloud-based legal repository can offer additional functionality that basic on premise file shares cannot, such as:
Higher levels of security
Multi-matter case management
Access controls
Encryption
Document review
Custom tagging
Retention disposition
Granular and bulk Legal hold
Custom indexing and search
Chain of custody reporting
Much lower costs
External counsel access
Data export in choice of formats
A secure cloud repository designed for corporate legal eDiscovery data storage can take the cost, risk, and management headaches out of legal data storage while dramatically raising the level of security for legal department eDiscovery data sets. Plus, it allows your corporate legal team to retain eDiscovery data sets for longer periods of time, for reasons of work product reuse in related cases.
The Archive2Azure difference
Archive2Azure is the first cloud-managed solution for compliance and long-term data management built on Azure Services that creates a highly secure and low cost compliant enterprise archive perfect for the storage and management of legal data sets. And the best thing about Archive2Azure is that you don't need to hand over your data to someone else. Your sensitive data is held in your Azure subscription, using your encryption keys in its native format so you never have to pay a ransom to get it back.
About Bill Tolson
Bill is the Vice President of Global Compliance for Archive360. Bill brings more than 29 years of experience with multinational corporations and technology start-ups, including 19-plus years in the archiving, information governance, and eDiscovery markets. Bill is a frequent speaker at legal and information governance industry events and has authored numerous eBooks, articles and blogs.