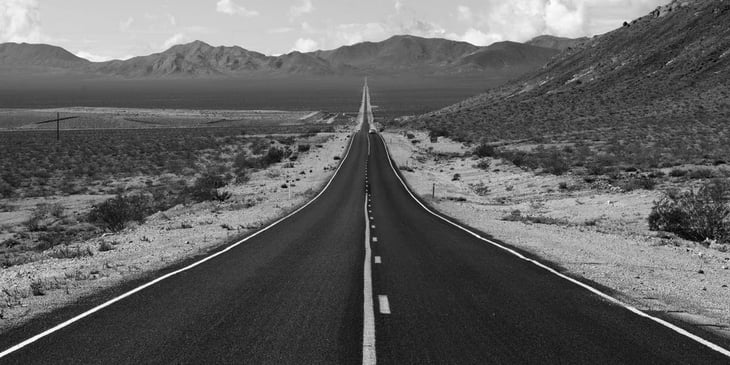 Mimosa NearPoint - History, Migration Challenges & a Path Forward
Back in 2003, a new technology company was founded in Santa Clara, California, providing "information immediacy, discovery and continuity for the new generation of critical enterprise information." That company was Mimosa Systems.
The company's central product, Mimosa NearPoint, was designed as a single solution for Exchange email archiving, eDiscovery, regulatory compliance, recovery and storage optimization.A new face in a rapidly congesting corporate data market, Mimosa made waves thanks to NearPoint's integrated, one-stop-shop approach and innovative processes.
One such feature was called log shipping, a process that sidestepped the performance overheads of many competing solutions using MAPI, and also mitigated the need for journaling to be enabled – a traditionally resource sapping exercise to guarantee the compliant capture of all emails.
NearPoint achieved this by extracting a complete copy of the Exchange database and then only copying transaction logs to the archive thereafter. Every time Exchange released a transaction log, an entry would then be posted in the event log which would trigger NearPoint to take a copy before indexing it.
The technology was ahead of its time and provided a slick and footprint-free solution for corporate archiving that painted a complete picture of the lifecycle of each message.
In a world where most solutions relied on journaling, NearPoint offered a fresh approach that guaranteed fidelity while also providing a backup of Exchange databases. A two-for-one archiving and backup package that the company called "breakthrough technology" at the time.
After becoming a Microsoft Gold Partner, Mimosa worked closely with Microsoft to provide deep integration with both Exchange and Outlook, while delivering eye-catching additional features in terms of easy deployment, data protection, discovery and self-service search functionality.
Key Features:
1. No Journaling
2. No Footprint
3. Log Shipping
4. All-in-one solution for archiving and backup
Success came quickly for Mimosa Systems, and three further versions of NearPoint were released in the coming years, adding new features as more partners pushed its product, and its customer count grew. Mimosa's blend of unique technology and convenient tools saw it reach 1000 customers in 2010, but the industry impact of the 2008 financial crash and strong competition from larger companies with even larger war chests meant it wasn't all plain sailing. With rivals like Autonomy and EMC well established in the enterprise market and with more comprehensive sets of tools on offer, when the opportunity for acquisition arose, Mimosa Systems took it.
Heading for the mountain
In 2010 Iron Mountain Digital, the digital assets division of long-established information management firm Iron Mountain, acquired Mimosa Systems for $112 million. T.M. Ravi, Mimosa's CEO, became Iron Mountain Digital's CMO in the process. At the time, the outlook was positive, with Iron Mountain gaining an on-premises archive offering in NearPoint to operate alongside its existing cloud storage business. Iron Mountain now had a strong suite of solutions and was seen to be in a competitive position against traditional players like Autonomy and EMC.
Writing in a blog post at the time, Brian Hill of Forrester Research noted that "If Iron Mountain successfully incorporates the Mimosa product set into its portfolio, the vendor has good potential to address enterprise legal risk mitigation headaches. This is a considerable effort, however, and success is certainly not assured."
Across the pond
However, the potential Hill spoke of was never to be realized by the combined companies alone, with the acquisition setting in motion a chain of events that ultimately lead to the demise of NearPoint.
In May 2011 it was announced that British firm Autonomy, once a rival to both businesses, had acquired a number of Iron Mountain's digital business units, including archiving, eDiscovery and online backup and recovery. The original NearPoint technology had a second new home in as many years.
The beginning of the end
While Iron Mountain had good intentions to develop NearPoint as part of its product range,the Autonomy buyout effectively killed Mimosa's original solution.
85% of the engineering staff were let go soon after the deal was done, effectively ending development of the product, and, within a very short period of time, yet another acquisition was on the cards.
In September 2011, just four months after NearPoint's latest rehome, HP agreed to acquire Autonomy for $10.3 billion dollars, as part of a new software-focused strategy. With shareholders up in arms at the cost of the acquisition, what happened next was a drama of Shakespearean proportions that still rumbles on to this day.
The story of the corporate battle that ensued after HP agreed to buy Autonomy could fill a hard-back book and one of the most disastrous deals in modern corporate history is far too protracted a debacle to cover in its entirety here, but the highlights below should help to tell the story, one that determined the future for NearPoint and its archives.
The HP debacle
NearPoint development was stagnant, and the HP/Autonomy deal didn't do it any favors. While the acquisition was in progress, HP's board fired the CEO who made the call to buy Autonomy, replacing him with former eBay CEO Meg Whitman. Whitman confirmed she was in favor of the acquisition but couldn't prevent former Autonomy CEO Mike Lynch leaving HP as almost 30,00 jobs were axed, many of which were filled by Autonomy employees.
And the drama didn't end there.
As HP came to the realization that it had likely overpaid for Autonomy while also leveling claims of misrepresentation and accounting improprieties at the firm it had purchased, an investigation by the UK's Serious Fraud Office, the SEC and the FBI began. As high-profile court cases continued, a prison term was handed out (to Autonomy's former CFO), and a lot of mudslinging went on between former and current employees at HP and Autonomy, the latter's software products were split up in 2015 between HP Inc and Hewlett Packard Enterprise as part of the Hewlett-Packard Co separation. Eventually, in 2016, HPE sold off its Autonomy assets in a 'spin-merger' with British company MicroFocus for $8.8m. The court cases between HPE and Autonomy's former CEO Lynch continue.
Left to licenses
With NearPoint as good as dead and HP and HPE both offloading assets, the door was opened for Capax Discovery to agree a deal with HP to provide continued product development and support for EAS, NearPoint and CAMM archiving solutions in 2014. NearPoint version 5.1 was released by Capax in 2015 and, in 2016, the company licensed NearPoint technology by way of an agreement to develop and support HPE's on-premises archiving products: HP Consolidated Archive (HPCA) and HP Consolidated Archive Supervisor (HPCA Supervisor). This meant Capax became responsible for any remaining NearPoint archives as part of a financially motivated deal in which it received maintenance charges from NearPoint users.
NearPoint: a timeline
2003 Mimosa Systems founded
2005 NearPoint Version 1.0 Released
2006 NearPoint Version 2.0 Released
2007 NearPoint Version 3.0 Released
2009 NearPoint Version 4.0 Released
2010 Mimosa Systems acquired by Iron Mountain Digital
2011 Iron Mountain Digital business units acquired by Autonomy
2011 Autonomy acquired by HP
2014 Capax agrees to provide development and support for NearPoint
2015 NearPoint Version 5.1 Released
2016 NearPoint technology licensed by Capax
NearPoint's legacy lives on
With only a handful of NearPoint archives existing today, the rise and fall of the archiving software has been a turbulent journey, with many owners, multiple names and several corporate struggles along the way. However, many of the staff from NearPoint's early days are still very active in the industry, with a number of senior architects working at Archive360. In fact, you could go as far as to say that Archive360 exists because of Mimosa NearPoint.
Having completed hundreds of NearPoint migrations in the past, Archive360 was unsurprisingly, the first company to migrate data natively from NearPoint while retaining fidelity and full chain of custody. As with the ground-breaking technology NearPoint exhibited in the early 2000s, so Archive360's engineers were able to provide cutting-edge tools to migrate data away from the one-time Mimosa solution and, unlike other providers, counter the common issues faced when migrating NearPoint archive data.
NearPoint migration problems
Specific problems dogged NearPoint throughout its life, including the fact that it never held full SEC compliance. This was key to its lack of utilization in the lucrative financial services market and meant many highly regulated organizations didn't consider it a viable option. It also never had a supervision monitor for SEC 17A4, didn't have solid WORM capabilities and never supported EMC Centera. It did support EMC Data Domain but, rumor has it, this was only made use of by a single corporate customer. Its dedicated focus on Exchange also limited its appeal, with other solutions capable of capturing Lotus Notes, Instant Messaging and, latterly, social media data. These are all features organizations would have looked for at the height of NearPoint's success and, indeed, are still important today.
Another chronic NearPoint niggle was its propensity for regularly missing recipient information in its updates, often dropping 15% of recipients in a single archive. This issue, combined with a damaged index, could cause significant amounts of data to be lost during migration.
The most pressing NearPoint problems:
Only handled Exchange data
Prone to missing recipients in updates
No solid WORM capabilities
No EMC Centera support
No supervision monitor for SEC 17A4
Overcoming migration pains with Archive360
Being aware of the issues facing NearPoint migration, as well as those from other archive types, Archive360 provides the ideal solution for migrating on-premises data to Microsoft Azure.
Migration via API access vs. the data layer
A prime example of overcoming NearPoint challenges is Archive360's approach to extracting data in order to avoid information being left behind. Instead of using the NearPoint API to seek out data, as many others would, Archive360 makes use of the storage layer, as it does with all platforms, to quickly extract data and avoid reliance on broken databases.
Migrating active and inactive data
As part of the extraction process, Archive360 is able to quickly provide an insight into the contents of an archive, outlining how much data is stored per user, the number of messages and more. This type of information is crucial when migrating to the cloud and especially when making a move to Microsoft Office 365, as it enables you to see how many users are active or inactive in the archive. On average, an archive is made up of 40% active user data and 60% inactive user data, all of which will be transferred to the cloud. However, with Office 365 not discriminating between active and inactive mailboxes, the cost per license increases significantly the more inactive user data you have. Understanding this is a crucial step in the discovery process and, by working with Archive360, you can avoid higher costs by moving your inactive data to a secure, searchable location but at a far lower cost than simply activating another license.
File types and proprietary formats migration
While NearPoint only dealt with Exchange data, many other solutions, including those from vendors like, SourceOne, Mimecast, and Enterprise Vault, now capture a wide variety of file types, from social media and instant messaging data to SalesForce and audio and video files. Regardless, all of the solutions above solutions carry out the same process when it comes to file types – making them look and act like emails. While this is largely put down to storage efficiency or for ensuring compatibility between an email-focused system and newer file formats, the by-product is that all information in an archive is shrouded in a proprietary "wrapper" that makes files unreadable by anything other than the solution it is stored within. Not only does this mean that you are forced to use your archiving vendor's tools to access information, but it also means that you will have to pay significant amounts to convert files back to their native format. Paying a specialist to access the data you own is a costly and inefficient way to manage information, not unlike ransomware, but it's the reason many organizations have remained with their original provider for such a long time.
Archive360's use of the data layer over the API to extract data circumvents this issue by extracting your data in its native form. It also means you remain true to your archiving software support and maintenance agreement by virtue of the fact that no software is installed on your archive servers.
Future opportunities
For Archive360, keeping your data in its native format throughout migration is crucial. It makes for a smoother and faster migration process and also unlocks many new opportunities for your migrated data. This could include detailed eDiscovery searches or the use of cutting-edge analysis tools for your HR and legal teams to make use of. It also means that content in audio and video files can be searched using the latest cloud technology, a major benefit for compliance, investigations, and audits.
Putting your archives to work
Where once archives might have been for compliance purposes only, moving your data from a legacy on-premises solution to a cloud data lake with Archive360 offers many benefits. Below are some examples of how you can harness your archived data across many areas of your business.
Chief Human Resources Officer
The HR department could make use of information in your archives for analysis that could reveal patterns that support better organizational design and change management. IBM Watson AI, for example, has been able to predict when employees will quit with 95% accuracy. This type of analytical data can define how top-performing employees maximize their productivity and could help to develop a library of best practices for the entire organization to learn from.
Chief Marketing Officer
Your marketing team can truly benefit from the insight emails about customers and their interactions with your company can provide. Using customer sentiment analysis in the cloud could help you to better predict the direction customer interactions might take.
Chief Revenue Officer
Understanding sales interactions can help your sales team to develop a clear picture of your unique sales cycle and plot the customer journey more accurately.
Chief Innovation Officer
It's easier to spot the best ideas hidden in your archive when you can access and analyze it. By harnessing historical information, best practices and new products can be identified to develop exciting new opportunities.
Chief Compliance Officer
The clear winner in a cloud-based scenario is the compliance team who will benefit from faster and more accurate searches and a far more detailed illustration of the information they have to work with. This could involve using algorithms that enable records, legal, and compliance teams to better protect the sensitive information held within your business.
Chief Information Security Officer
Insider threats and unusual activity can all be identified by analyzing user-generated data. This will help security staff to detect poor security practice or weed out malicious activity.
Recap: The Enterprise Data Lake Advantage
By moving your archives to the hyperscale cloud you get…
Control over compliance, security and privacy options
Access to insight and cutting-edge search tools
Lower storage costs and more flexible options to only pay for what you use
A strategic advantage that better serves leaders in your organization
Complete access to your data in its native format
From on-premises archive to valuable asset with Archive360
It's worth noting that simply transferring your data to a cloud data lake will not mean you are suddenly compliant or can access the latest technologies for analysis. What's required is a proven toolset that enables you to manage, secure, and analyze your archived data while enabling your teams to utilize the same or better eDiscovery and compliance capabilities.
Archive360 offers just that. We know the email and file archive industry inside out and see the huge value that IT teams miss out on every year. Our goal is to overcome the black box approach to archiving and ensure our customers can take advantage of their data in the cloud. It's for that reason that we developed the end-to-end, enterprise-grade solutions for eDiscovery, compliance, and privacy, specifically designed for the enterprise data lake. We help you to store and manage all types of data in your own hyperscale cloud environment, adhere to crucial regulations and have the flexibility to do more with your data.
We want you to be able to apply your own security policies, control your own encryption keys and be able to perform modern activities, like searching content in audio and video files and digging into historical data to identify patterns and new possibilities.
Migration expertise
Unlike others, Archive360 can deliver your migration as well as helping you manage your cloud archives. Whereas as many providers use third-party services to migrate your data, Archive360 has carried out over a thousand migrations using its own dedicated migration IP, with hundreds of them using NearPoint as the source archive.With more than 30 petabytes of data transferred to date, we can move you to the cloud faster and more accurately than others, offering, on average, speeds of 3-10 terabytes of data per day.
Archive360 Migration Benefits
Benefit from a single point of contact for a faster, more accurate migration.
We don't use your source archive's API, so we avoid the risk of leaving data behind. Instead, we extract straight from the data layer to eliminate reliance on potentially damaged indexes or databases.
By bypassing the API, we avoid the slowdowns and bottlenecks associated with the API's limited thread access
We can take advantage of the huge read/write capability of the storage layer for faster transfers
Unlike the hundreds of gigabytes transferred per day using API migration, we can migrate 3-10 terabytes per day
We can help you reduce the cost of inactive user accounts in your archive
We enable your legal, compliance and privacy teams to unlock hidden value from your data
We prepare you for new and emerging cloud-based technologies and tools
It's benefits like these that make Archive360's migration and archiving process as pain-free and powerful as possible and why major regulated organizations trust us with their most sensitive data.
Get in touch to request a demo today.
Archive 360 is trusted by companies like 3M, Netflix, McKesson, Samsung to migrate from Enterprise Vault, Mimosa, and other major archiving platforms.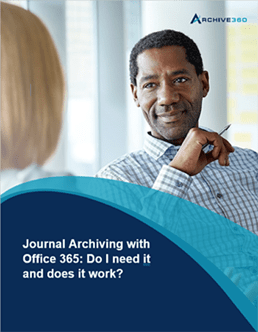 If you're journaling today, the stakes are high.
Your legal, compliance and security teams rely on having an immutable copy of all of your emails. Office 365 archiving does not support journaling. So what should we do?
This eBook provides actionable tips to empower IT to solve the problem.
Bill is the Vice President of Global Compliance for Archive360. Bill brings more than 29 years of experience with multinational corporations and technology start-ups, including 19-plus years in the archiving, information governance, and eDiscovery markets. Bill is a frequent speaker at legal and information governance industry events and has authored numerous eBooks, articles and blogs.