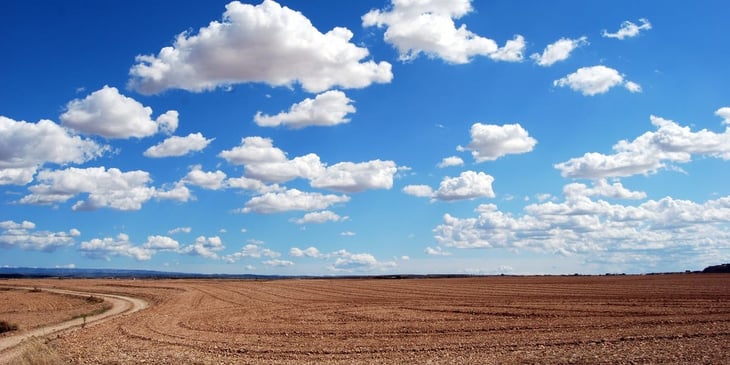 Veritas EV.cloud Migration Pitfalls and Alternatives
By:

October 25, 2019

|

minute read
From LiveOffice to Enterprise Vault.cloud: the rise and fall of a pioneering SaaS archive
The Veritas Enterprise Vault.cloud or EV.cloud you know and potentially use today wasn't always known by that name. In fact, its origins can be traced back to a company called AdvisorSquare, founded way back in 1998, offering web and email hosting for financial services institutions.
A popular platform, AdvisorSquare began receiving requests from customers for a way to remain compliant with various regulations, including SEC 17A3/4. Regulations of the type were a fairly new thing in the financial services industry back then, and many customers needed support when it came to retaining and monitoring their emails in a compliant manner.
In response, AdvisorSquare developed a product called AdvisorMail, an email archiving, retention and supervision product, specifically designed for brokers and registered investment advisors that's still in use today. The product was a near-overnight success and became the number one choice for small and medium financial services firms. Following the success of AdvisorMail, AdvisorSquare spun the product out to a new company named LiveOffice, based in Torrance, California, in 2003 and, after operating successfully for several years, the company hired a new CEO in 2008.
Nick Mehta, formerly a VP and GM at Symantec, took the helm after successfully building and running his former employer's on-premises Enterprise Vault business, then the leader in corporate email archiving.
The birth of CloudArchive
Mehta believed that with Software-as-a-Service (SaaS) solutions beginning to see traction – SalesForce and cloud-based email being prime examples – the future for email archiving was in the cloud, not on-premises. Under his stewardship, LiveOffice went on to create a new email archiving product in addition to the financial services-focused AdvisorMail. While AdvisorMail suited those in highly regulated industries, the average customer didn't have such concerns and was more interested in records retention and eDiscovery than compliance. Because of this, CloudArchive was born, an archiving solution optimized for those outside the financial services market.
CloudArchive was primarily used for legal discovery and governance and, through its smart engineering and unique features by comparison to other SaaS products, went on to become the number one email archiving solution in the SaaS category. LiveOffice was even named as a visionary in the 2011 Gartner Magic Quadrant, the first year cloud-based vendors were included.
"We believe Gartner's decision to include cloud-based vendors in the Magic Quadrant for Enterprise Information Archiving recognizes the evolution of services available as enterprises strive to better manage big data," said Nick Mehta, in 2011.
"LiveOffice is honored to be a cloud-based archiving vendor included in the Visionaries quadrant, which is a considerable achievement that we believe reflects our understanding of the market, current product portfolio and vision for changing the market rules in order to meet our clients' evolving needs."
Mehta's success in developing a new, sought-after archiving product brought about an OEM deal between LiveOffice and Symantec in 2010 to help the CEO's former company produce the product known today as Enterprise Vault.cloud. Symantec had been trying and failing to make a cloud-based SaaS version of Enterprise Vault for years but was unable to convert its single-tenant on-premises solution into a multiple tenancy offering for the cloud. With the key to SaaS being multi-tenancy, with multiple customers operating within a single software tenant, the traditional archiving process of Enterprise Vault simply wasn't a good fit for the purpose.
Enterprise Vault vs Enterprise Vault Cloud
The OEM deal between LiveOffice and Symantec was a huge success, with Enterprise Vault.cloud tripling the LiveOffice customer base in the first 12 months as many customers moved from Enterprise Vault on-premises to the new, cloud-based SaaS solution. The move was good for business too, with recurring revenue being generated rather than a single license fee per customer for on-premises archiving, a stickier business model and, quite simply, a better product on offer from LiveOffice.
The combination of all these positive factors ultimately led to a predictable outcome. In January 2012, Nick Mehta sold LiveOffice to Symantec, the company he had come from a few years earlier, for $115 million.
Writing in a blog post at the time, Symantec said:
"LiveOffice, with its talented team and cloud archiving technology, will improve our ability to connect people to information, wherever it resides, for two key reasons. First, we see a tremendous opportunity to leverage the resources of Symantec to better reach, support and deliver integrated solutions to our customers. Those integrations can be not only supporting information governance as discussed here, but also providing a complete cloud mail protection solution. Second, we have come to know the LiveOffice organization well through our OEM relationship and see a strong cultural fit between our teams' DNA, standard of excellence, and customer focus."
However, Symantec didn't entirely see through the optimistic promise of merging its DNA with LiveOffice, as another move was to take place two years later.

Veni, vidi, Veritas
Symantec, which had merged with Veritas in 2005 and replaced the company's brand with its own, announced a demerging of its information management business in 2014 as part of its plans to focus solely on security. The demerged company – named Veritas Technologies LLC and with LiveOffice technology in Enterprise Vault.cloud under its umbrella – was bought by a private equity firm for $8 billion.
As had been the case previously, Veritas continued to convert as many customers as possible from its on-premises archiving solution to Enterprise Vault.cloud in order to drive the more modern and superior product, while benefiting from its recurring revenue model.
Enterprise Vault.cloud: a timeline
1998- AdvisorSquare founded
2003- LiveOffice formed as a spin-off from AdvisorSquare
2005- Symantec and Veritas merge
2008- Nick Mehta leaves Symantec to become LiveOffice CEO
2010- LiveOffice and Symantec agree OEM deal and Enterprise Vault.cloud is developed
2011- LiveOffice named 'visionary' in Gartner Magic Quadrant
2012- Symantec Acquires LiveOffice for $115 Million
2014- Symantec sells Veritas Technologies LLC for $8 billion, including Enterprise Vault.cloud
Exploring the technology behind LiveOffice
So, what was it under the hood of LiveOffice and, ultimately, Enterprise Vault.cloud that made it so desirable to customers and a money printing tool for its multiple owners?
The unlimited archive
One major benefit was the announcement in 2004 that LiveOffice would be the first archive of any kind to offer unlimited storage. A huge selling point. Whereas most customers were used to buying archiving software and managing their own storage through databases and purchasing hardware, SaaS archiving made life much easier. None of the pain of managing and paying for in-house infrastructure, all for a regular monthly cost. The problem was, there wasn't a clear way to determine what that cost would be. LiveOffice and many of its competitors, including Smarsh, SourceOne and Mimecast, all had overage fees for storage which would mean extra costs for those who strayed beyond their agreed storage limits. SaaS vendors needed these fees in place, not simply as a way to make a quick buck but to cover themselves against the unknown. At a time when the volume and size of emails were exploding, thanks to increased usage and ever-growing attachment sizes, there was no way to guess how much storage would be required on a monthly basis and, as a result, how much a customer would have to pay. However, over time, LiveOffice was able to analyze the data it saw from customers and predict average usage levels. By doing that, it was able to offer unlimited storage, which greatly simplified the pricing for customers without requiring any guesswork. A business with 1000 users would know exactly what the service would cost them per month with no nasty surprises at the end of it. This feature became a massive sales tool for LiveOffice and, within two years, every other vendor was also offering unlimited storage in order to remain competitive.
The searchable journal
As a journaling-based cloud archive, LiveOffice couldn't perform the mailbox archiving delivered by on-premises solutions like Enterprise Vault. Unlike the limited search capabilities of a journaled archive, Enterprise Vault used highly useful stubbing technology to provide both a seamless search experience for end-users while also reducing mailbox sizes. In the 2000s, scarce storage and growing mailboxes were a big issue for IT teams and employees, so the ability for Enterprise Vault to not only archive large attachments and emails older than 30 days automatically, but then provide access to them from the archive at a later date if needed was a big deal. It meant mailbox quotas were exceeded far less frequently, while users could still see and access archived emails from within their inbox. This was a major benefit of on-premises archiving over journaling-based SaaS archiving which was somewhat searchable but didn't retain the folder structure of the original mailbox, leading to complicated and often incomplete access to the archive.
To overcome this challenge, LiveOffice developed a new feature called Folder Sync, the first of its kind in archiving, that became a true customer favorite. By syncing the on-premises mailbox to a duplicate version hosted in the cloud, users were able to see and access their archived items but in a manner that made sense, using the same folder structure as they would find on their desktop, rather than just a giant copy of everything as was normally the case with journaling.
Top LiveOffice/EV.Cloud Features
Offered unlimited archiving
Enabled end-users to search journaled archives
A simpler solution requiring no hardware
Offered for a recurring fee with no capital expenditure
The journaling dilemma
As a SaaS pioneer, LiveOffice offered many unique features but also came unstuck in some areas that traditional solutions catered for well. One such example was its use of journaling. Unlike almost all of its competitors in the on-premises space, LiveOffice was a journaling-based archive so, while on-premises archives could use the MAPI protocol to extract data from individual mailboxes or use journaling to store a copy of every email for legal compliance, LiveOffice and its SaaS competitors were limited to just one approach. Journaling did do some damage to LiveOffice during its lifetime too, both before and after its acquisition by Symantec.The issues stemmed from the fact that, at the time, there were two types of journaling available, standard journaling and envelope journaling. Regular journaling would simply send a copy of every email to a destination mailbox but, crucially, wouldn't include additional information, such as the BCC recipients, if that message was then forwarded. From a compliance perspective, the information missed by standard journaling meant it didn't meet regulatory requirements. It was for that reason that Microsoft created envelope journaling, which included an attachment on each archived email that included additional metadata, including BCC recipients, ensuring compliance with FINRA and SEC guidelines. The problem was, many customers thought LiveOffice was using envelope journaling, but it was, in fact, using standard journaling. This caused a number of businesses to find out later that they weren't capturing all email recipients as they thought they were, with some even running into trouble with the government as a result.
What about Enterprise Vault.cloud today?
From its humble beginnings in 2008 to the tens of thousands of customers today, Enterprise Vault.cloud, in all of its forms, has been a consistently popular product. Many of its users have remained since the LiveOffice and AdvisorMail days, while others were converted by Symantec and Veritas from on-premises offerings. However, in the modern world, there are signs that the once pioneering solution is beginning to show its age.
For instance, many customers report that their searches are becoming slower and are often inconsistent. This is likely due to indexes becoming corrupt over time and is derived from the way LiveOffice and, therefore, Enterprise Vault.cloud was built. While both Symantec and Veritas have tried to re-architect the product over the years, neither were able to get away from the simple fact that it wasn't built with the cloud in mind. It was created on old school frameworks before the cloud existed and, as a result, wasn't designed for big data technology and scalable platforms as many products built for a cloud-native environment are. When the solution was introduced in 2003, a terabyte of data was a huge amount of storage for a customer. Nowadays, they deal in multiple petabytes, the weight of which Enterprise Vault.cloud struggles to handle.
Similarly, Veritas EV.cloud hasn't kept pace with the changing nature of information privacy, even with its many large, multinational customers. Both Symantec and Veritas expanded the number of data centers available within Enterprise Vault.cloud over the years, but the same limitations persist. Put simply, if you're a business with employees and customers across the world, from the US to the UK, Germany, Canada, and Japan to Australia, China and many more, your data needs to be stored in those countries in order to meet data privacy and residency regulations. But Enterprise Vault.cloud doesn't necessarily have a datacenter in each of the countries your data needs to reside in. Even worse, you don't get to choose multiple locations; the vendor only lets you choose one.
Common problems with SaaS archives
Using platforms not built for the cloud or big data
Searches become slow and inconsistent over time
Limited datacenters mean privacy compliance is difficult if not impossible
Believe the SaaS security stats
In a recent survey of global IT executives, including VPs, directors and members of the C-suite at major corporations, only 19% of those surveyed believed 75% or more of their SaaS vendors met all of their security requirements. 70% stated they had been forced to make at least one security exception for a SaaS vendor. While many of these organizations are likely using popular SaaS products like Microsoft Office 365 and SalesForce, where the size and standing of the vendor might make the business more amenable to accepting a perceived lower risk, the clear takeaway is that SaaS solutions don't provide the security standards modern organizations require.
Elsewhere, on the topic of encryption keys, an astounding 95% of respondents believed it was important to control their own encryption keys and 81% were uncomfortable with their SaaS vendors controlling them. However, 74% of those surveyed said they did not control the encryption keys for the majority of their SaaS solutions.
This is a worrying statistic and one that many organizations will have to take steps to reverse as regulations continue to tighten and the threat of cybercrime grows. To that end, 92% of executives said they would need more security customization in the future, with 63% of them planning to retire SaaS applications that didn't provide them control over encryption keys.
These statistics paint a clear picture of the business security landscape and the risk that the one-size-fits-all approach of SaaS vendors introduces. As the trend for security customization continues and scrutiny over data handling increases, SaaS solutions will become increasingly less palatable for businesses aiming to de-risk their operations and more secure and customizable solutions, such as those in the public cloud, will be sought.
How do you make the break from Enterprise Vault.cloud?
Naturally, when facing a lack of compliance, many companies would begin to think about moving elsewhere. But then they face another problem. How do they get their data out? With Enterprise Vault.cloud not providing API access to a customer's data so they can extract it themselves, their only option is to submit a ticket to Veritas and wait for their data to be extracted in the PST file format.
And even if that doesn't dissuade you from moving away from your Veritas EV.cloud contract, there are more hurdles to face. First, the extraction and conversion of your data into a new format means you break chain of custody. A major compliance red flag. Second, you will be charged by the terabyte to get your data out. Regardless of the size of your business, that's an enormous sum of money to pay for control over your own information.
And, if the compliance issues and cost still aren't enough to convince you to stay, the length of time it takes to extract your data will rub further salt into the wound. As a multi-tenant platform, Enterprise Vault.cloud only has a limited amount of bandwidth for exporting data, which means extraction affects all customers. If data is being extracted for one customer, the rest have to wait in line behind them. And that line has, in recent times, resulted in a multi-year wait for customers to receive their data after cancelation.
Extracting data from a SaaS archive: the challenges
No API access means customers alone can't extract their data
The vendor charges per terabyte of data extracted
Chain of custody is broken by data extraction
Limited bandwidth means extraction could take years
Don't play the waiting game
From the cost implications to compliance concerns and the amount of time spent waiting to regain control of your data, you'd be forgiven for putting the idea of moving away from your SaaS archiving solution on hold. But you should carefully consider the cost of doing so if your ultimate intention is to move elsewhere.
Even if your business is small, you probably have a minimum of 100 terabytes of data in your archive. If you're a bigger company, that number will likely run into the petabytes. If you delay for a further five years, those numbers are only going to get bigger, potentially multiple petabytes per year, as email volume and size continues to grow exponentially. That's because, every time the big players like Microsoft and Google improve their email servers and service, mail storage also gets bigger. Today, many providers allow 10GB attachments, some even greater than that. All of this means that your one petabyte now could be potentially 50 or a 100 in a few years' time. And internet bandwidth isn't moving as quickly as email volume is growing. Ultimately, the longer you stay with your SaaS provider, the more you'll need to pay to leave and, if you leave it much longer, you could reach a point of no return.
If you have the chance to get your data back and own it, you should take the opportunity sooner rather than later.
Where do you go next?
If you've decided you're done with Enterprise Vault.cloud, your next step will be to consider where to take your data. Are there other SaaS providers that have caught your eye? Do you intend to benefit from Office 365 features or enhance existing archiving or journaling? Or are you looking for a different solution entirely? If your plan is to get away from the broken databases and trapped data of an offering like Veritas EV.cloud, it's probably best to avoid a SaaS vendor entirely. With any SaaS archiving solution, from Global Relay to Smarsh and Mimecast, you'll encounter the same problems with restricted data center locations, compliance issues, limited scalability, and search speed and the same old costs for bringing your data in and getting it out. The SaaS vendor retains control over everything too, giving you very little flexibility, even over your security. Not only will you be forced to give up some of your security policies and see them replaced by the SaaS provider's own, but you also won't have control over your encryption keys, with one key unlocking data for the multiple customers your provider deals with.
What are your Enterprise Vault.cloud exit options?
Wait for your account to be cancelled and pay for your data to be exported
Follow the above steps and move to another SaaS archiving vendor with similar limitations
Migrate faster, without extraction fees and move to your own cloud
Wouldn't you rather have more control than that? A solution that ensures you choose where your data is stored and how it is accessed? A move that provides you with the flexibility to scale, to harness your data in new and exciting ways and, crucially, one that means you'll never have to migrate again?

The modern approach to cloud-based archiving
Archive360 can help to not only migrate your Enterprise Vault.cloud archive to your own Azure tenancy but help you to do more with your data once you do. We can go straight into your archive and reliably and consistently migrate data in the background while maintaining full chain of custody, and at a far lower cost than paying for extraction by your vendor. Even better, you don't have to wait years to begin extraction or put up with painfully slow extraction times.
Archive360 vs. Today's SaaS Platforms
| | | |
| --- | --- | --- |
| | Archive2Azure | SaaS Solutions |
| Infrastructure | | |
| Host your data in your corporate cloud | ✓ | |
| Security | | |
| Protect data using your own encryption keys | ✓ | |
| Compliance | | |
| Meet SEC 17a-4 regulations | ✓ | |
| Meet GDPR regulations | ✓ | Limited |
| Policy-driven records management | ✓ | Limited |
| Compliant onboarding of legal data | ✓ | |
| Performance | | |
| On-demand performance based on business needs | ✓ | |
Archive360 can help you get your data out of Enterprise Vault.cloud faster and at a lower cost. It's that simple, and it'll also be the last migration you'll ever have to undertake. And, once your data is safely stored in your own hyperscale cloud, you regain complete control. Control over security, encryption keys, cost, where your data resides, and what you do with it. With a cloud-native platform designed for the modern cloud, Archive360 can help you get more from your data by accessing it via an API for analytics and AI purposes, boosting eDiscovery capabilities and enhancing the work of your security, HR, legal and compliance teams.
With Archive360, you can:
Store your data in any geography
Manage data using your own policies
Replicate customer data within a selected geographic area to enable disaster recovery
Comply with global regulations including GDPR, FRCP, SEC and CCPA
So, if you're thinking of replacing your existing SaaS archive with another SaaS vendor, consider the control you could have in your own cloud. Talk to an Archive360 representative about migrating from Enterprise Vault.cloud or migrating from Enterprise Vault.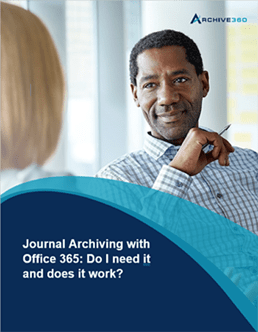 If you're journaling today, the stakes are high.
Your legal, compliance and security teams rely on having an immutable copy of all of your emails. Office 365 archiving does not support journaling. So what should we do?
This eBook provides actionable tips to empower IT to solve the problem.
Bill is the Vice President of Global Compliance for Archive360. Bill brings more than 29 years of experience with multinational corporations and technology start-ups, including 19-plus years in the archiving, information governance, and eDiscovery markets. Bill is a frequent speaker at legal and information governance industry events and has authored numerous eBooks, articles and blogs.