EMC SourceOne Alternatives & Migration Software [MVP Guide]
Could your SourceOne archives be delivering more value to your business?
Let's face it, most email and file archives aren't looked on as a source of business value. They're an ongoing cost that needs to be eaten in order to ensure accurate records are kept and compliance is assured. That's likely the case for archives in a third-party archiving solution like SourceOne. Whether you call it SourceOne, EMC SourceOne, Dell EMC SourceOne or even EmailXtender if you've been using it for a while, the fact is, you've probably wondered about alternatives to what you may feel has become a costly and inflexible archiving solution.
At Archive360, we know why you archive and understand why you're still using SourceOne. Nobody likes disruption to their existing systems and processes, especially something as crucial as ensuring you comply with regulations and make archived data available for eDiscovery purposes. Those business-critical requirements will continue to exist and your legal and HR teams will always need access to archives to be able to carry out their jobs. If anything, as more and more of your employees communicate via email or messaging services and use digital media, including video and audio files, archiving is likely to become more important rather than reduce in significance.
But what if your archives could be doing more than simply ticking regulatory boxes and costing you money? What if they could become part of your business strategy rather than an expensive but essential requirement of regulators? Imagine remaining compliant while putting your archives to work and saving money at the same time. Sounds too good to be true, right? But it's not. As businesses drill down into the value of their investments and attempt to squeeze value from each of them, the ability to do more with less has become a reality in the cloud. SourceOne has been a great tool for a long time, but now the times are changing and on-premises solutions aren't shifting with them. They've become too expensive and inflexible to provide true ROI which has led many to seek options beyond an in-house data center.
Whether it's a full infrastructure migration or cost reduction by moving select parts of an estate online, harnessing the true benefit of the cloud is a hot topic and one that's especially important for users of legacy tools. If you're currently using SourceOne, it's likely the thought has crossed your mind too…
And you're not alone. In an Archive360 survey of senior IT stakeholders, innovation using data and AI sat at the top of the priority list. Conversely, data archiving for eDiscovery and compliance came dead last with a mere 15% of the vote. What does that tell us? The cloud is seen as the way forward for many but they're unaware of the additional benefit it could bring to their archiving efforts. In a world where some of the most successful businesses were born in the cloud, reliance on legacy, on-premises archiving solutions like SourceOne is no longer a prudent approach. It means businesses can't adapt quickly if and when new regulations come into force and blocks them from accessing the cutting-edge data analysis tools that could provide them with a competitive edge.
Want to know more? Keep reading or contact an Archive360 representatives today.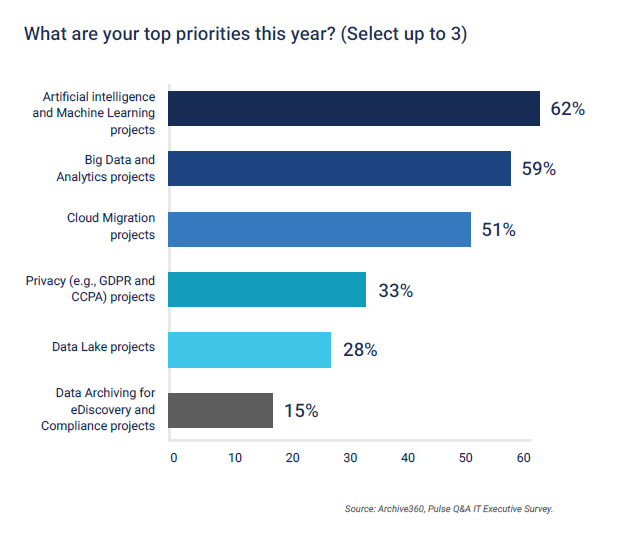 The cost of on-premises archives like EMC SourceOne
We mentioned the cost of on-premises archives like SourceOne before and it's worth digging in to those numbers for some perspective when considered next to a cloud-solution. All business systems not in the cloud, including SourceOne, come with the same issues and cost is among the biggest. When you have on-premises servers, you're forced to make a guess as to the assets you'll need going forward. If you don't get that calculation right, you'll either end up with too few computing capabilities or underused resources that tie up money that could have helped other areas of your organization.
Solutions like SourceOne pile more cost on top of that challenge as you can see in the charts below. When you add up the cost of labor, software support, hardware support and the amount of power consumed, owning an on-premises SourceOne deployment really makes the cloud seem like the promised land. Studies have shown that, while perfectly capable tools, archiving solutions like SourceOne simply aren't cost effective in the cloud era.
Research suggests that solutions like SourceOne are…
Capable on-premises platforms for archiving various types of content, including email, SharePoint data, file shares, etc.
Relatively expensive compared to many alternatives, particularly those in the cloud.
More costly when considering the replacement cost of an on-premises infrastructure.
Figure 1 - Monthly, per-user cost of on-premises archiving for 1,000 to 5,000 users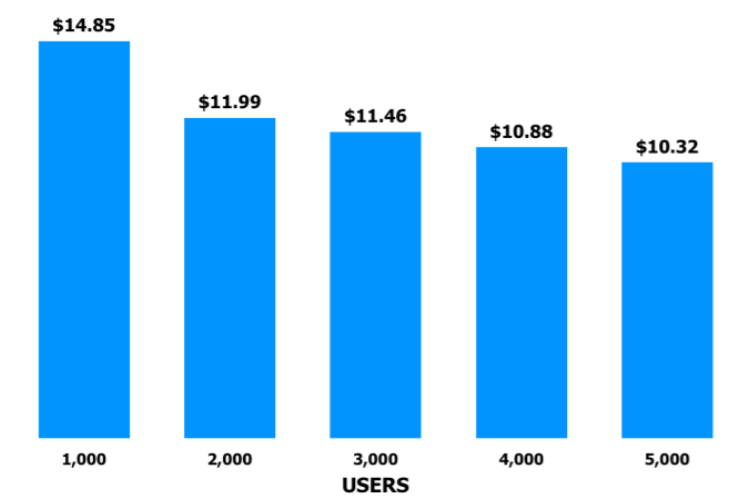 Figure 2 - Average cost of ownership for on-premises archiving for 2,500 users

Figure 3 - Average distribution costs for on-premises archiving for 1,000 to 5,000 users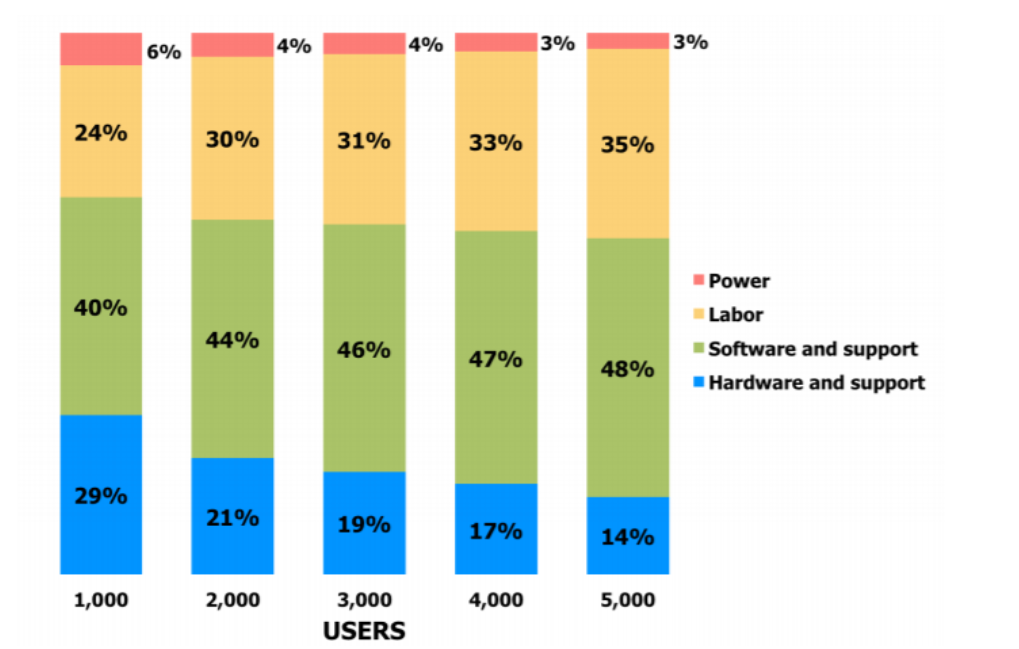 Reducing costs and unlocking innovation by moving away from SourceOne
If you're stuck with an on-premises archive that's sucking funds out of your business for little return, the opportunity to 'pay as you go' seems like a distant dream. But it doesn't have to be. Organizations using a cloud-based Platform-as-a-Service (PaaS) are already taking advantage of only spending money on what they need, while reaping additional cloud benefits including scalability, access to the latest and greatest tools, and faster, more powerful data searches. The savings they make in the cloud can be diverted to cloud hosting experts too, enabling them to innovate at speed and without significant upfront investments, shifting their approach from OpEx to CapEx with ease. But that doesn't help those using on-premises solutions like SourceOne. They first need to make their choice as to their next infrastructure step and essentially have three options open to them.
Stay where you are and deal with the limitations of a solution like SourceOne.
The cost will remain the same or increase as your business does. There's a chance your solution might be discontinued or not comply with new regulations, and the opportunity to innovate using cloud-based tools will remain inaccessible.
Go half way and move your SourceOne archives to a software-as-a-service (SaaS) solution in a lite version of the cloud.
SaaS solutions are widely used because they're easy to set up and run, effectively handing over responsibility for your archives to a third party. But that trade off in the name of simplicity means you also lose control and flexibility. SaaS solutions don't use the cloud in its true sense, they use aspects of it that limit your options and restrict you in many ways. For instance, you'll be forced to use your provider's search interface with no ability to use your own eDiscovery and analysis tools. Your files may also be converted and become harder to work with than if they were stored in their native format. SaaS may also be a more costly option in the long run which ultimately means you're not seeing a huge benefit over your existing on-premises solution.
Move to a true hyperscale cloud and experience the benefits of data lake technology.
The real, hyperscale cloud, offered by companies like Microsoft and Amazon, is the ideal solution for complete flexibility and unlimited control over your data and security. Moving to a SaaS solution might seem like you're moving to the cloud, but it'll be in name only. Yes, your data will be located in cloud-based storage, but that's where the similarities end. In your own hyperscale cloud, you are in charge of security protocols, the geographic location your data is stored in and have the ability to scale as needed. You can also freely analyze and search your data. These features simply aren't possible with products like SourceOne or a SaaS solution and should be something you carefully consider when planning to move your archives to the cloud.
Taking the above options into consideration, it seems clear that option one is a non-starter. But what about the remaining two? A SaaS solution versus your own cloud? Next, we'll look at those two options in more detail: the compromise and the complete solution.
The compromise – How moving from SourceOne to SaaS is less than satisfactory
SaaS archiving solutions are widely used as a convenient way to ensure legal and regulatory compliance and operate as a subscription service combining platform, infrastructure and application into a single product. They enable compliance by providing storage with the ability to carry out legal hold and eDiscovery searches but don't offer the opportunity to extract value from your data. When you consider a move away from SourceOne, this is a crucial area to pay attention to. In addition to security concerns, it's important to think about the potential added value you could achieve through analysis and full access to the information held within your archives as well as the ability to harness new technologies. In short, taking what might appear to be the simple route with a SaaS solution could severely limit your options and prove to be a decision that's tricky to reverse.
With SaaS, analysis and transformation take a back seat
With your archives stored using a SaaS solution, they are effectively trapped in a black box that takes a lot of decisions out of your hands. It's not in the interest of a SaaS vendor to focus on innovation or enhance their offering beyond their key areas of focus, namely eDiscovery and compliance. This means you're stuck using the limited tools they provide.
Using a SaaS solution could mean issues if you plan to…
Make the most of open-source tools and algorithms to unlock business insight
Search and make use of historical information at speed
Use your archive as an active organizational knowledge source
Move quickly and easily between archiving platforms
Respond at speed to privacy requests relating to GDPR (General Data Protection Regulation)
Converted files lead to higher costs
Most SaaS archives force you to convert your files into a proprietary format to make life easier for the vendor. It also means that they aren't accessible without using the vendor's specific tools. This, of course, rules out the possibility of using your own tools to analyze and search your own data without converting it back to its native format. Vendors charge a lot to do this and, should those challenges become to great, it's no easier or faster to move away from a SaaS archive than it is to migrate from an on-premises archive like SourceOne.
Simple SaaS options mean shrinking security and sovereignty control
SaaS archives limit your control over security and privacy due to their closed nature. Many regulations, including GDPR, require you to store personal data in specific geographic locations and ensure it remains there. With most SaaS vendors only owning a few cloud locations, complying with these regulations can therefore be tricky. Even a SaaS vendor with multiple cloud locations may not allow you to determine the region in which your data is stored and will likely control encryption keys which might also be stored in another country. And with email one of the leading sources of data breaches, ensuring you know where your information is stored and have the right security protocols in place is essential.
The table below shows how email errors are to blame for a large number of data breaches.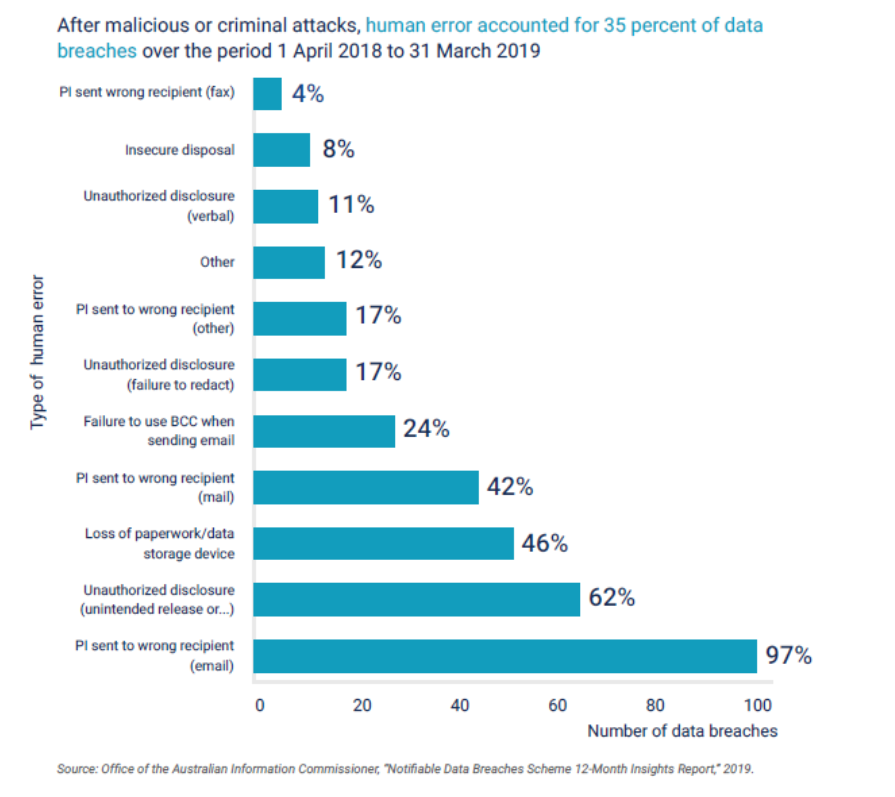 When you consider these findings, why would you hand over security control to another business? Your security teams will have spent time and money ensuring your data is protected and adheres to the regulations of your industry and location. By relinquishing responsibility over security to a SaaS vendor, that work could be undone. The universal nature of security provided by SaaS solutions means your teams can't control key security elements like encryption, classification or processes and means you can't take full accountability for the safety of your data. So, while simplicity is a definite bonus when it comes to archiving, the security vulnerabilities SaaS solutions introduce make the risk too great.
Shifting from SourceOne to a SaaS solution can lead to…
Restrictive features and functionality that you can't control
Converted files that reduce your search capability and increase costs.
The potential to go out of compliance due to security, privacy and data sovereignty restrictions
But it's not all doom and gloom. Advances in archiving mean that complete control over your data, full compliance and cost efficiency, as well as the ability to scale as needed are available to you in the hyperscale cloud.
The complete solution: a flexible, cloud-based data lake that you control
In order to enhance and boost the value of your existing SourceOne archives, storing them in a cloud-based data lake provides rapid modernization. Capable of holding structured, semi-structured or unstructured data in its native format, data lakes don't require you to define or stick to a specific schema beforehand. Additionally, using commodity storage technology, data lakes can handle vast amounts of data at a lower cost than that of traditional cloud storage or on-premises solutions. However, at their base level, data lakes simply provide storage and don't offer features for archiving. eDiscovery search, legal hold and review, compliance supervision and other options can must be added to deliver a truly modern approach to archiving. This is what's referred to as an enterprise data lake, with the ability to revolutionize your archive, providing a living repository that adds value to your business.

Put an end to painful migrations
It can't be denied that SaaS vendors don't want you to move away from their platform. If you migrate your SourceOne archive to a SaaS solution, you can expect the process to last for months if not years. To then shift away from the SaaS vendor could be even more painful, with a 1PB archive taking almost three years to migrate at the standard transfer limit of 1TB per day. However, if you move your SourceOne archives to your own cloud, you retain control and don't have to deal with proprietary file wrappers and other such SaaS-based issues. Therefore, limiting the amount of times you move your data is essential to reduce costs, downtime and significant effort.
Many businesses are betting big on true cloud providers like Microsoft and Amazon and intend to use them for decades as the hyperscale cloud becomes the new normal. This is a sensible approach and one that not only reduces the need for multiple migrations but enables you to carry out analytics or build visualizations right in your enterprise data lake with no need to move to a new system.
Stay compliant and boost your defenses
While SaaS vendors do focus on compliance, they're not geared to continually customize their systems and your business will be forced to follow their path when it comes to security and privacy, not set your own rules. This means that, should a new regulation arise or your business grows into new areas and locations, adapting your archives to maintain compliance might become difficult. Ultimately, SaaS vendors aren't in the business of adapting to your unique needs. As we've mentioned already, SaaS vendors also limit your options when it comes to sovereignty. They choose where your data resides and will store it in the locations they have available, which are unlikely to be many.
However, with an enterprise data lake, you retain complete control of the geographical location of your data and can deploy any tools you require to ensure you meet specific regulations. It means the work your security team has done to protect your data and infrastructure can be applied in the same way in the cloud. Unlike SaaS solutions, an enterprise data lake allows you to manage your own security keys and, on top of the cutting-edge protection provided by your cloud provider, add further security solutions to your cloud as required.
Access actionable intelligence
Whereas archiving was once all about compliance and cost, the cloud enables you to do more with your data. Consider the value that can be extracted from your company's emails and files that, at present isn't being harnessed. While SaaS vendors can't help on the insight front and will only limit your ability to make use of your data, a cloud data lake means the latest, most powerful technologies are at your disposal. Because an enterprise data lake enables you to store files in their native format without conversion, you are free to use analytics tools and make use of machine learning and AI technology. This could be anything from open-source frameworks like Apache Spark and Presto to powerful business intelligence solutions for data warehouses.
And teams across your organization can benefit from tools specific to their needs. Attack vectors and insider threats can be spotted by security teams. Predictive models can be produced by data scientists. Customer sentiment can be analyzed by marketing teams, while HR professionals can identify new ways to boost productivity through best practice.
But this doesn't mean all employees have carte blanche to do what they wish with your data. In order to protect the sensitive information stored within your data lake you must deploy comprehensive governance of an enterprise grade and determine the right tools and protocols for your organization. Of course, in the cloud, this can be anything you desire and customized to meet your unique requirements. Therefore, by using role-based security permissions, you can enable your teams to innovate without adding risk.
Cut costs in the cloud
The more storage or compute power you use in the cloud, the less you pay per unit. That's a truly compelling argument for migration on its own. There's also the reduction in management overhead when you consolidate interfaces to consider too. By placing your archives within the same ecosystem as your other tools and services, there are many benefits to be found. Conversely, the same benefits can't be realized with a SaaS solution. A classic example is the way in which SaaS vendors charge you for each mailbox you archive, whether it's active or not. This means costs will rise over time even if your headcount doesn't increase. With a cloud-based data lake, you only pay for the storage and compute power you actually use, and you can even adapt the type of storage you use to further reduce the cost of storing data you access less often.
Making the most of SourceOne archives in the cloud
If your SourceOne archives are used simply for compliance purposes, you should seriously consider transforming them into a strategic advantage for your business using a cloud data lake. The opportunities throughout your business to enhance the way it operates and unlock crucial insight are unlimited and we've included a few examples below. These scenarios show how you can help leaders across your business to do more with the data found in your SourceOne archives.
| | |
| --- | --- |
| Chief Human Resources Officer | HR teams can analyze user-generated data in archives to reveal patterns in the way people interact, collaborate and meet. This can help support better organizational design and change management, like the way in which AI has helped predict when employees will quit with 95% accuracy. This type of analysis can also shed light on high performing staff, opening up new ways to reward employees and develop best practices. |
| Chief Marketing Officer | A CMO can learn a lot from email and file archives, especially when studying interactions with customers. By analyzing customer sentiment, teams will be able to accurately predict customer decisions and be able to adapt their marketing approach accordingly. |
| Chief Revenue Officer | Sales interactions are a valuable source of information in your archives that can be analyzed to provide detailed reports and insights into the customer journey. Drilling down into your company's unique sales cycle can provide crucial information as to the performance of your business and the campaigns you run. |
| Chief Innovation Officer | Great ideas can be lost without accessible data. By taking advantage of historical information, documents can be reused, best practices can be discovered, and collaborative efforts can be revisited to create new opportunities. |
| Chief Compliance Officer | As the volume of archived data increases, it becomes harder and harder to handle and makes manual search and classification almost impossible. In the cloud, algorithms can enable records, legal, and compliance teams to identify what matters and protect sensitive information. |
| Chief Information Security Officer | With complete access to user-generated data, patterns can quickly be spotted to reveal security threats from those within your business, whether they're malicious or inadvertent, and enable you to take steps to mitigate the impact. |
Recap: The benefits of an Enterprise Data Lake
By moving from SourceOne to your own cloud, you could benefit from…
Access to your archived data in its native format
The freedom to select and control security and privacy tools and processes
The ability to use powerful tools for analysis and search
Reduced costs for storage and pay-as-you-go pricing
Opportunities to enhance the work of teams within your business
Transform your SourceOne archives into a business asset with Archive360
While regulations mean archiving is necessary for most businesses, you don't have to stick with your existing solution. While SaaS vendors restrict your options and reduce your ability to truly harness data for the benefit of your business, an enterprise data lake in the hyperscale cloud provides you with complete control over every aspect of your archives. This means you aren't held back by the limitations of a SaaS provider when it comes to extracting insight, moving data to new locations or selecting security solutions. However, you won't achieve compliance by using data lake storage on its own. This requires robust set of tools to ensure your archives are protected and can be searched or analyzed, in addition to the ability to carry out the same eDiscovery processes your teams are used to.
Having dedicated our careers to file and email archiving, Archive360's team appreciates the power and functionality that many IT teams aren't taking advantage of as they continue to use solutions like SourceOne. It is our goal to help organizations break free of the restrictions of archiving's black box model and enable them to realize the genuine value in their existing assets.
We've developed end-to-end solutions for eDiscovery, compliance and privacy for use in an enterprise data lake. These tools enable you to store and manage all types of data in your preferred cloud, maintain compliance, take control of your data security and unlock opportunities to harness your data in new and exciting ways. Thanks to the hyperscale cloud, we offer unique features for your SourceOne archives that aren't available from SaaS vendors, such as API access to your data, the ability to search within audio and video content, as well as customizable security and privacy options. Take a look at the diagram below to see how our Archive2Azure offering compares to SaaS solutions.
Archive2Azure vs. Today's SaaS Platforms
| | | |
| --- | --- | --- |
| | Archive2Azure | SaaS Solutions |
| Infrastructure | | |
| Host your data in your corporate cloud | ✓ | |
| Security | | |
| Protect data using your own encryption keys | ✓ | |
| Compliance | | |
| Meet SEC 17a-4 regulations | ✓ | ✓ |
| Meet GDPR regulations | ✓ | Limited |
| Policy-driven records management | ✓ | Limited |
| Compliant onboarding of legal data | ✓ | |
| Performance | | |
| On-demand performance based on business needs | ✓ | |
Archive360's significant experience also enables you to work with a single point of contact when it comes to migration and archiving, managing every step of your move to the cloud and supporting you along the way. While most SaaS vendors use third-party migration providers, Archive360 has used its own migration IP to complete over 1000 migrations, faster and more accurately than any other service. Because our capabilities enable us to migrate directly from your archive's storage layer, we can guarantee that no data is left behind and that you can move to the cloud faster, transferring 3-10 terabytes of data per day by comparison to others who can only move hundreds of gigabytes every 24 hours.
Migrate the right way with Archive360
Because we use our own migration IP, we make your move to the cloud easier, faster and more accurate.
Unlike others, we bypass the API and access the storage layer to make sure corrupt indexes and databases don't cause data to be left behind
Additionally, avoiding API-based migration means speed isn't reduced due to limited thread access
Archive360 migrations allow for 3-10tb to be migrated per day
But migration is just one step in the journey. Once you've successfully moved to the cloud, our work isn't over. We can help you to save money by moving infrequently accessed inactive user accounts to storage that costs you less while still ensuring you have full access to the data within them. We can also improve the classification, recognition and eDiscovery of all data types in your archive using multiple retention and disposition policy workflows. We can help your legal, compliance and privacy teams better work with and harness data, and we can make sure you're ready to take advantage of new technologies as they are launched.
Archive360 aims to make the migration and ongoing management of your data as pain-free as possible and ensure we're on hand to help you make the most of your archives, both today and in the future.
Find out why businesses the world over choose Archive360 to migrate and manage their most sensitive data. Get in touch to request a demo today.
Archive 360 is trusted by companies like 3M, Netflix, McKesson, Samsung to migrate from Enterprise Vault, EMC SourceOne, and other major archiving platforms.