Before you decide on a new platform to which to migrate your legacy EMC SourceOne email archive, it's important to understand the definition of 'cloud' when talking about archiving solutions. The term is applied to a wide range of services and solutions that may well offer some of the benefits of cloud archiving but don't offer cloud computing in its truest sense. Moving your legacy on-premises or hosted archives to a modern, hyperscale public cloud environment provides you with the flexibility, power, and tools required to secure your data, reduce your TCO and compete in an increasingly connected, digital business world. Such a shift in your infrastructure will bring about rapid benefits for your business and help to accelerate your company's digital transformation strategy. However, there are other solutions that claim to offer 'cloud archiving' but can't deliver such scale or flexibility. We will cover both solution types below so you can make an informed decision.
To make things simple, there are two main cloud archiving options: those offered via SaaS (Software as a Service) and those based in the client's own public cloud tenancy. The two options differ wildly in the features and functionality they provide.
When it comes to information archiving for regulatory compliance, information governance, and litigation preparedness, many will have considered replacing their legacy EMC SourceOne email archive with turn-key legacy SaaS archiving solutions such as Global Relay, Mimecast, or Smarsh.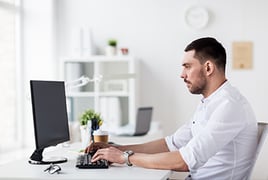 They check all the boxes in terms of basic functionality, but they do have some significant drawbacks. They rob you of full control over your company's archived data and can even make it very difficult to move to a different platform because some of them convert your data into a proprietary format that can't be used elsewhere. This is a practice known as data conversion which later enables data ransoming.
Alternatively, you could migrate your archived data to your own public cloud tenant, where you'll encounter none of these issues. All you need to do is choose the archiving or information management solution you want to use, choose the precise levels of security you desire, and provide and manage your own encryption keys based on your company's unique needs and risk posture.
Let's take a look at both in more detail…