Extending SharePoint Storage to Azure
SharePoint adoption continues to grow year over year. It was originally envisioned to be an entry level document management system but has since grown to include content management, as an intranet portal for enterprise information and applications, a groupware platform, a social platform, personal cloud, and a platform for custom web applications. Because of these expanding use models, many have found that the standard SharePoint storage allowance is not enough.
SharePoint On-line storage limit is raised
SharePoint On-line in Office 365 allocates a quantity of storage that's based on the number of users. The storage is available to all site collections in the tenant and serves as a central pool from which everyone can draw. In the past the included SharePoint On-line site collection storage limit was maxed out at 1 TB.
Last year (2016), Microsoft raised the SharePoint site collect storage limit from 1 TB to 25 TB based on the fact that customers' SharePoint storage requirements have been radically growing each year. For many, this increase to 25 TB is still not enough. For example, at last year's (2016) Microsoft Ignite show, Archive360 had a constant stream of attendees asking us if we could extend SharePoint storage beyond the current 25 TB limit with our Archive2Azure solution so they would not need to purchase additional (expensive) SharePoint On-line storage. Obviously this suggests many companies have already blown through the newly raised 25 TB limit.
But is it enough?
Microsoft made provisions to allow SharePoint On-line customers to purchase additional SharePoint storage at a price of $0.20 per GB per month. As you may have noticed, this is well above the average price of cloud storage, so for some, has limited their SharePoint plans. For example, a large SharePoint instance which consumes 25 TB of included storage and 15 TB of additional storage would cost an additional $36,000 per year in extra storage costs.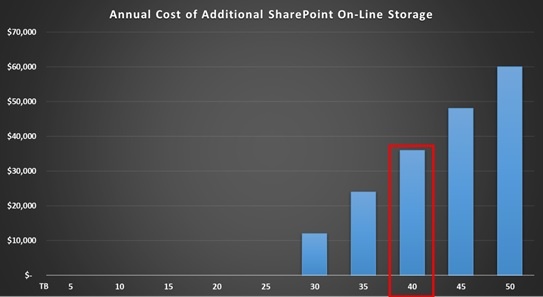 The chart above illustrates the various costs of additional SharePoint storage per year over the standard allotment. Each bar represents an additional 5 TB of SharePoint storage purchased.
Instead of limiting individual SharePoint server growth, or worse, purchasing additional SharePoint storage at a premium price, wouldn't it be great to instead extend your SharePoint storage beyond the 25 TB to another low cost cloud repository?
SharePoint overflow to Azure for low cost extended storage
So what's the solution to this growing storage limitation with SharePoint? Ideally, it would be great to keep it in the Microsoft cloud for stability, security, and common billing. In fact, Microsoft Azure offers some of the lowest per GB pricing (on the "cool" tier) but is a separate solution and currently not setup to take and manage SharePoint overflow.
However, Archive360's Archive2Azure does just that. Archive2Azure can enable and manage SharePoint extended data just like it was in SharePoint, but at a much lower cost than the current SharePoint storage add-on.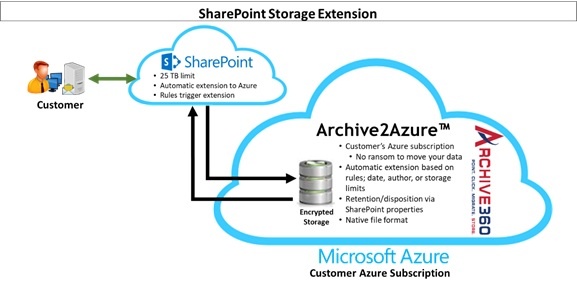 Archive2Azure is a management layer that interfaces with the customer's Azure subscription and allows the extension and management of SharePoint overflow data based on rules set by the customer. For example rules based on creation date, author (such as current or ex-employee), or SharePoint storage limit, to list just a few, can trigger the movement of a file to the customer's Azure account while retaining SharePoint properties and access.
This capability can reduce the cost of additional SharePoint On-line storage by more than 70%, depending on your storage requirement. For example, using the same 40 TB scenario we used before, the cost of the additional 15 TB of storage with Azure and Archive2Azure would total $13,858.91 a year, a savings of $22,141 or 62%.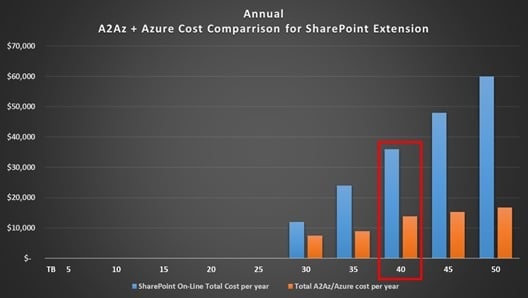 As the additional storage requirement rows, the lower the per GB cost of both Azure and Archive2Azure. This means that at 50 TB total SharePoint storage requirement, the additional 25 TB of Azure plus Archive2Azure would save you $43,265 per year or 72%. The chart below lays out the expected savings for various storage requirements.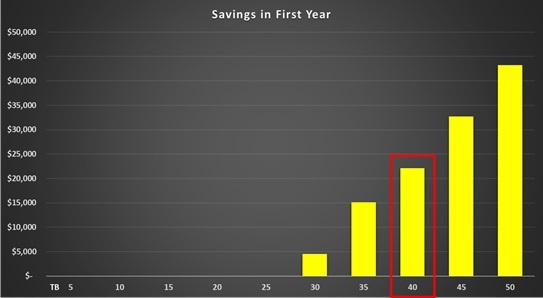 Over a 5 year period, the savings for a 50 TB SharePoint instance with a 25 TB Archive2Azure extension would equal $216,325 with zero investment; just a switch from one storage resource to another that immediately begins to save you money.
To find out more about how Archive2Azure plus Azure can save you money with your large SharePoint installations, clink on the link below.
Archive360 is a leading expert with migrating Veritas / Symantic Enterprise Vault for companies such as Netflix, Samsung, 3M, and McKesson.
About Bill Tolson
Bill is the Vice President of Global Compliance for Archive360. Bill brings more than 29 years of experience with multinational corporations and technology start-ups, including 19-plus years in the archiving, information governance, and eDiscovery markets. Bill is a frequent speaker at legal and information governance industry events and has authored numerous eBooks, articles and blogs.