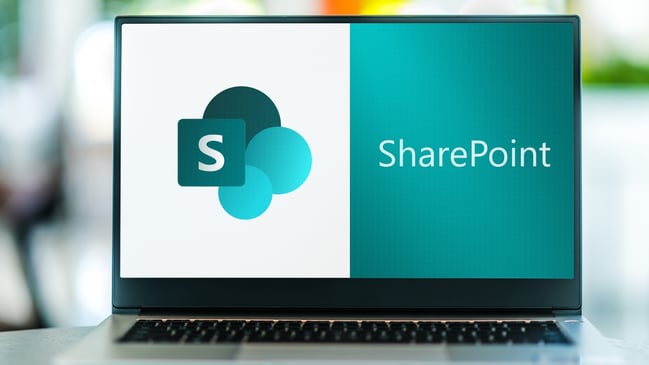 Increase Office 365 Storage with SharePoint Online Alternatives
Editor's Note: This blog was originally published in May 2020 and has been updated for accuracy and completeness.
When 25 TB of SharePoint Online storage isn't enough…
Since its introduction as part of the Office 365 (now Microsoft 365), SharePoint Online usage has skyrocketed. Today's expanded uses of SharePoint include: a content management and content services platform, an intranet portal for enterprise information and applications, a groupware platform, a social platform, and a platform to develop custom web applications. Because of these expanding use models, many have found that the standard SharePoint storage allowance is not enough.
SharePoint customers have been contemplating two equally unappealing options:
limit individual SharePoint Online growth, or worse...
purchase additional SharePoint storage at the premium price.
Or they need to look to a third option...
Read this blog to learn more.
An Office 365 SharePoint Online storage primer
SharePoint Online allocates a quantity of storage that's based on the number of users. The included SharePoint Online storage allocation is 1 TB plus 10 GB per licensee. For example, a 1,000 user subscription for Office 365 and SharePoint Online would provide 11 TB of storage (1 TB + (.01 TB *1000 users)). This storage is included and available to all site collections in the Office 365 tenant and serves as a central pool from which everyone using SharePoint Online can draw. Once you reach your included SharePoint storage limit, additional storage is available. However, it's expensive at $0.20 per GB, i.e., an additional TB of storage would cost an additional $200 per month.
There's also an additional problem, specifically SharePoint Online storage limitations. Microsoft limits storage of a single SharePoint Online site to 25TB. When you reach that limit, you cannot buy anymore SharePoint storage for that site from Microsoft. So, what are your options for extra Office 365 file storage?
When 25 TB of SharePoint Online storage isn't enough
At past Microsoft Ignite conferences, many attendees asked me if and how they could extend their SharePoint storage beyond their current limit, so they're not forced to purchase additional (expensive) SharePoint Online storage. The frequency of this request suggests that many companies will reach their limit or have already blown through their SharePoint Online storage limit.
Microsoft has made provisions to allow SharePoint Online customers to purchase additional SharePoint storage for $0.20 per GB per month. As you may have noticed, this is well above the average price of standard cloud storage, so for some, it has limited their SharePoint plans. For example, a large SharePoint instance that consumes their storage limit and 15 TB of additional storage would pay an additional $36,000 per year in extra storage costs.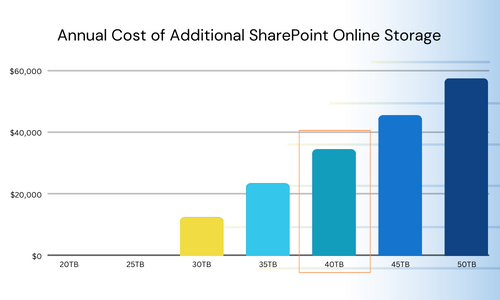 The chart above illustrates the projected costs of additional SharePoint storage per year over the standard allotment. Each bar shows an additional 5 TB of SharePoint storage purchased.
SharePoint customers I've spoken with have been contemplating two equally unappealing options:
limit individual SharePoint Online growth, or worse

purchase additional SharePoint storage at the

premium price. My response has been to offer a third option...

extend your SharePoint Online storage to another

low-cost cloud repository

, utilizing your company's own Azure tenancy.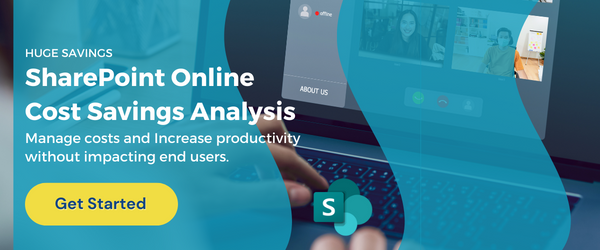 Overflow to Azure for low-cost, increased SharePoint storage
One thing to understand when considering Azure as a solution to extend Office 365 SharePoint storage is that Azure, by itself, is just a stack of services. Native Azure applications can take advantage of these services to create stand-alone applications that offer capabilities that would be impossible for third-party SaaS cloud providers to duplicate. A partial list of the related Azure services include:
Azure Storage

Azure ML/AI (including cognitive/media services)

Azure AD

Azure Data Factory

Cosmos DB

Azure SQL

Azure Analytics
Ideally, customers want to leverage their existing Microsoft cloud as a stable, secure, and efficient way to keep overflow SharePoint data available at the lowest possible cost, while enforcing their security protocols. However, while Microsoft Azure offers some of the lowest per GB pricing (on the "cool" tier), it is currently not set up to take and manage SharePoint overflow. To seamlessly utilize your company's Azure subscription for additional, low-cost SharePoint storage, you must install a separate, native Azure SharePoint storage extension solution within your Azure tenancy.
For example, the "cool" Azure storage tier is a fraction of the cost of dedicated SharePoint Online storage – approximately 75% to 90% less. And while a third party application, designed to automatically extend SharePoint Online storage to your company's Azure tenancy would add some costs, the total annual savings are still considerable.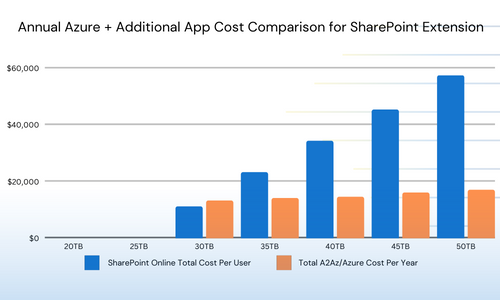 The chart above lays out the costs for both SharePoint Online storage and that of Azure storage used for file extension.
The cost efficiency of using Azure to increase your SharePoint Online storage
As the graph above illustrates, once additional SharePoint Online storage extension requirements rise above 25TB, the most cost-effective solution is a third party information management application running in your company's Azure tenancy. The cost savings become much more significant with each additional 5 TB of storage.
One question all customers have is: what happens if and when SharePoint Online storage requirements shrink? Fortunately, the SharePoint Online storage extension - using your company's own Azure tenancy, is automatically scalable so there is no need to actively manage the storage resources. In the future, if the need for additional storage is no longer needed, the additional SharePoint Azure storage will be automatically released, saving you the additional cost. Remember, with Azure storage; you only pay for what you use.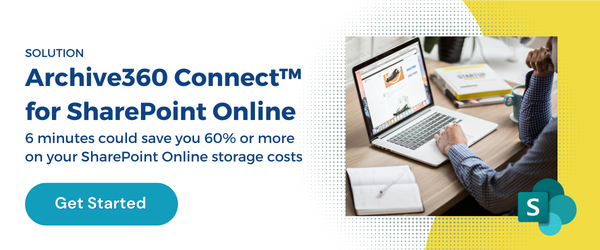 How Archive360 Connect™ for SharePoint Online reduces storage costs
Archive360 Connect™ for Microsoft SharePoint Online helps you take advantage of archiving to the Azure cloud instead of purchasing costly additional storage. This significantly reduces storage costs, with zero impact to your end users, while streamlining storage management so you and SharePoint users can be more productive. A win-win for you and your organization. To find out more about how Archive360 can save you money with your SharePoint Online storage needs, click the Contact Us.
Bill is the Vice President of Global Compliance for Archive360. Bill brings more than 29 years of experience with multinational corporations and technology start-ups, including 19-plus years in the archiving, information governance, and eDiscovery markets. Bill is a frequent speaker at legal and information governance industry events and has authored numerous eBooks, articles and blogs.