Our Business is Change. We Are Innovators.
As we head into the final quarter of 2023, we are refocusing on our core competency. Enjoy the Q3 updates that our team has prepared below and reach out to us to learn more.
A Message From Our CEO
Our Company's top Core Value is "Our business is change. We are innovators." As we head into the final quarter of 2023, Archive360 is refocusing on our core competency, Unified Data Governance. Relentless technical, regulatory and business changes and challenges are forcing all of us – end users and vendors – to constantly rethink what it means to manage data in the cloud. This has never been more so than today, thanks to AI, with its potential to impact every person, across every organization and in every industry. As an early adopter of AI technology, Archive360 understands both the challenges and opportunities that AI creates for our customers. Over the coming months, you'll continue to see my team discussing the drivers and use cases for Unified Data Governance. And you'll also hear us talking about the opportunities and risks for our customers to use AI so they can process and drive insights from enormous sets of data. For our customers and partners, we look forward to demonstrating how and why we continue to innovate on the security, scale and scope needed to govern data so that you can successfully embrace the change that this massive opportunity can provide.


The Journey to Data Governance
Data: It's what we all rely on to give us the right answer to any number of questions. If you're an attorney, you may need to respond to a harassment claim and have several questions regarding what the parties said and did. If you're a customer service representative, you may need to respond to a customer who wants to know what personal data your organization has on them and how that data is being used.
These Situations Have 3 Common Objectives:
Find accurate data that's relevant to the situation as quickly and easily as possible.
Access the data in a way that facilitates its analysis.
Enable the data's reviewers to quickly identify and deliver the appropriate information.
Your organization's ability to meet these objectives and ensure its response provides value, while minimizing the organization's risks, depends on its data governance policies and procedures and how they are implemented.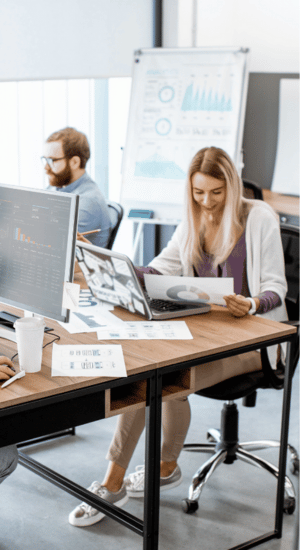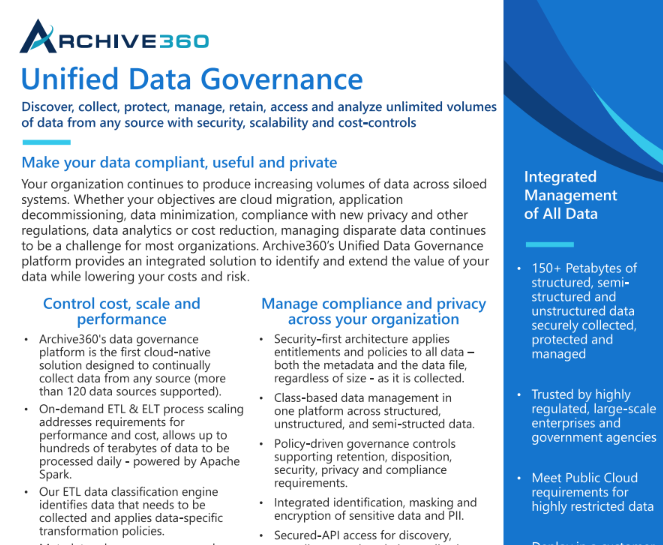 Datasheet
Unified Data Governance
Archive360's Unified Data Governance platform enables organizations to efficiently manage and leverage their data. Our platform allows for the discovery, collection, protection, management, retention, access, and analysis of vast data volumes from various sources, all while ensuring security, scalability, and cost control.